Drummer's demo tape: Early demo tracks & versions
Drummer's tape is a cassette containing several demo tracks Liam wrote around 1991. At some point a guy who obtained this cassette from Liam posted some info about it on the Brainkiller forum and digitized it. The rip he made was in mono and of rather low quality. Some time later he decided to sell the cassette but the auction never took place. At the moment the tape is considered lost for good.
---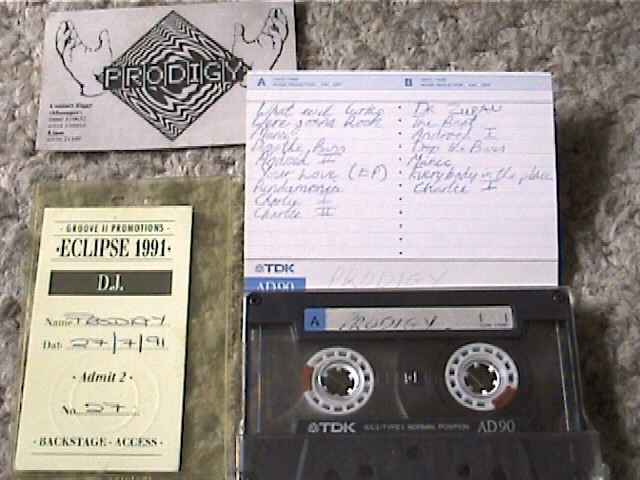 NEKO: You're probably aware that there was an old tape around?
LH: It was real, it is basically like, it wasn't the original demo tape. It was some unreleased stuff that I wrote maybe during 1991. That guy basically used to live with Keith and he fancied himself as a bit of a fucking bongo player. And him and another guy played at a rave, I think it was in August or September in Cambridge with us. Somehow, and I don't know how cause I didn't say he could go on there, but somehow he ended up on stage with us and Leeroy gave him that tape with some unreleased tracks, maybe 4 tracks or something and the rest of the Charly EP. That was basically like his rehearsal tape with Leeroy's handwriting on. I am not angry with him selling it. It's up to him… I can't do anything about him selling it, it's his tape, it's unfortunate. But I wish that I'd been quicker in releasing all the demos before he had a chance to make money out of us.
Neko's interview with LH (17.08.2006)
---
SIDE A
A1 What Evil Lurks [04:04]
A2 We're Gonna Rock [04:18]
A3 Manic [03:32]
A4 Drop The Bass [03:37]
A5 Android II [04:46]
A6 Your Love (EP) [05:43]
A7 Pandemonia [04:11]
A8 Charlie I [04:55]
A9 Charlie II [03:30]

SIDE B
B1 Dr Zupan [03:41]
B2 The Beat [02:36]
B3 Android I [04:56]
B4 Drop The Bass [03:42]
B5 Manic (Spacehopper) [03:19]
B6 Everybody In The Place [03:25]
B7 Charlie I [05:08]
---
Unreleased tracks:
Demo Versions:
---