Track 'The Day Is My Enemy' turned 8!
Exactly 8 years ago, on the 26th of January 2015, the single/track The Day Is My Enemy was released through Cooking Vinyl. Our team decided to remember some interesting facts about the track to celebrate this occasion. We've managed to dig up a couple bits of really rare insider info and are ready to share it with you. Moreover, we'd like to give you one of The Day demo versions, which was carefully reconstructed by our gang… Without further ado, let's get started!
Early demo
Many of you might not know that the very first demo with the lyrics "the day is my enemy, the night is my friend" with the fabulous Martina Topley-Bird on the vocals was recorded back in 2008, even before the 'Invaders Must Die' LP came out. Shortly after the album's release, in his interview for Andrea Neko Schnepf, Liam would mention this unreleased track with Martina and some other unknown vocalist.
Liam Howlett: It was going to be a collaboration with another vocalist, and I got Martina in who used to be with Tricky to do this kind of Ella Fitzgerald vocal that I sampled. She was fucking amazing. She just sung these couple of lines but that wasn't the collaboration, it was another vocalist that was with her on that tune but it works with just her vocal.
Neko: What's it called?
Liam: The working title is 'The Day Is My Enemy'
Sometime later, another unreleased track from the 'Invaders Must Die' period, Destroy the Melody, emerged on the web. It featured the vocals of Richard Cowie Jr aka Wiley, who is often labeled the 'Godfather of Grime'. The participation of both Wiley and Martina in the recording of tracks for 'Invaders Must Die' was also mentioned in a 2011 interview for Sabotage Times.
Liam Howlett: True, I miss the smoked-out, spacey sounds of Narcotic Suite and Weather Experience, or the pure hip-hop of Poison and Diesel Power, but it's a satisfyingly chunky set with Maxim and Keith at its heart. Wiley and Martina Topley-Bird were tried out, but the band made the right decision to concentrate on themselves – although Dave Grohl does drum on Run With The Wolves.
After a while, some info became public that collaboration with Wiley should've been the 13th track on the 'Invaders Must Die' LP. At some point, many people came to a conclusion that it was Destroy, but later it became clear this wasn't the case. In various license catalogues (they can be accessed via specialized music-related databases) there is some info about a track called Day is My Enemy Night is My Friend. Wiley is listed as one of the co-authors there:
It turns out that it was 'The Day…' with Richard (Wiley) that was meant to be the 13th track on the LP, not 'Destroy the Melody'!
A bit later, we've got some insider info. It said that 'Destroy the Melody' featuring Wiley was actually a rearranged demo of an earlier version of 'The Day', then planned for 'Invaders Must Die'. A couple years later Richard's vocals would be completely removed, Liam would polish the arrangement again and release the updated version of Destroy on the 2015 album. Martina's acapella would later be used for some other production.
2012 demo & final release
For the first time since 2008, Liam came back to Martina's vocals in 2012: in December, the fresh demo of The Day was premiered at Brixton gigs.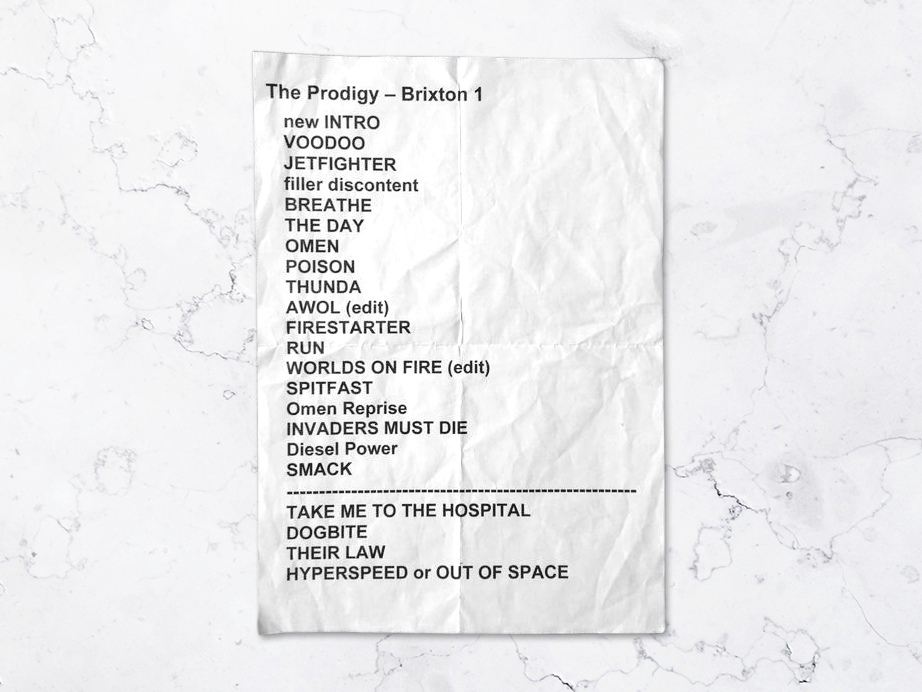 ---
Our team have recreated an absolute copy of this 2012 demo version.
---
Still, this version wasn't the final one neither: a couple of years later it would fall apart. The instrumental of this tune was presented to Liam's friend called Same Old Sean, for his solo track Laydown.
Martina's acapella, still being the cornerstone of the track, in turn, would be for the third and the last time tried out for some completely new production for then-almost-done studio album.
If you think about it, it's absolutely amazing: a song which started its way back in the 'Invaders Must Die' production period, was gutted during the scrapped 'How to Steal a Jetfighter' album, and eventually made it to the 2015 album — the tune has come a 7-year journey! The final version of 'The Day is My Enemy', having been produced at the very end of the album-writing process, was honored to become the main tune of the LP, and, what's even more curious, shared the name with the long-awaited album.
LH Remix w/ Dope D.O.D.
It's interesting that even after the album had been released it didn't become a run-of-the-mill track for Liam. After a while, Liam would produce a decent remix of the track, which will become a nice collaboration with the Dope D.O.D.
But for some unknown reason, despite the fact that Dope D.O.D. performed on the same stage and supported The Prodigy several times, this remix was never performed live together. Dope D.O.D. performed it themselves several times in their performances without the participation of Prodigy or Liam.
And Liam, in turn, made a light edit of the remix and its instrumental version for his gigs, which was designated in the tracklists as Night's My Friend. Apparently in support of the eponymous EP that was released a few months earlier.
By the way, our mate RAPRAIZ have already recreated this live edit few years ago! Check it out!
Other Versions
In addition to the above versions, the track also had a couple of edit-versions. First is a classic single edit (3:40) – shortened promo version that was not officially released and can only be found on promo sampler. This edit also was used in a promo video on YouTube. And the second edit was made by Howlett for live performances, which was called LH Edit and can be found on remix-album.
There were also several official remixes from side artists: Chris Avantgarde's remix, remix from Caspa and exclusive d&b remix by Bad Company. The last one on this list was released exclusively on a limited single-sided etched vinyls.
Also, this remix from Bad Company a year later after release was slightly reworked by Liam for live performances.
---
A quick recap:
The track was being produced for 7 years, from the very first 2008 demo to the final 2015 release.
The first demo was written in 2008 with Wiley and Martina Topley-Bird: this track was probably meant to be released on the 'Invaders Must Die' album.
This demo was changed and became 'Destroy the Melody' with Wiley on the vocals. And then to 'Destroy' – its instrumental was officially released in 2015.
In 2012, Liam tried out Martina's acapella for his new stuff in Brixton, but in 2014 the instrumental went to Same Old Sean.
Not long before the release of the 2015 album, Liam produced a completely new track with the notorious acapella performed by Martina. This one became the final version of 'The Day is My Enemy'.
After album release, Liam made a special remix of this track with Dope D.O.D. on vocals, which, despite being performed live several times, has never been performed together.
A more detailed analysis, as well as additional information from our insider, can be found in the second part of the article on our Patreon!
---
Headmasters: ALL SOUVENIRS
---
Donate
Donate Bitcoin to this address

Tag/Note:-

Network: Bitcoin

Donate Ethereum to this address

Tag/Note:-

Network: ETH Ethereum (ERC20)

SBER/QIWI (RUS): 8950008190б