Forgotten 20th anniversary: AON①
Exactly 19 years ago, on August 23rd, 2004, the 4th studio album of The Prodigy Always Outnumbered, Never Outgunned was released (officially in UK). But strangely enough, today we will talk not about it, but about its brother – the first version of this album, which should have been released in the beginning of 2003, 20 years ago. And also on this day, August 23rd, 2002, already 21 years ago, there was a live premiere of the final version of Nuclear in Leeds, which was to be the second single after Babys Got A Temper, and should be released just before AONO#1 release. So, today we will talk about all of this!
---
Liam Howlett for Select (01/02/99): "I'm not saying anything about a new album yet, I'm just kicking a few beats around. The first thing that I want to do is record the ultimate '90s punk anthem – just to capture that spirit and energy – but on an electronic tip.
The concept of alternate realities and multiple universes has become a recent trend in pop culture, so we decided to keep up and speculate: what would have happened if Howlett had taken a different direction and released the first version of 'AONO'? 1 year ago, on the 20th anniversary, we already discussed the single Baby's Got A Temper, which was released as the first single from the forthcoming album. But in addition to 'BGAT', there were many other pre-album tracks that were planned for the very first version of the album.
---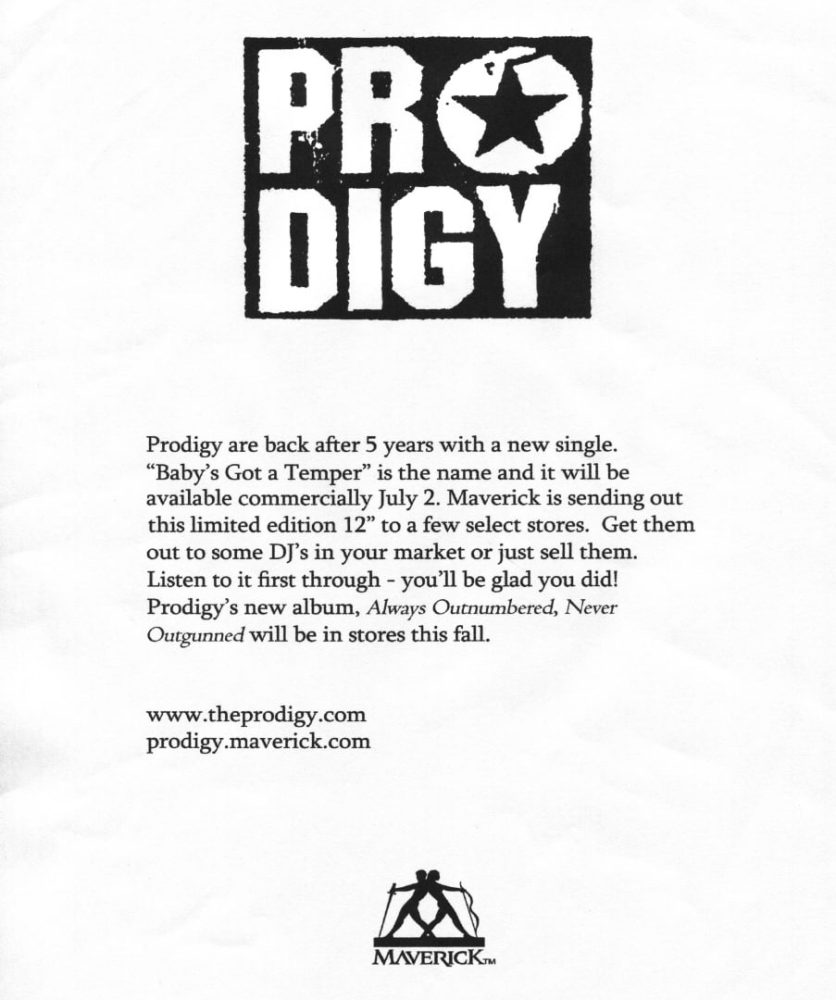 2000
To start with, the album title was actually announced back in early 2000, and the first track written for it was not 'Baby's Got A Temper' at all, but the legendary No Souvenirs – a collaboration between Howlett and Robert 3D of Massive Attack for the movie 'The Beach'.
http://www.xl-recordings.com/news/news.htm (March 8, 2000):
Work is underway on the new PRODIGY album. It is to be titled: 'Always Outnumbered, Never Outgunned'
'No Souvenirs' was originally planned as a film soundtrack but for various reasons, it was not included in the movie. However, it was already planned to be an album track for the forthcoming LP after the soundtrack release was cancelled.
Howlett told The Maker: "I've done a track with Massive Attack. No, it's not specifically for 'The Beach'. It's the first one I've finished for the next album and it's come out really well."
Basically, from late 1999 until mid-2001, no other tracks for the album were mentioned in the media, and most reports focused only on 'No Souvenirs' and its upcoming release (we'll discuss the mythical 'No Souvenirs' single in more detail later). The only exceptions were a couple of unknown titles that were registered in the PRS database at the time: Funky Bones and Cold Cuts. However, it's unclear what those tracks actually were.
2001
Our article on the unreleased first version of AONO would not be complete without mentioning 2001. We previously discussed the 2001 stuff – theprodi.gy/live2001, but it's worth revisiting a few points.
In general, there wasn't much information about the upcoming album in the media during 2001. However, when the band went on a mini European tour in the summer, two new tracks from the album were revealed in addition to 'No Souvenirs'. These tracks in the live setlist were Trigger and Nuclear. Liam stated that they went on tour primarily to test out these new tunes live on stage.
---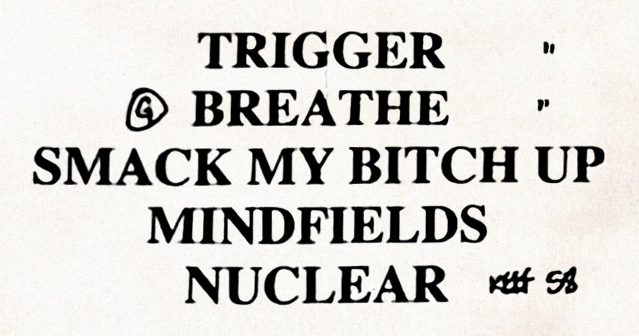 ---
Toward the end of 2001 came out, Liam made two small announcements regarding the new album.
Howlett to NME: "I thought it was gonna be really rocky but it's turning out quite electronic. I don't know what it's going to be like yet but I know it's not going to be all fake blood and stupid hairdos. I'm doing one track with Perry Farrell and Keith (Flint)'s playing guitar on the album too."
Collaborating with Perry Farrell was originally planned for 'The Fat Of The Land' in 1996-1997, but it didn't happen due to Liam's busy schedule. However, the idea to work with Perry was revived for 'Always Outnumbered, Never Outgunned', although it never came to fruition. The title of the track and whether it was completed or not are unknown, as the work was only mentioned a few times without any specifics.
Keith Flint, which mentioned as a guitarist, was most likely referring to Keith's solo project FLINT, which he formed with Jim Davies and Kieron Pepper. The "guitar" tracks recorded for FLINT were later reworked for then-upcoming The Prodigy album.
2002
In 2002, more specific information about the album began to surface in the media. Keef and Maxim stated that 9 tracks were ready for the album by the beginning of the year, with a planned release of the first single in September and the album itself by the end of the year. However, Liam Howlett himself did not want to reveal any details about the album other than the fact that it was half-recorded.
Howlett to Q Magazine: "I've got no interest in talking about the direction of the album because it's only half done and it could go anywhere at this point." Howlett declares. "It's on its way, it's all positive, do you know what I mean? Everyone's getting all anxious, but it doesn't fell like that to me. I've only been working on the new one for five months. It'll be ready probably in about six months' time."
By the way, it's worth mentioning that it was in this Q Magazine article from Australian 2002 tour was announced track – Always Outnumbered, Never Outgunned – probably the most mythical track in the band's history, the existence of which was later denied by Liam himself. It was mentioned in the article from the words of the author of the article, not in a direct quote from Liam, so it is quite possible that it was some kind of mistake. It was on the basis of this article that other magazines also started spreading the confusion.
Borrowing from a new composition (which will go un-aired tonight), the album's working title is, famously, Always Outnumbered, Never Outgunned.
During this Australian tour in January, the band also debuted another new track, 'Baby's Got A Temper', which was later released as the album's first single, earlier than originally planned. It is unclear whether the earlier release was due to label pressure on Liam, but rumors circulated about it at the time.
It's worth noting that in the April announcement of the upcoming single, Rolling Stone magazine also announced that the next single would be 'Nuclear'. Along with the official single announcements, the album's release date was also announced. Initially, the LP was planned for release in the Autumn of 2002, and there were even posters with the Maverick announcement that can be found online.

The group's British label, XL, plans to release "Baby's Got a Temper" in July, followed most likely by "Nuclear" and then the album in late 2002. The band's American label, Madonna's Maverick Records imprint, will follow the lead of XL and release the singles and album as it becomes available.
DESIGN
Moreover, years later it was revealed that the cover and artwork design for the album was also in development at the time. The design of the first 'Always Outnumbered' era was handled by the already well-known British designer Jimmy Turrell, who had worked with Beck, The Chemical Brothers, Hugo Boss, Nike, Adidas and hundreds of other famous teams and brands. As a young student, he worked on the artwork for the single 'Baby's Got A Temper' – we've previously detailed the process of creating this art. Liam Howlett was delighted with the release's surreal design and invited Turrell to continue working on The Prodigy's then-forthcoming fourth album.
The band's continued fascination with militaristic aesthetics, which they first displayed in 2001, led to design ideas revolving around weapons, tanks, missiles, and other similar attributes. Given the album's title, 'Always Outnumbered, Never Outgunned', and tracks such as 'Trigger' and 'Nuclear', it's no surprise that the cover art would reflect this theme.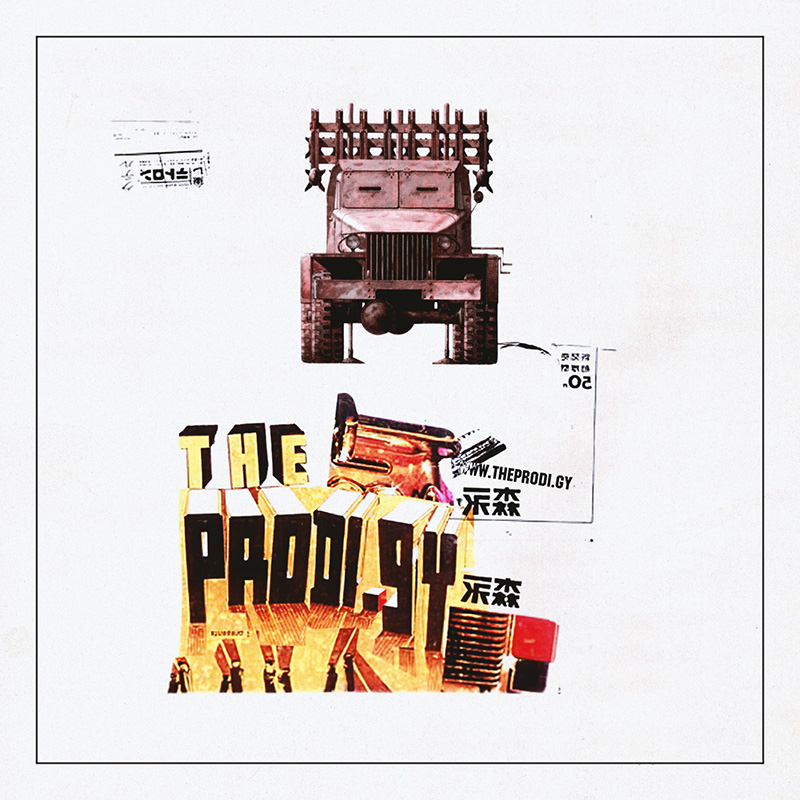 Jimmy spent a year and a half working on this project and created hundreds of drafts and designs for the upcoming record. This period had a huge impact on Turrell: if you scour his Instagram, you can easily see how some of those ideas and drafts from 2002-2003 Jimmy still uses in his work – he's not shy about talking about it himself, and he's really proud of what he's created in that time.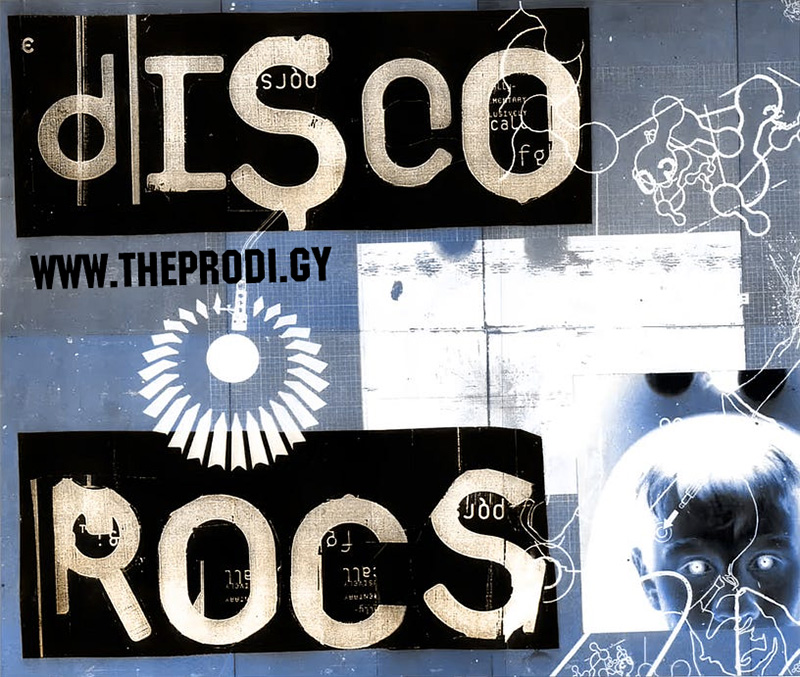 Jimmy Turrell: "I'd only just arrived in London and I was just a bit young and naive when I first got this giant commission. It was basically my first big job and I ended up presenting way too many options – while also failing to self-edit or curate my sketches – which I think ended up confusing everybody."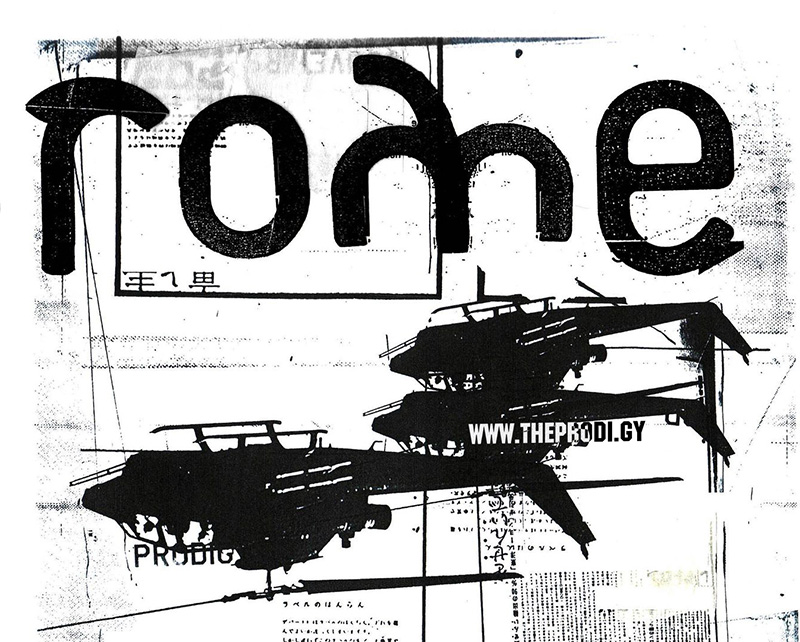 A lot of Jimmy's ideas and drafts were used in the design of The Prodigy website in 2002-2003, as well as on the band's merch and promo materials. Looking ahead, some of the rejected artwork for the cover was posted on Jimmy's Safeplace website a couple of years later.
Fun fact: in one of the unused drafts that Jimmy posted a couple of years ago, you can find a part of the tracklisting – namely, the controversial Souvenirs.
---

---
However, as is often the case with Liam, one day he decided to scrap all the work that had been done so far and brought in new designers to come up with completely different ideas. This decision came as a total shock to Jimmy, and it took some time for him to recover from the setback.
Jimmy Turrell: "I felt like a bit of a student just messing around with stuff, but this thing was going to a be a huge release. I'd almost done about 500 different covers. But one day I got a call from XL Recordings and they said 'Man, we've had somebody else working on that job, y'know what I mean'… I was like 'Wow!', my life felt into pieces and I couldn't believe it. For a couple of weeks I was on a great downer, I had a real crunch. Y'know, blank pages totally occupied my life, I had a total block on creating stuff and had been in a same loop of creating these The Prodigy covers."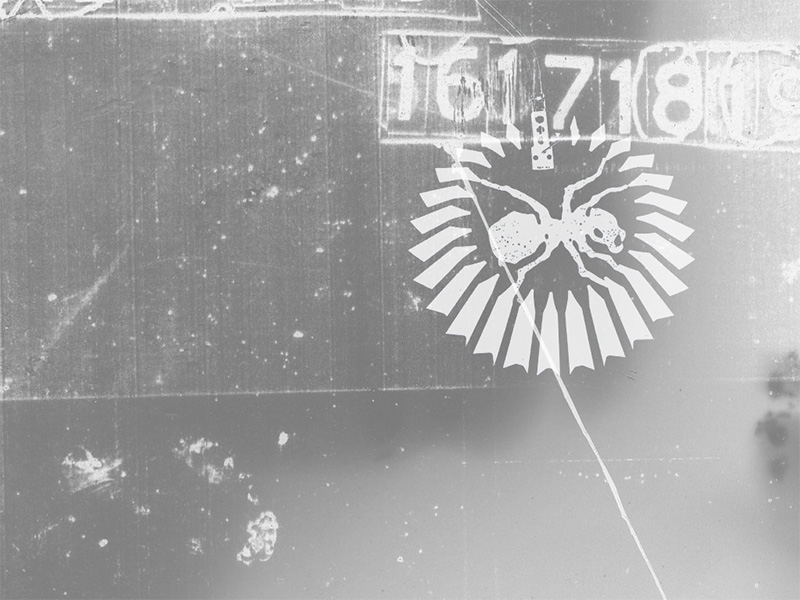 The crisis that Jimmy Turrell faced after Liam Howlett scrapped his work on the 'Always Outnumbered, Never Outgunned' album was a crucial turning point in Turrell's career. Despite feeling disappointed and frustrated at the time, Turrell now looks back on that experience with gratitude. It forced him to reassess his approach to design and pushed him to experiment with new techniques and styles. Ultimately, it helped him grow as a designer and led him to develop a distinct visual language that has become his trademark.
Jimmy Turrell: "When I give talk and stuff on colleges, I always mention this pivotal part of my creative life. I may give a couple of successful projects just to get them interested, but then I always mention The Prodigy. My life just felt into pieces those days, but that was extremely important that this happened to me."
According to the artist, it was this situation that taught him to separate cool ideas from shitty ones, not to get hung up on one thing and to keep experimenting, no matter what.
Jimmy Turrell: "The whole drawn-out process (around a year and a half of my life) actually made me want to quit design altogether and do something else entirely. Instead, I dusted myself off and went back and did a masters at Central Saint Martins. Creatively I'd got stuck in a real rut and I just wanted to learn new techniques and experiment with different ways of thinking. It also prompted me to get a really good agent – (Heart Agency, who still represent me today, both in London and New York City) and this allowed me to really concentrate on the creative side of my practice… So, all in all, it was a real blessing in disguise."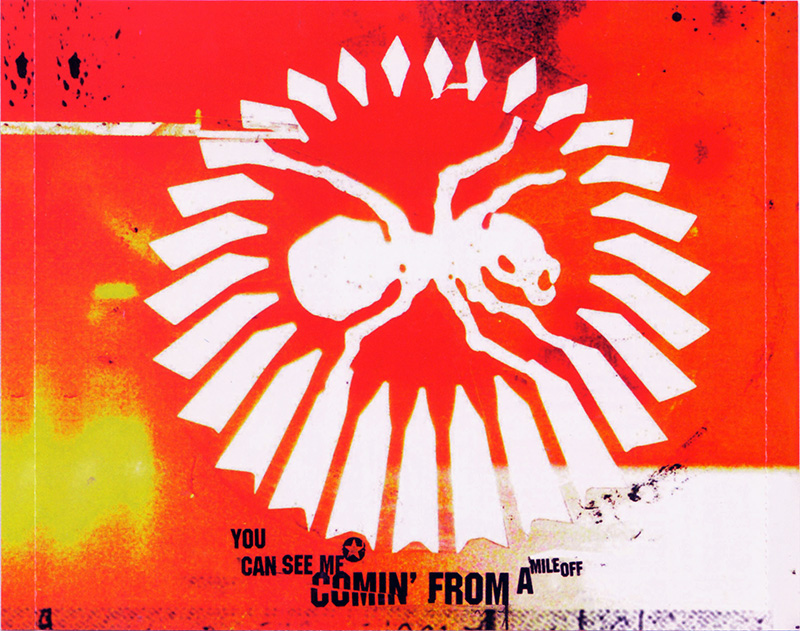 PRE-ALBUM SINGLES
Almost immediately after the release of the long-awaited first single in July, the first alarm bells appeared concerning the album itself. At first, it became known that the album's release was postponed to January 2003. The plan was still to release the second single 'Nuclear', followed by the album, which was about 80% ready at the time.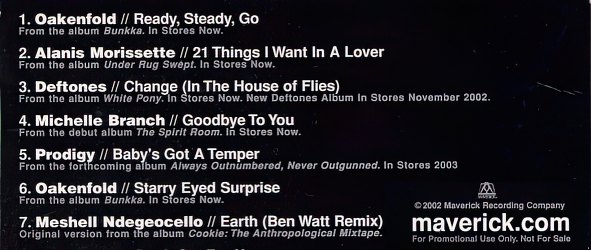 The new Prodigy album, 'Always Outnumbered, Never Outgunned', is now expected in 2003. "I've got 80 per cent of the album sowhere in my studio," Howlett said to NME. "I've just got to assemble it. The other 20 per cent is going to be collaborations and stuff."

via NME (2002)
The guys announced roughly the same plans in a special MTV Weekend 2002: Essential Prodigy tv-report, and also gave a few other details about how they recorded the new tracks.
The exact number of tracks on the album was unknown, but in an interview for the French magazine TRAX in July 2002, Liam mentioned only six tracks instead of nine: No Souvenirs, Trigger, Time (?), Nuclear, Baby's Got A Temper, and Vacation. According to Howlett, the album's release was postponed again, this time to March 2003.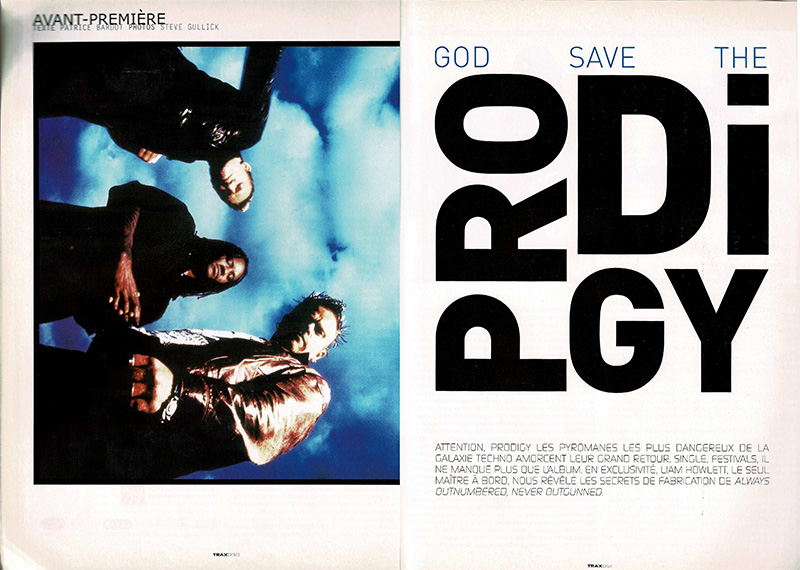 The second alarm bell was Liam's doubts about 'BGAT'. Initially, in interviews following the release of the single, Liam expressed uncertainty about whether 'Baby's Got a Temper' would appear on the album. However, a month later he confirmed that the track would definitely not be included in the LP.
---
Liam on Radio One:: "It's a bridging gap, this record. I mean, I see the next record is like a comeback record which will lead into the album. And I thought whether this single should actually go on the album because there'd be a bit of distance between this record and the album itself, but we can figure that out. The record company were like, what? I see it. You've just written something and now you don't want to put it on an album you haven't finished. But we're talking about releasing the single towards the end of the year and then rolling with the album next year."
Towards the fall, although The Prodigy introduced a new updated version of 'Nuclear' and performed a couple of new tracks, the band faced obstacles. You can watch and listen new version of 'Nuclear' on the top of the article↑. Shortly after their summer shows, news started to emerge that the album's release would be delayed indefinitely. Howlett even revealed that half of the tracks performed live wouldn't make it onto the album, including their previously released single 'BGAT'.
Neko: "Last year when you played Reading festival you had this massive build-up and made it look like it was going to be this big comeback, you changed the stage and the show compared to earlier shows that year, but then it all went completely quiet afterwards."

Liam: "I think the reason why we changed it was to make it, in our eyes, kinda special, you know. Australia for me was some of the best shows we ever did, Australia was just fucking amazing, I loved the place and I had a really good time there and loved the different bands that were playing there. I hated Reading, I fucking hated it, we should have never done it. That combined with 'Babys got a Temper' was the point for me 'Fucking stop now. Just fucking stop everything. Let me get back in the studio'. You can only do something so many times, before it feels like you're doing the same thing. After Reading and releasing that record we just had to stop, because I wanted to have time to think about where I was going to go."
Things became even more uncertain when, towards the end of 2002, the band disappeared from the public eye and was hardly mentioned in the media. The planned single 'Nuclear' went into obscurity, and the release of the album, initially planned for March 2003, was postponed indefinitely. It was only in December 2002 that it became known that Liam had decided to completely revise the album following the criticism of the single.
"Coming your way in 2003… THE PRODIGY – Having gone back to the drawing board after a disappointingly received comeback single, and lukewarm performances at Reading/Leeds. Liam`s taken on board fan feedback and re-worked the album, still destined to be called Always OutNumbered Never OutGunned"

via FHM (30.12.02)
SOMEWHERE IN A PARALLEL UNIVERSE
And here we would like to reflect on what the very first 'Always Outnumbered, Never Outgunned' could have been if everything had gone according to the original plan. In short, the picture would have been as follows:
July 2002 – first 'Baby's Got a Temper' single;
Autumn 2002 – second single 'Nuclear';
January-March 2003 – album release with 'Trigger', 'Vacation' and others;
Second half of 2003 – third single, possibly 'No Souvenirs'.
---
We also decided to break down all the tracks mentioned during that period:

1. NO SOUVENIRS — This tune was planned for an album after a cancelled release on the soundtrack of the film 'The Beach'. But according to the information available, the track had quite a few versions! Based on Liam's own comments, a reworked version from 2002 was planned for the album.
ROBERT 3D (09 APR 2002): "ME AND LIAM GOT TO UPDATE 'NO SOUVENIRS' SOON FOR PROD ALBUM"
Basically, Liam didn't really work on the track until late 2001. Various producers, including Mark Stent, tried to finish the track, but when Liam sat down to write the album, he personally updated 'No Souvenirs', which he planned to release as an album track. Liam also mentioned a possible release of the track as a single, but only the 3rd one, and already after the album release.
---
2. NUCLEAR — The track 'Nuclear' had its first appearance in an early demo version in 2001 and was then slightly revised. You can read more about it in our 2001 live shows article: theprodi.gy/live2001 This revised version was played regularly until mid-2002 when it was decided to release it as a single. For the single and the album, a third version was planned, which was played three times in August 2002. The only available live recording of this version leaves much to be desired. As for the content of the single itself, we can only guess. But we can assume that the single would have a radio edit of the track, a remix and some B-side.
---
3. TRIGGER — It's worth noting that 'Trigger' appeared in a completely finished form, unlike the same 'Nuclear'. Generally, we believe that Trigger was recorded a little earlier, in 99-2000. Vocals for the track were recorded in Keef Flint's home studio, and the basis for the track, around which the entire track is built, was the loop from 'Adrenalin' track by Senser released in '98. By the way, the movie 'Analyze This', the phrase from which was played at the end of the track, was also released in '99. It is quite possible that both samples were cut being quite fresh, taking into account Liam's love for sampling fresh tracks, which he used to do in the '90s.
---
We made a demo of Trigger a couple years ago and are in the process of working on a final version closer in sound to the original!
---
4. BABY'S GOT A TEMPER — Despite the fact that after the release of the single in July 2002, Liam had already had his doubts about the track, there were still some attempts to refresh the track for the forthcoming album. An old article by Martin James mentioned a certain CRAFTED version as an attempt to update/refresh the track. Oddly enough, the vocals for the updated version of the track were contributed by Ping Pong Bitches, who subsequently also recorded vocals for the new single 'Girls' as well.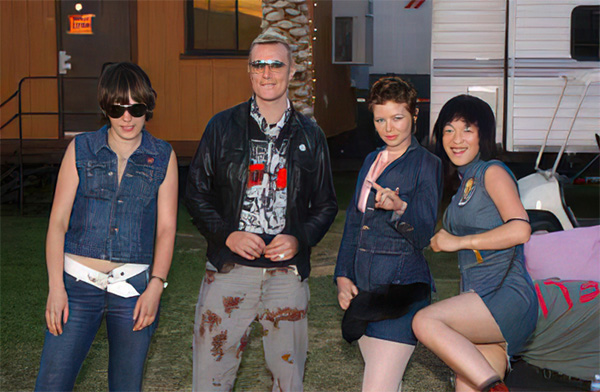 ---
5. VACATION — Liam only once mentioned the track in an interview with the French magazine TRAX. He described the lyrics as a new approach, with "Vacation" being about the USA. Contrary to rumors, it was not an anti-American song, but rather against the whole nu-metal scene.
Liam to TRAX (2002): "The new lyrics are a new approach: "Vacation" is about the USA. It's not anti-USA, it's just against that new "metal" scene. On a general aspect, the message is still the same: "Let's fucking go!"
Interestingly, it turned out that 'Vacation' (just like 'Baby's Got A Temper') was originally recorded for Keith Flint's solo album in 2001. A year later, Liam remade the track for The Prodigy's album. Liam's arrangement of 'Vacation' still hasn't surfaced anywhere. After the cancellation of the first AONO album, the track was added back to Flint's solo album. During preparations for the release of the solo album, Keef and the rest of the FLINT band were rather reluctant and ambivalent about answering questions about the track.
Flint's 'Device #1' contains a track called 'Vacation', a title, Liam Howlett told me while sitting in Keith Flint's cottage last August, then attached to one of the five songs completed for the next The Prodigy album. That song, Howlett said, was his band's reaction to the rise of nu-metal, the chorus, 'Vacate the USA!', a statement of intent from The Prodigy, warning pretenders to their throne to get ready to step aside when their album would drop. Since 'Vacation' on 'Device #1' features the snarling chorus 'Vacate the USA!', I ask Flint and Davies whether this is the same song earmarked for 'Always Outnumbered, Never Outgunned'. The pair deny this. So I ask how they distinguish between songs written for Flint and ideas conceived for The Prodigy – they actually refer to the band as The Prod – given that The Prodigy's last single 'Baby's Got A Temper' (a version of which actually appears on 'Device #1') was originally a Flint/Pepper/Tony Howlett composition reworked by Liam Howlett.

via KERRANG (2003)
Kieron Pepper: "Vacation USA" was one of our tracks that was on "Device #1" that Liam wanted to work with; along with "Razor" and "No Name No Number" ("NNNN"), which became "Baby's Got A Temper". I can't remember if Liam finished a version of "Vacation"
---
6. UNKNOWN ft. PERRY FARRELL — What this track was is still unknown, and it is unclear whether it was eventually recorded or finished…
---
7. WAKE UP ft. KOOL KEITH (FULL VOCAL) — The collaboration with Kool Keith, titled 'Wake Up' was recorded in 2002, and it was expected to make it onto the album in a full vocal version, similar to "Diesel Power".
---
8. COLD CUTS — An unknown track registered in the PRS database in 2000.
---
9. FUNKY BONES — An unknown track registered in the PRS database in 2001/2002.
POSSIBLE B-SIDES AND OTHER STUFF
10. BACK 2 SKOOL (2002 INTRO) — This track is a demo from 1998 that was taken from a dusty shelf in August 2002 and played as an intro. It could potentially be reworked for a b-side or album filler.
Liam Howlett to Neko: "The Leeds and Reading intro is very old skool, kind of like back in 1996 breakbeat era. I know it's quite a favourite with the fans. I like the beats, the beats were good and some of the parts, but it needs updating. It just didn't flow enough when I took it to the studio so it didn't really go any further."
---
11. NIGHTBOAT TO CAIRO (SANDSTORM / MEDUSA'S PATH) — The release of the Madness cover on the album is practically ruled out. Howlett himself said that the track is nothing more than a joke.
Liam Howlett to Neko: "Nightboat to Cairo was more just humor, really. They were tracks that were special to me when I was young, but they were never ever going to be released, they were only ever going to be played once or twice and then put on the shelf. So this track are definitely never going to be heard again."
However, the cover features an early demo of Medusa's Path, which was called Sandstorm at the time. It's very likely that it could have been finalized for a b-side or an album filler.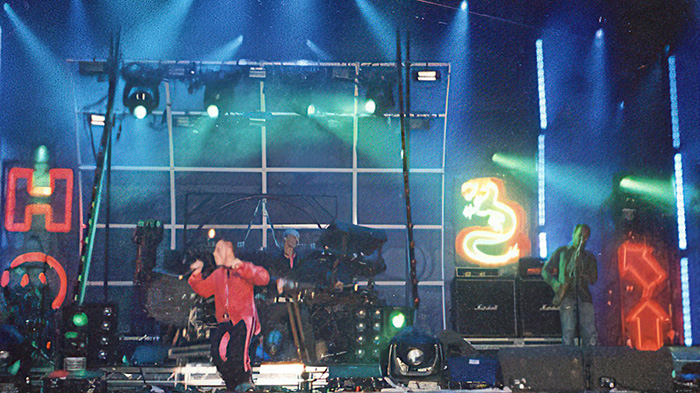 It's worth recalling that 'Nightboat to Cairo' was played with a live saxophonist, and he also played along on saxophone in the middle of the track to "Medusa's" melody. Hence, many people got an impression that 'Medusa's Path' has the same melody as 'Nightboat to Cairo', only slower, and that some parts of this cover ended up into the final version of 'Medusa'. But in fact, Medusa's part was inserted inside the 'Nightboat to Cairo' in one piece and had nothing in common, just because of the live saxophonist they sound similar in some places!
---
12. WEBSITE LOOPS — Among many loops on the BGAT/AONO time site, you could hear, for example, an early version of 'Back 2 Skool', as well as a later version of 'Goblin'. Of course, we suppose that most of the unidentified loops are just some leftovers from the FAT/POST-FAT era, but some could have been made in the 2000s for the upcoming release. For example, the loop in the 'Visual' section sounds quite interesting and could well become the b-side to the single, similar to 'The Trick' and 'Molotov Bitch'.
The proof that the track was recorded on the eve of 'AONO' and not in 'The Fat of the Land' era is the fact that it samples the beat from Mr. Oizo's 'Analog Worms Attack', which was released only in 1999:
Sample source: Mr. Oizo – Analog Worms Attack [Analog Worms Attack, 1999]
And the opening pad is none other than the downpitched guitar feedback from 'Fuel My Fire', which also made its way into 'Trigger':
We restored this untitled demo as well!
---
13. LIVE FILLERS (2001-2002) — 'Goblin', 'Dust Yoself', 'Seat Beach Rock Fill', 'Benny Blanco 2002' — hardly any of the above could make it to an album or single. Howlett himself has said many times that they are just bootleg tracks/fillers for live shows and nothing more. Still, some parts could have been used for a new production later on.
---
We also recreated this filler a couple years ago, more info about 'Goblin' here: theprodi.gy/live2001
---
And this one we also recreated! More info about this fill here: theprodi.gy/babysgotatemper
---
And of course 'Benny Blanco 2002' was also recreated! More info here: theprodi.gy/bennyblanco2002
---
That's the way it is! We'll be updating this article as we discover new information and content!
---
Headmaster: ALL SOUVENIRS
Additional thanks to: Jimmy Turrell
---
Donate
Donate Bitcoin to this address

Tag/Note:-

Network: Bitcoin

Donate Ethereum to this address

Tag/Note:-

Network: ETH Ethereum (ERC20)

SBER/QIWI (RUS): 8950008190б