#FAT25 · LIVE 1998: Rock'n'Roll · Beats
Last year, we published a series of posts dedicated to the 25th anniversary of The Fat Of The Land album. However, it wouldn't be complete without mentioning the events of 1998, which occurred during the busy world tour that followed the album's release. Today, we'll take a look back at some interesting moments from the "post-fat" period and highlight some new products that premiered in June '98, exactly 25 years ago!
---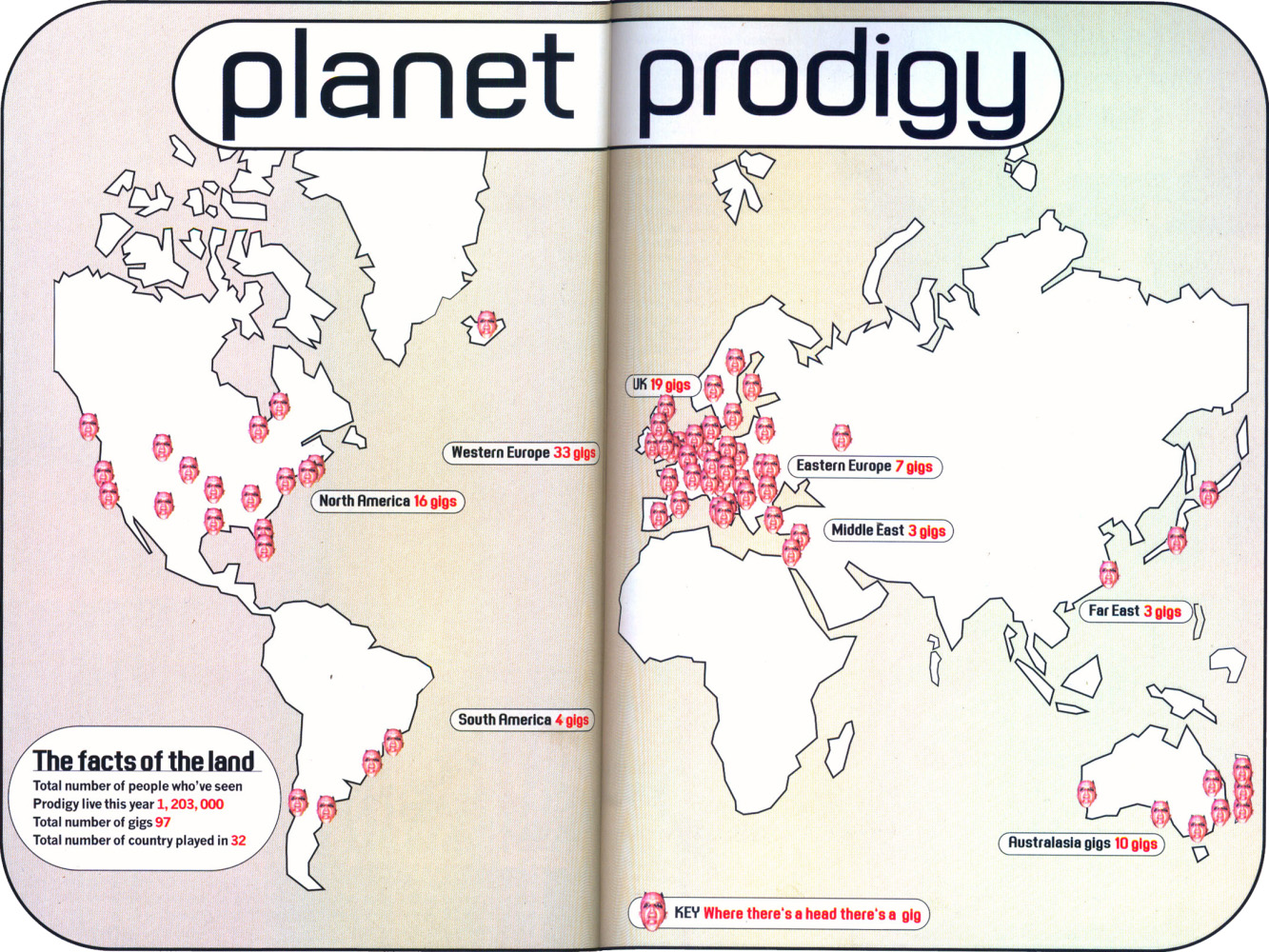 ---
Speaking of official studio releases, it is worth noting that the band did not release much during the entirety of '98. The only exception was one remix by Liam titled Diesel Power (Dirtchamber Remix). This remix was rumored to have been created for the single 'Diesel Power' and was produced in Liam's newly established studio, also named Dirtchamber. For more details on this remix, please read our previous article – theprodi.gy/dieselpower
---
---
But despite the lack of any official releases, the band managed to win Best Dance Act at the 1998 MTV Award.
---
Funny moment, Liam himself was unequivocal about the results of his work during the year: "We haven't done fuck all this year, we don't deserve it… but thanks anyway!"
---
The band's continuous touring schedule, which began in mid-'97, contributed to the lack of new material and releases during '98. Once in interview, Liam mentioned about 5 new tracks, that he planned to release as EP. This approach was supposed to help create and release music faster than full-format albums. But as you know, nothing of the kind was ever released in '98 or '99. The only thing that was updated in '98 was the live show.
---

New stage decoration and backdrop
---
At the beginning of June, the band took a short break from their tour and returned with a refreshed program. One noticeable change was the replacement of the classic backdrop featuring designs from the 'The Fat of the Land' album booklet with street graffiti. The graffiti was not a factory print but actual authentic artwork created by Jim Murray and Jason Brashill, who were part of the same old-school hip-hop/graffiti scene that included members of
Cut2Kill
, Liam's first musical project before The Prodigy. You can read more about in our special article –
theprodi.gy/cut2kill
---
---
The musical component of the show has also experienced minor changes. Despite occasional criticism regarding the lack of new tracks in the live show a year after the album's release, the setlist was still updated.

1998 OFFICIAL LIVE SETLIST
Let's begin with the very first track in the show – RUN DMC, which is essentially a simple intro with a short loop of Run's House by Run DMC.
---
Sample: vocals ('we have a whole lot of superstars on this stage here tonight, but I want y'all to know one thing, this is my house') & instrumental
Sample source: Run-DMC – Run's House [Tougher Than Leather, 1988]
Note: Played as an intro from 1998 to 1999. Featured on the setlists and listed as 'Run DMC'.
---
Certainly, the intro track 'RUN DMC' (in addition to the new stage backdrop) served as a response to the new wave of old-skool, particularly the breakdancing trend that was prevalent in Europe during that period. It was a way for The Prodigy to acknowledge and pay homage to the influence of old-school hip-hop.
During that time, notable releases that reflected the breakdancing wave included the first official release from the international breakdance Battle Of The Year and the subsequent hit Freestyler by Bomfunk MC's, which released a year later. In Russia and on post-Soviet countries one of such key hits, which gave rise to a new wave of breakdancing, was You Wanted Party? by Da Boogie Crew, which also released in '98!
---
---
Another notable release was the updated version of It's Like That by Run DMC, remixed by Jason Nevins. This remix was criticized for exploiting the nostalgic old-skool vibe and transforming it into a generic club house track. Liam, expressing his personal taste, openly disliked the track and voiced his negative opinion whenever given the opportunity.
---
Liam Howlett for Martin James: "That whole old skool thing really fucks me off you know. With me, I never hung out with Afrika Bambaataa in the Bronx and shit, but I was into it at a young age. I know the music, I know the breaks. The revival is just people who don't know more than phat laces and Run DMC. To me it was just shit, all of these house DJ's suddenly saying they were into hip-hop. Most of those DJ's aren't fit to tie phat laces let alone wear 'em, you know what I mean? If Pete Tong dropped an old skool mix he'd use Rob Base, Run DMC's 'Walk this Way'. You know, all of the tunes that were actually crap but people who wanted to seem like they were down, would always be into them. Whenever people talk about old skool they always say Run DMC's 'Walk This Way' or that Jason Nevins shit. They never talk about the cool tunes they did.
People don't understand that just because you use a break or stick some breakdancing in the video doesn't make you old skool. The mainstream don't understand that being a B-boy means knowing all about your roots, or you simply don't get the respect. And putting a crap house beat to an old skool track doesn't make you old skool, just stupid. And like I said, it just annoys me when people use breaking in their videos for extra cred.
Of course we did use breakdancers in our live shows that year, but not because we wanted to seem old skool, because I think that would be wrong. But as a mark of respect to these crews who are happening around the country. Those people we used were mates of mine, Evo, Tuff Tim and some of their friends. I reckon they're the best breakers in the country."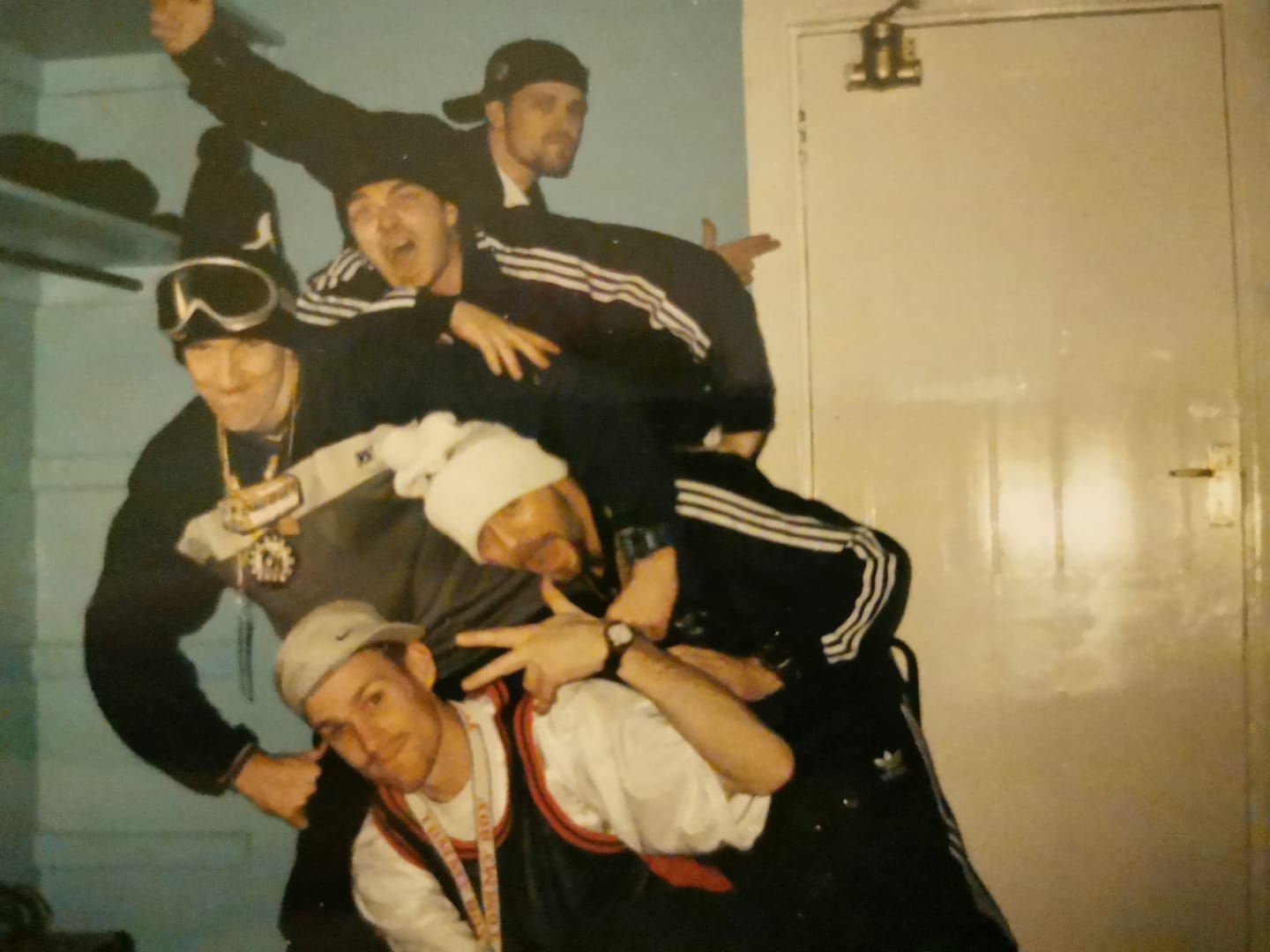 ---
The influence of the new wave of "old-skool" certainly resonated with Liam, considering his involvement in the late '80s with the band 'Cut2Kill', where they engaged in graffiti art, participated in DJ battles, and breakdancing.
One notable example of this influence is the remix of legendary 'Rock'n'Roll' that became the opening track of their live show. This remix, often referred to as Rock'n'Roll '98 or Rock'n'Roll ('98 Live Remix), is heavily infused with samples and references to the classic b-boy's culture. It serves as a testament to The Prodigy's appreciation for the old-skool roots while giving it a fresh twist for their live performances.
---
---
Despite the fact that the track is only a "live filler", meaning it was specifically created for live shows, it is still worth delving into its development in more detail. There were rumors circulating at the time that 'Rock'n'Roll' was intended for inclusion on 'The Fat Of The Land' album, leading some fans to believe that this version was the one left out. However, this is highly unlikely since the main beat used as the foundation for the track was borrowed from Rasmus track Punk Shock, which was released only in June 1998.
---
---
While it may not be immediately evident from the live recordings, we stumbled upon a rare recording from the soundcheck during those years, featuring a fragment of the demo version of 'Rock'n'Roll '98'. In this earliest iteration, the "Punk Shock" beat was in its purest form, and the track itself was slower, tempo was around 112 BPM. Additionally, it was slightly shorter in length, with a shorter pit in the middle and an outro lacking the guitar loop.
---
We recreated this demo version, making it instrumental for a change!
---
Something similar was just played at the very first gigs with the updated show program (the track plays slower, about 112bpm, with a short outro):
---
---
However, after just a few gigs, Liam increased the tempo of the track, likely because the slower tempo didn't work as effectively as the show opener. He also finalized the outro. This version became the standard rendition of the track, regularly performed throughout the tour until its conclusion in '99.
---
Last time performance of 'Rock'n'Roll'
---
This version, as you know, we also recreated a couple of years ago!
---
Besides the new 'Rock'n'Roll', the show also featured a short Ride The Rhythm filler, which just like the 'RUN DMC' intro, was just a loop of someone else's track, or rather a loop of rapper Chill Rob G track, although some fans often confuse it with a track from The Prodigy. We published a detailed list with all similar loops and fills in our previous article – theprodi.gy/fills
---
Sample: beat & vocals ('feel it, ride the rhythm')
Sample source: Chill Rob G – Ride The Rhythm [Ride The Rhythm, 1989]
Note: Played occasionally from late 1997 to 1998.
---
There were also a few live jams during that period. One of them was the track DRE LINK, which was mentioned in detail in our previous article – theprodi.gy/drelink Another live jam was an updated version of the track Climbatize.
---
---
This jam was initially listed as Horn Link in the setlists because, at the beginning of the tour, it was simply a jam of horn's sound serving as an introduction to 'Mindfields'. But closer to the middle of '98, the jam evolved into a full-fledged live remix. Alongside other tracks, the updated version of 'Climbatize' continued the same concept of the classic big-beat and b-boy sound, which we were thrilled to recreate.
---
---
During that time, it can be said that the band was at the peak of their success, and many fans eagerly anticipated the continuation of their beloved sound. However, to the disappointment of many, only a couple of live tracks were presented during that period. The only things not mentioned before are the "two-times" performance of the Ghost Town cover, which you can read about here – theprodi.gy/ghosttown and an "outro" show, which also included a loop of another Run DMC track:
---
Sample: vocals ('it's like that y'all, and we don't stop the body rock') & instrumental
Sample source: Run-DMC – Together Forever (Krush-Groove 4) (Live At Hollis Park '84) [Can You Rock It Like This, 1985]
Note: Played as an outro from 1998 to 1999.
---
It's worth mentioning that the resurgence of the old skool style in the mainstream was reflected in Liam's works, not only through a couple of new tracks for live performances but also in the recording of a legendary mixtape for The Breezeblock show, which aired on BBC in the same year. It would be more accurate to say that the main response to that wave was the mixtape, which consumed all of Liam's free time, leaving no time to work on new tracks for The Prodigy. However, we will provide more details about it in our upcoming special article dedicated to the anniversary of 'The Breezeblock' airing with Liam's mix.
---
Headmasters:
SIXSHOT
Additional thanks to:
Split, Faust, Canyon Hill, Martin James
---
Donate
Donate Bitcoin to this address

Tag/Note:-

Network: Bitcoin

Donate Ethereum to this address

Tag/Note:-

Network: ETH Ethereum (ERC20)

SBER/QIWI (RUS): 8950008190б