Unobvious and missed collabs #1
Just a month ago, after a long break, the band returned to the stage and embarked on a tour, while also presenting their new track to the audience! However, the highlights of the first half of this year were two studio works by Liam Howlett, or rather two tracks produced by Liam for other artists: Dogz or Godz – SCUM and Kasabian's Rocket Fuel. We have already provided detailed information about both of these tracks in our previous articles – theprodi.gy/rocketfuel and theprodi.gy/dogzorgodz But today we would like to recall other less obvious collaborations and remixes for other artists that many may not be aware of! We will be discussing the most unexpected joint projects that were either planned and mentioned in the media but didn't realize in the end, or were recorded but never released!
---
Quick poll, who do you think the collaboration would be better – with Steve Aoki or Oreo cookies?
Original shots from www.instagram.com/theprodigyofficial
Sixteen Different Flavours of Hell
The earliest enigmatic collaboration can arguably be considered the track Sixteen Different Flavours of Hell by Pop Will Eat Itself (P.W.E.I.) back in 1989. Howlett's involvement in this track is mentioned in all music licensing databases.
Whether this is a mistake or if Liam, then known as DJ Fame from Cut2Kill, actually participated in creating this track remains unknown. However, the presence of his name as a co-author in all databases is unlikely to be a coincidence. Furthermore, he is also listed in the credits below the official YouTube video.
Automation – Speedway
The second mysterious sidework can confidently be considered the remix of Automation – Speedway. We once mentioned this work in our article about Liam's '93 remixes. Several times, this remix was mentioned in music magazines in 1993, alongside other remixes that were released by that time. However, it is known that there was no official release of such a remix, and a year later, on The Prodigy's album 'Music for the Jilted Generation', they released their own track with the same title. Whether this was a mistake by the journalists or if such a remix was actually recorded but not released is also unknown.
Barry John – Nobody Does It Better
One of the most enigmatic remixes of that period is the remix of Barry John – Nobody Does It Better, which is mentioned in the tracklist of a certain promotional release but is absent from the actual disc.
---
"A stunning sideways tribute to one of the world's best loved Bond themes from this ex-member of Barry Adamson and former international rugby star, remixed for the dancefloor by Liam of The Prodigy."
---
The details about the remix and the reasons for its exclusion remain unknown. It's possible that its cancellation was somehow related to the credits, as Liam's name and the band's title were listed with numerous mistakes. However, considering Liam's love for James Bond soundtracks, which he sampled several times and used as live fillers, the existence of such a remix seems plausible.
HIP'S TRIP FILL

Sample source: John Barry – Hip's Trip [The Man With The Golden Gun (Original Motion Picture Soundtrack), 1974]

Note: Played regularly after 'Smack My Bitch Up' from 1996 to 1997.
Or perhaps this remix simply morphed into 'Mindfields' while in the works. 🙂
MINDFIELDS

Interpolation source: John Barry – Hip's Trip [The Man With The Golden Gun (Original Motion Picture Soundtrack), 1974]

Note: A portion of the melody from 'Hip's Trip' was replayed with almost no changes.
"Fat" offers
The next mentions of "planned" collaborations and remixes came in anticipation of 'The Fat of the Land'. It would be more accurate to say that a whole "wave" of such mentions started in the media. And it's not surprising since 'The Fat of the Land' can rightfully be called the most successful music release of 1997-1998, after which everyone wanted to work with Liam immediately. Of the morе high-profile rumors, we can recall Madonna's requests to produce her album and Liam's subsequent rejection: "I was, well, I'm quite flattered, to be honest, but I'm not going to do it. That's possibly the worst move we could do right now — give Madonna my sound. I don't want to be spreading my sound around. I'm just not prepared to take that risk." Then Moby's and David Bowie's desire to work with Liam.
---
Left: Maxim with Madonna
Right: Keith Flint with David Bowie @ 'Out In The Green' Festival, Switzerland (July 1997)
---
But apart from these high-profile rumors, we also found some other more realistic proposals that seem to have been worked on, but never saw the light of day.
U2 / Bono – Discotheque
Liam Howlett for NME: "I've spoken to Bono a couple of times. I wanted him to do a track on our new record-and he wanted me to do a remix on theirs, but our schedules were totally out of sync. I think that for a band of their size, they take a lot of risks, which is cool."
"The Prodigy recently turned down a request to mix U2's Discotheque and an offer to support the band on tour."
Jamiroquai – Supersonic
"Liam Howlett is producing a remix of a new Jamiroquai song, according to publicists for the Prodigy."

via MTV.COM (1999)
In April '99, there were numerous media reports that Liam was remixing Jamiroquai's single, Supersonic. According to rumors, Jay Kay and Liam knew each other personally and had many conversations about it. But the remix never saw the light of day!
"Jay stated that he is currently in discussion with Liam regarding a Prodigy re-mix of the Jamiroquai track, "Supersonic". Kay had last phoned Liam personally a few days ago, and at the moment nothing seems to have been finalised. However since they both know each other and Jay Kay owns several sports cars that Liam would undoubtedly love to drive, maybe a new, 'Prodigy' track will not be far off, albeit on the B-side of a Jamiroquai single."
"While Howlett may shun the company of his own bandmates, he has taken on the task of remixing 'Supersonic', one of the tracks from Jamiroquai's new album, 'Synkronized'. According to British music industry website Dotmusic, Howlett has added his own flourishes, transforming the song into more of a trance record than even Jay Kaye intended. But Kaye told reporters that he didn't intend to duplicate his earlier efforts, and has left the R&B-infused stuff behind. "I wanted a harder thing because to be fair some of the older tracks are not me."

via NME (1999)
Garbage remixed by Prodigy
Of course, in '99 there was much talk about Liam's collaboration with 3D from Massive Attack, but that work was directly for The Prodigy. However, this article is solely focused on Liam's unreleased productions for other artists. And it looks like they've both worked on remixes as well, as it has been reported in the media that they are both said to be remixing Garbage tracks for her remix album.
---
"GARBAGE are planning an album of remixes and rarities for the first quarter of 2000. Massive Attack and Prodigy's Liam Howlett are amongst the remixers. Title, tracklisting and release date have not yet been decided."

via NME (1999)
Shirley herself later reported that the release with the remixes was delayed and since then no word!
Shirley Manson @ GARGABE.COM: "We got back together this weekend following a 4 month long vacation with the sole intention of finishing work on the B-sides and Rare Remix collection that we've been talking about for some time now but felt so rejuvenated and excited to be back making music again that we've shelved said aforementioned project for the time being and have gotten stuck into writing some brand new songs instead. Needless to say we are super psyched. The B-sides thing will just have to wait until a rainy day. (Sorry to keep you hanging on that one but we just have to go with our gut lust. Know what I mean?)"
Amanda Ghost – Come Find
Also in 1999, a track called Come Find featuring Amanda Ghost appeared in almost all music databases. There is no information available about this track, aside from its registration. Based on the year of registration, it can be speculated that this track was likely produced for Amanda, possibly for her debut album Ghost Stories, which was released in 2000.
---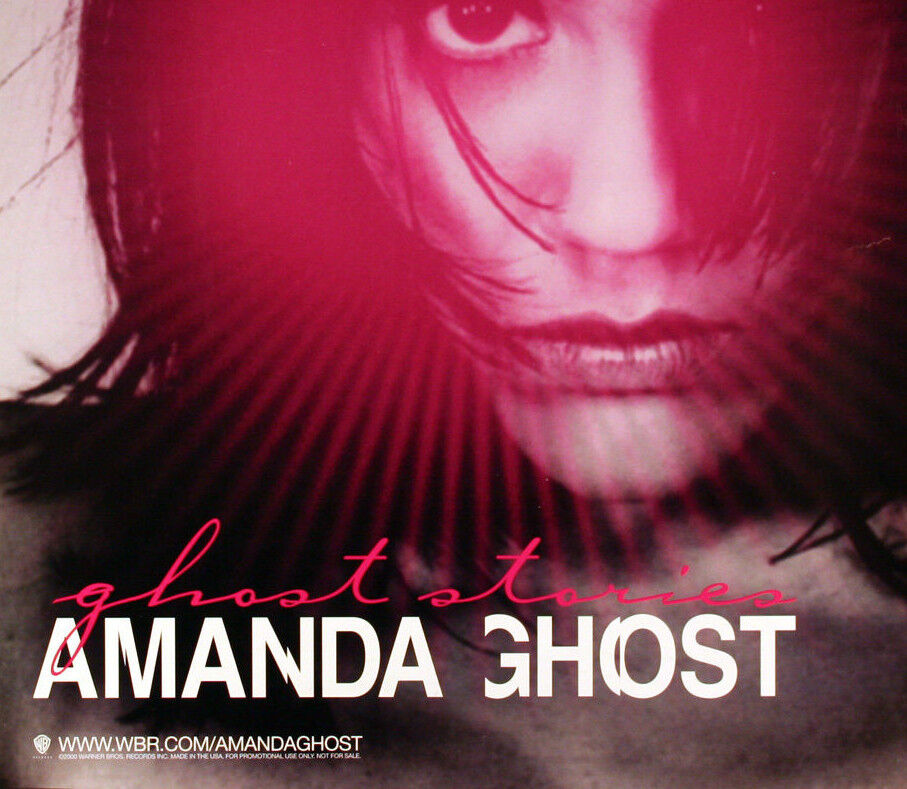 Primal Scream – Blood Money
In February 2000, rumors began to circulate about Liam collaborating with Primal Scream. These rumors were sparked by an article in Flipside magazine discussing Primal Scream and their new album. The article mentioned that the promotional version of the album included a track called I'm Five Years Ahead of My Time with beats produced by Liam Howlett. Liam confirmed that he had indeed helped with programming beats for the Primal Scream track, but in the end another version of the track without his involvement was released.
Anna: "Liam, is it true that you took part in the Primal Scream track?"
Liam: "Yeah, the guys asked me to be on their track. I worked on it for a bit, but they then decided to do a different version, so mine didn't make the album. But I like that band and I wanted to work with them in the future."
It also was later revealed by the band's manager, Mike Champion, that a different version of the song, without Liam's involvement, was ultimately included on the promo-release. Despite this, Liam was still credited in 'thanks-list' in album booklet.
---
---
This information circulated among fan resources for a long time until one of our team members identified a piece of Primal Scream's track Blood Money in an audio loop from the BGAT 2002 website.
---
Sample source: Primal Scream – Blood Money [Exterminator (XTRMNTR), 2000]
---
The loop included additional beats layered on top, suggesting that this is exactly the kind of work that's been talked about. It is possible that the track's title was confused or simply didn't have it at the demo stage. It is worth noting that the track was released in two versions. The album itself featured a shorter version of the track. Original 8-minute was released only on the album's promo sampler.
Medicine – I'm Sick
On the same 'BGAT' site, you could hear another rework by Howlett of a third-party track – Medicine – I'm Sick. It was not intended as a remix of the track, especially not an official one. It is likely that Liam was working with a loop to potentially use it in one of his own tracks later on. However, in the form in which it was posted on the site, other than I'm Sick (LH Edit) it can't be called. 🙂
---
Sample source: Medicine – I'm Sick [I'm Sick, 1997]
---
Further during the time of 'Always Outnumbered, Never Outgunned', several collaborations were mentioned that also didn't come to fruition, such as those with Perry Farrell, Peaches, and Noreaga. However, these mentions were in relation to guest artists on new tracks being prepared for The Prodigy's upcoming album. But after the release of 'AONO' and 'Their Law', rumors of Howlett producing other artists began to mention once again. We will delve into these works in the second part of the article!
---
Headmasters:
SIXSHOT
Additional thanks to:
Split, Faust, Break-D
---
Donate
Donate Bitcoin to this address

Tag/Note:-

Network: Bitcoin

Donate Ethereum to this address

Tag/Note:-

Network: ETH Ethereum (ERC20)

SBER/QIWI (RUS): 8950008190б