The Prodigy Youtube: LH & Maxim's comments on 'Milton Keynes' stream (July 2020)
LH – WE WERE CALM AND READY FOR IT BACKSTAGE, I NEVER FEEL NERVOUS BEFORE GIGS , BUT AT THE MOMENT I WALK ON STAGE & SAW THE WHOLE CROWD LIT UP THATS WHEN I REALISED THIS WASNT JUST ANOTHER FESTIVAL
LH – EVERYBODY WAS HERE TO SEE US AND I SUDDENLY HAD AN OVERWHELMING FEELING OF BEING SO SO PROUD
Maxim – Coming out on stage was great, I settled into it quickly. The days building up to it were harder, as the anticipation & excitement of how it would be & how people react was heavy on my mind
​LH – I HAVNT WATCHED THIS IN A FEW YEARS BUT THIS WAS DEFINATLY A GOOD PERIOD IN THE BAND , ROB AND LEO ON FIRE , FUKIN COME ON !
​LH – ESCAPISM , UNITY , MAYHEM AND BASS WERE WHAT THIS GIG AND THE BAND ARE ABOUT
​LH – WE HAD A TATTOO TENT AT THE SHOW, , GET A TATTOO HERE BUT IT CAN BE ONLY AN ANT , IT WAS A SCAR TO HAVE TO REMEMBER A GREAT DAY
​LH – I GOT ONE , MY MISSES GOT ONE AND MY DAUGHTER GOT ONE , MY MATES YOUNG SON SNEAKED ONE IN WHICH DIDNT GO DOWN TOO WELL WITH HIS MOTHER
​MAXIM – There was a funny comment I saw on instagram, someone saying "Maxim did my tattoo at Milton Keynes and totally fucked it up! But I love it as it was him who did it."
​LH about Thunder Dub – COME WITH THE REMIX !! .. THIS IS WAYYY BETTER THAN THE ALBUM VERSION HAHAHA
​LH – OL SKOOL ANTHEM IN THE HOUSE , PEOPLE CONNECTED WITH THIS TUNE STRAIGHT AWAY FROM THE FIRST TIME WE PLAYED IT AT RAINBOW WAREHOUSE IN BIRMINGHAM
​LH– FLINTY FUKIN SMASHIN THIS TUNE AS ALWAYS
​LH about Run With The Wolves — FLINTY LUVED PERFORMIN THIS TUNE , HE ALWAYS LOOKED FORWARD TO DOIN IT EVERY GIG , I THINK HE COULD JUST LET ALL HIS ANGER OUT ON IT
​LH about Weather Experience – I DID THIS VERSION OF WEATHER EXPERIENCE ESPECIALLY FOR THIS GIG A FEW DAYS BEFORE …
​LH – I REMEMBER HALFWAY THROUGH THIS I FELT PRETTY EMOTIONAL AS I LOOKED OUT OVER THE CROWD
​MAXIM – Its an important tune to play, ,. The set was 100% in the fast lane, this allowed the foot to be taken off the gas for us & audience
​MAXIM – When I saw the ambulances on the stage, the size of them, it blew my mind. That's exactly what we like to do – blow your mind.
​LH – This tune for us has been and will always ever be our live anthem, .. BOOOOM
​LH about Everybody In The Place – IT WAS ON OUR FIRST XL VINYL RELEASE , IT WAS THE FIRST TIME I HEARD A RECORD ID MADE PLAYED OUT BY A DJ , THAT WAS A BUZZ ,,, 'LETS GO' !!
​MAXIM – We started with World's On Fire and before you knew it 'Out of Space' had started to play and I couldn't believe it was already over.I was on such a high, I didn't want it to end.
​LH – AFTER ALL THE YEARS WE'D BEEN TOGETHER & ALL THE UPS & DOWNS WE'D BEEN THROUGH THIS WAS THE GREATEST LIVE MOMENT OF ALL. IT WAS A COMING TOGETHER OF OLD & NEW SKOOL FANS, ​ITS NEVER BEEN ABOUT HOW BIG THE GIG IS FOR US BUT THIS WAS SPECIAL , A REALLY EMOTIONAL NIGHT THAT MENT SO MUCH TO US ALL.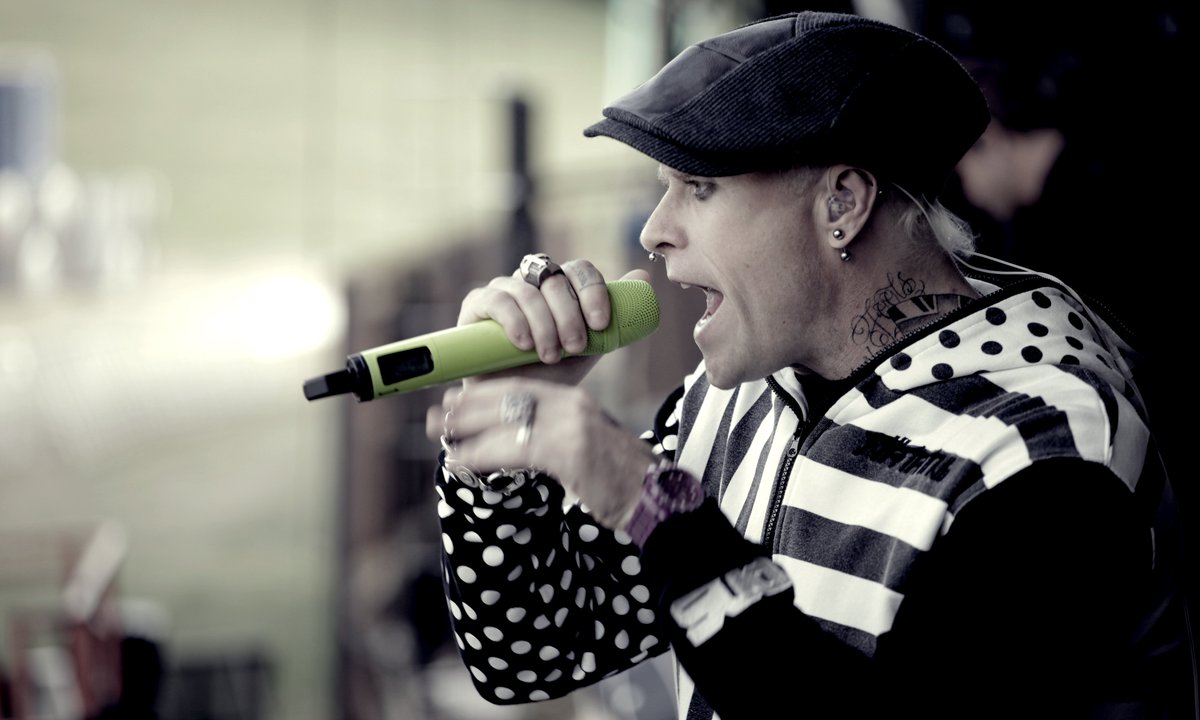 Source: https://www.youtube.com/channel/UC7IZbkKDd20v6Ni_vFX63rQ