#SVNR: Benny Blanco · 20➁2
Twenty years ago, on February 1, 2002, The Prodigy presented a brand new edit of 'Benny Blanco' on their Australian tour — it sounded way more fresh and funky than the version the band played in the mid-90s. That's the reason why we decided to remember the context of it all and to show a high-quality version of Benny Blanco 2002 for you today…
Right before the release of the long-awaited new material, at the beginning of 2002 The Prodigy were actively touring Australia and New Zealand. During the whole Australian tour the band did 6 gigs and finished their trip on the same side of the world, in Japan. The tour was quite active: the band gave several big interviews, as well as presented the expected upcoming single 'Baby's Got A Temper' live. It was supposed to be the first release after a long pause since the release of the 'Smack My Bitch Up' single in 1997. This tour was meant to mark the band's resounding comeback.
Somewhat later it turned out that 'Baby's Got A Temper' was played in its early demo version which differed greatly from the one released in summer 2002. And that's what makes such performances so valuable, since only there, at just several concerts you could listen to the early version of the legendary track. You can check out a bit more about these 'Baby's Got A Temper' versions in our extensive article dedicated to the single…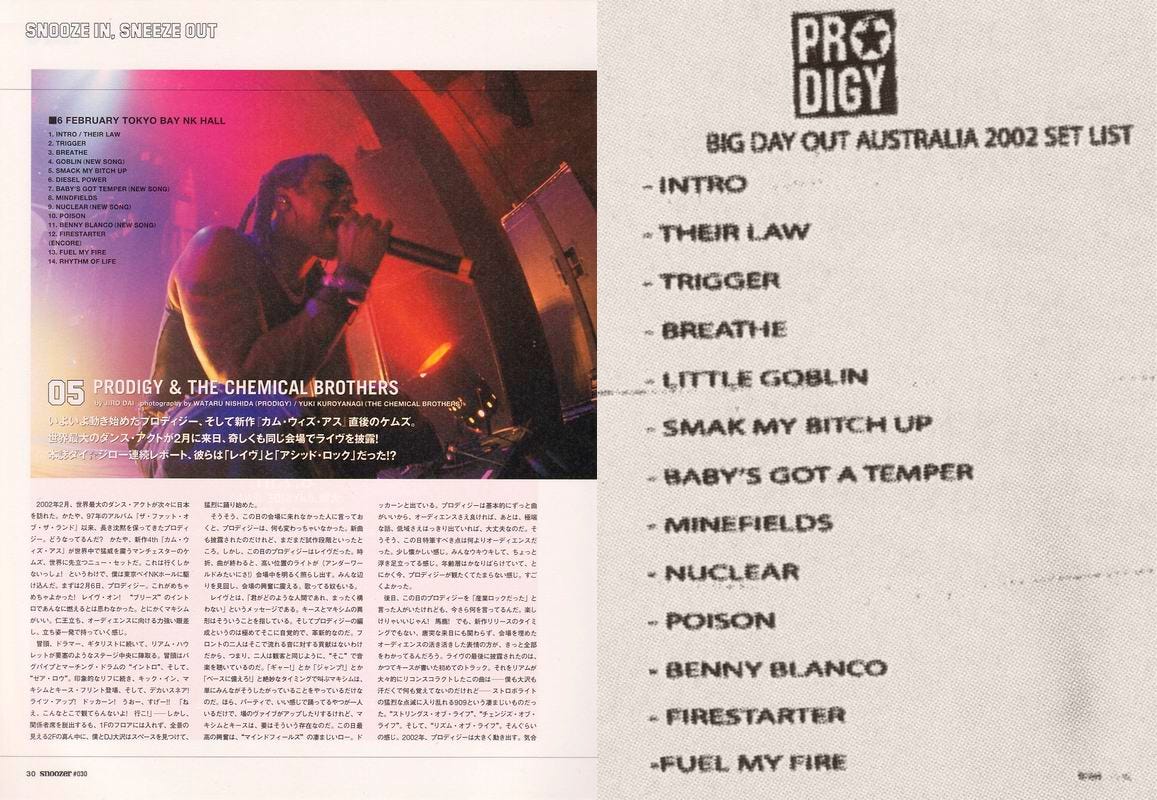 Besides the new single, the band also played some other new tunes that had been presented a year earlier during the European tour, such as the militants 'Trigger' and 'Nuclear' and the downtempo 'Goblin'. By the way, we created a detailed analysis of the 2001 tour just a few months ago: '2001 Live Shows' 👉
By the way, it was exactly on February 1, 2002, when Liam recalled everyone's favorite filler jam track 'Benny Blanco' which the band actively performed back in the distant 1995. We don't know exactly why Benny was taken from the back burner after 7 years, but one way or another, the track went down well and diluted the heavy flow of the band with its funky vibe. This jam track, just like the upcoming single, was slightly updated and sounded noticeably different from the version the guys played in the mid-nineties. This edit made the sound of the old-school filler much fresher!
The full version of the track is available to download on our Patreon and Boosty! Your support will be greatly appreciated.
Headmasters: FAUST, SIXSHOT, SPLIT
Please support our project and become a patron!
This is exclusive stuff for our Patrons. You can subscribe to our Patreon and read the entire article.
Become a Patron
Gain access to all our contents.
More articles and high quality audio restorations.
Стань Патроном
Получи доступ ко всему контенту.
Больше интересных расследований и аудио в высоком качестве.