FAT25 · 11th track: Edward ➞ Firedrill
Everyone knows that the legendary The Fat of the Land LP includes 10 tracks. We think that every fan of the band or even an ordinary music lover wouldn't hesitate to list them all even if woken up in the middle of the night. But what if we tell you that in fact there are not 10 but 11 tracks on the album? And we're not talking about some specific releases with bonus tracks after Fuel My Fire!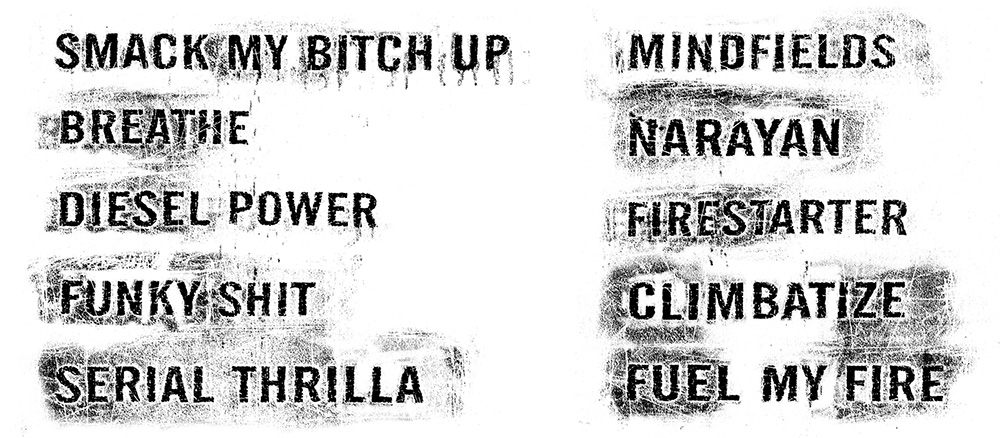 The thing is, the beats between Narayan and Firestarter are actually a separate demo track that is mistakenly considered as part of 'Narayan' by many people. For the first time, this fact caught our attention a few years ago when we were comparing various vinyl releases of the album. On every official vinyl release, these beats and 'Narayan' are on different sides of the plate, whereas on CD both are considered as one track by time-length.
Many people used to think that these beats were placed on Side D due to the lack of free space on Side C. But there is quite enough space on Side C to put some 2-minute beats with no problems at all — the sum duration of all 3 tracks on Side C is approximately 17 minutes, and with adding these beats it would be 19 minutes. But if you remember the 'Jilted Generation' vinyl release, 3 sides out of 4 were 20 minutes long and one was 21! It was this inconsistency that made us do a bit of research. It's obvious that these beats were put before 'Firestarter' on Side D on principle, not due to technical issues such as lack of space. One of our team members found it quite strange and interesting at the same time and started digging deeper, looking for any info about the beats from the late 90s.
---
'Jilted Generation' vinyl album: side 1 ~ 21 mins, side 4 ~ 21:30 mins
---
Many of you know that these beats were played live multiple times as a jam track. Even though the beats first emerged before both the album's and 'Narayan's' release, on many bootlegs from back then the track was dubbed 'Narayan Beats', on some was titled 'We Do It Like Dis' LOL. The actual title of the beats before the release of the LP can be discovered in the licensing catalogues. It was no use looking for it in live setlists from that time since all the jam tracks were just called BEATS.
---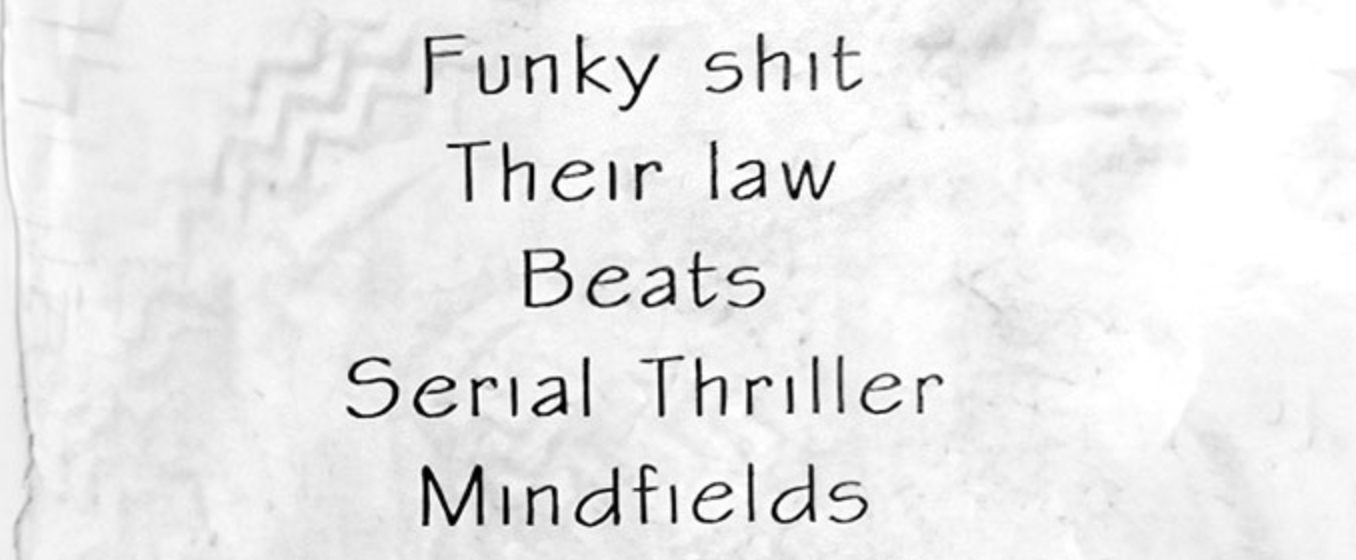 ---
This particular jam track appeared in live sets in May 1997, and around that very time a track dubbed EDWARD was registered in the licensing catalogues. Moreover, this title appeared in March 1997 in an old fan community on Google Groups where people were discussing the tracklist of then-forthcoming album.
Better yet, not so long ago we found some info about a studio diskette from 1997 which included three tracks:
---
With that said, we can come to a simple conclusion: before the album's release, these beats were just a working demo with no refined arrangement. Fat and groovy beats didn't develop into a completed track, yet managed to go well at gigs as a simple jam track full of energy. There's a possibility that the arrangement wasn't refined due to a lack of time. The foundation of the beats was a sample taken from 'Ol Diablo' by 'Deep Cops' which was released in early 1997.
It's likely that Liam got inspired by this track and produced a raw demo using a sample off it, but it was already spring of 1997, so he didn't have enough time to finish the track. But Liam didn't want to junk it because the beats had already become a part of the live set. As a result, Howlett decided to use the beats as a transition between the tracks on the album. After several tries, he chose to use the beats as the intro for 'Firestarter'.
This decision was more conceptual than to use the beats as intro for 'Diesel Power' or 'Funky Shit', since 'Firestarter' is the main track on the LP. Liam mentioned it several times and even said, that 'Firestarter' was a springboard to produce the whole album. There is no mistake – the beats were seen as the intro for 'Firestarter', not as 'Narayan's outro. Any other track could've taken 'Narayan's place, the track order could've been completely different, so the beats would've been put after any other track, but using them as Firestarter's intro was a conceptual idea!
---
Moreover, after the album was officially released, the title of the beats was changed to Firedrill, which, again, is conceptual! 'Firedrill' became the official title of the beats, even though it wasn't included in the tracklist. Anyway, the title 'Firedrill' can be found in the official live setlists of 'The Fat Of The Land' tour, as well as in the licensing catalogues, where 'Firedrill' was listed as one of the versions of 'Firestarter'. It's not clear why the title wasn't included in the official tracklist of the album. Probably Liam decided that mentioning the track wasn't clever: firstly, it was just a bonus track, secondly, it would've been weird to put a title of 2-minute bonus beats among the 10 strong bangers.
---

---
Live setlist from late 1997 w/ Firestarter and Firedrill




As a result, we have 11 tracks on the album, where only 10 are listed. For those who have the album on vinyl or a cassette it doesn't matter much, but the CD and any other digital releases are a completely different story. On CD, we always have a distinct separation between the tracks, both in quantity and in timing. This is where all this confusion comes from. Usually, such bonus tracks and beats are put after the last track on the album. In this case, the listener understands that there's a bonus track when something starts playing after a few seconds of silence. But in Firedrill's case, the track was put between the 7th and the 8th track, so on CD it had to be merged with one or the other. Even though it wasn't very difficult to merge 'Firedrill' with 'Firestarter', just as it was on the vinyl release, to preserve the original idea, but this decision would cause listeners a big deal of inconvenience: just imagine that you switch onto your favorite track on the album and have to listen to a 2-minute beats intro before 'Firestarter' kicks in! Moreover, it wouldn't be very convenient for radio and DJs who play off CDs. Therefore, the separation marker was put at the very start of 'Firestarter' for sake of convenience, even though the original conception was messed up on CD. Because of that the beats ended up being merged with 'Narayan'. Digital releases generated a huge deal of confusion, so many people, even to this day, think that the beats are just the ending of 'Narayan'. It's also worth mentioning that 'Narayan', being a sole album track, without these beats wasn't released anywhere, whereas 'Firestarter' was earlier released as a single and contained no beats in the intro – such factors also added up to generating such a 'myth'.
---
Even some professional artists and labels didn't get the original idea. For instance, in Paul Oakenfold's official mix-CD called 'Perfecto Presents: Ibiza' 'Narayan' was used together with 'Firedrill', as given on 'The Fat Of The Land' CD. In fact with a part of next track from source release.
But this is not the biggest fuck-up that has to do with all this confusion. The American label 'Maverick' had plans to release the album on vinyl in the US, using their own trademark. The label's management didn't get the original idea and pressed a run of vinyl promos where 'Firedrill' was merged with 'Narayan' on Side C, whereas 'Firestarter' was on Side D with no intro beats. Moreover, the placement of other tracks on the vinyl sides also differed from the classic XL's release. The reason as to why the order was messed up is unclear, but we can assume that 'Maverick' used not the original vinyl master, but the CD-master instead. Anyway, the whole pressing was junked, most likely because the track placement was messed up. By the way, on the web you can find some photos of this promo release, where there's a mark made by hand next to 'Narayan'. It's possible that it's the very copy where the 'fuck-up' was spotted.
It's worth mentioning that among the fans who do not a deeper research about the band the Maverick release is more expensive than that of XL Recordings. The fans like it when 'Narayan and its outro aren't separated'. But the thing is that there is no release where Narayan's outro is cropped since the official track is only 7 minutes long! The 'Maverick' release just has a defect, thus 'Firedrill' and 'Firestarter' are separated, which ruins Liam's original idea.
---
A quick recap:
Beats after 'Narayan' are not a part or an outro of 'Narayan', it is separate demo, that was regularly played live before and after the album was released.
With a high probability, the working title of the demo before release was 'Edward'.
On release it became the introduction for the main track of the album — intro-beats for 'Firestarter'.
Beats were officially renamed to 'Firedrill' after release, but title was not listed in album's tracklist.
Purely legally, the beats after release became a part of the 'Firestarter' album version.
The beats placement on all official vinyl releases on Side D before 'Firestarter' is correct, when as a promo press by Maverick – just a defect!
'Narayan' is full length everywhere since it's officially 7 minutes long.
By the way, our team reconstructed a live version of Firedrill jam.
---
That's all, folks! If you're still reading this, you might have a only one question left: who the fuck is Edward? We don't know! Our guess is that it's just a working title which doesn't mean anything. But we can't rule out the possibility that the beats were named after Liam's favorite DC comics character – Edward Nygma aka 'The Riddler'. Riddler? I think you've already heard this nickname in Liam's production before, right? You'll find it out in our next articles! Soon we'll also tell you about the differences between all the vinyl pressings and re-pressings of 'The Fat of the Land' LP!
---
Headmaster: SIXSHOT
Additional thanks to: Canyon Hill, Split
---
Donate
Donate Bitcoin to this address

Tag/Note:-

Network: Bitcoin

Donate Ethereum to this address

Tag/Note:-

Network: ETH Ethereum (ERC20)