#FAT25 · RATM · OST: ᴸᵃᶳᵗ One Man Army
As strange as it may seem, the last officially released track off The Fat Of The Land (not a remix or a version) was One Man Army with Maxim on the vocals. The track saw the light of the day on August the 1st 1997 within the OST for the movie Spawn. Just as many other The Prodigy tunes from that time, this one has a story to tell as well…
For a starter, we have to remember that 'One Man Army' is a legendary collaboration with Rage Against the Machine. Towards the end of the album's production process, Liam had an idea of working with RATM and asked Tom Morello, the band's guitarist, to record some riffs for 'Serial Thrilla', but at the time RATM were busy touring, so Tom couldn't find any spare time to record the guitar lines. Whereupon Liam asked him to record some random guitar jams when Tom finds some free time. A while later, Tom sent a DAT-cassette containing 15 minutes of various guitar riffs which he played. Nevertheless, Liam couldn't use any of those for 'Serial Thrilla' because the album has already been released. Still, after a little while, Liam got a request from the producers of 'Spawn' to write a track for the OST. This is how the 'One Man Army' was born!
MTV & NME about the collaboration: Morello told Britain's New Musical Express magazine that he first got a call from Prodigy's Liam Howlett out of the blue with a request to add guitar to 'Serial Thrilla' a song from The Prodigy's new album, 'The Fat Of The Land'. However, with opening for U2, Rage's inclusion on a new Snoop Doggy Dogg EP and the planning of a summer tour with Wu-Tang Clan, they had no time.

Morello told NME that Howlett then asked for 'a DAT of "some f***ed-up guitar'. The Rage guitarist says he went into a studio 'in a sleepy Illinois town' and complied, recording 15 minutes of a 'freeform bunch of squirrelly guitar playing'. Morello says he gave the Prodigy an array of 'new hoots and howls and squonks and stuff' as well as some more traditional Sabbath heavy grooves.
During the track's production, Liam used riffs off Morello's tape. Along with Tom, Maxim also took part in the production and delivered his signature vocals in the style of 'Mindfields'. It's mind-boggling that not only was 'One Man Army' the last official release of the band until 'Baby's Got a Temper', but it was also the last track with Maxim's vocals up until 2009 when 'Invaders Must Die' came out (if we don't count his backing vocals on 'BGAT', 'More Girls' and the video edit of 'Spitfire'). "That vocal on the original was a last-minute decision, but Tom loved it" – Liam.
If we go deeper into the track's recording, we can say that it was completed in a hurry. Liam had only a few days and managed to finish the track before the deadline.
Liam Howlett for Addicted to Noise: It's a very simple track. It's just like Tom and me grooving on this track. He's very experimental. He's got some scratchy stuff he does with a guitar and it's quite a slow groove. It was written for the film. It's nothing too complicated. I literally had about four days so it was kind of rushed. I was happy with the results but I wish I had another week on it to really sculpture it.
From this quote, we can tell that Liam wasn't happy with the result and planned to refine and polish the track, which eventually happened when the 'Smack My Bitch Up' single was released. Liam dropped Maxim's vocals off the track, added one more riff recorded by Morello instead, and renamed it to 'No Man Army'. Some people think that 'No Man Army' is the instrumental version of 'One Man Army' or that 'One Man Army' is just a later version of 'No Man Army' with the vocals. Both of these assumptions are nothing but misconceptions. First, two of these tracks have different lengths. Second, 'No Man Army' is definitely a later version of the track. Long story short, 'One Man Army' is a beta version of 'No Man Army', whereas 'No Man Army' is a finished track.
For the 15th anniversary of the band, an official edited version of 'No Man Army' was made and ended up on 'Their Law' singles compilation. The track was shortened and sped up a bit. We don't know why it was done, but our guess is that Liam thought the track was way too slow. Moreover, around 2005, Liam used to speed up some of his tracks: the '05 single version of 'Spitfire' was faster than the album version, and 'Wake Up Call' was sped up for gigs.
---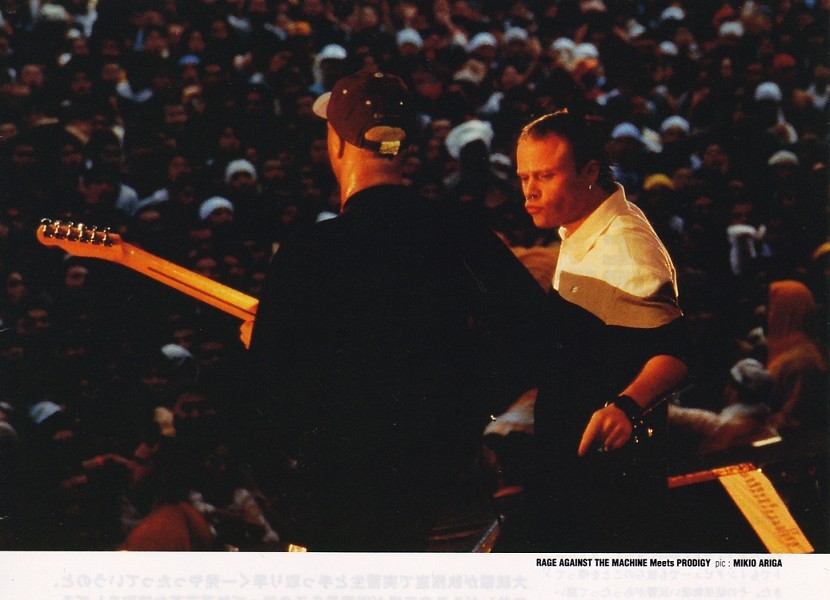 And if to speak about the official releases, 'One Man Army' / 'No Man Army' was the first and the last collaboration between The Prodigy and Rage Against The Machine, unfortunately. But we'd also like to remember one unofficial collab called 'We Take Their Shelter' which was performed live a couple of times. Though Liam didn't take part in it, the track can be justly considered an unofficial second collaboration, because Keith Flint and Maxim did take part in it!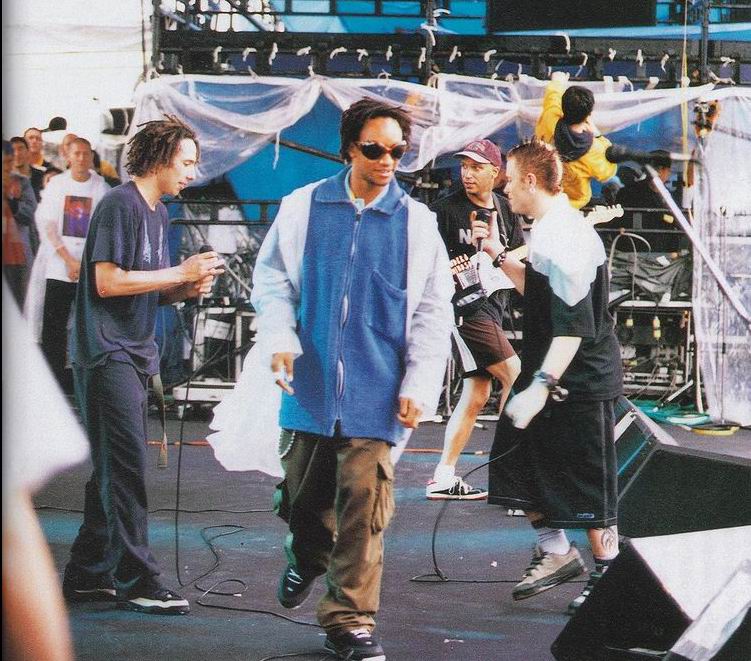 It all started when The Prodigy were scheduled to play at the annual Fuji Rock Festival on July 27. Rage Against The Machine was on tour in Japan too, they played on Fuji Rock Festival on July 26, and the day before the festival RATM did a club gig in Tokyo's Akasaka Blitz Club. Towards the end of the set on July 25th vocalist Zak de la Rocha invited Keith onstage, and the guys performed 'We Take Their Shelter' live for the first time.
Whether it was the planned collab and whether Keef is the co-author of the track is unknown, but this tune has never been performed by RATM without Flint. The next day, on July 26 at the Fuji Rock festival due RATM gig they exclusively played 'We Take Their Shelter' again all together, and this time Maxim also took part in it!
You can find the full video of this performance at Gizz Butt's Patreon.
The Prodigy's gig at Fuji Rock Festival on July 27 had to be canceled due typhoon warning. As it ripped through the festival site it cut power, weakened the stage, and generally turned the place into a disaster zone…
---
Headmaster: SIXSHOT
Additional thanks to: Canyon Hill, Split
---
Donate
Donate Bitcoin to this address

Tag/Note:-

Network: Bitcoin

Donate Ethereum to this address

Tag/Note:-

Network: ETH Ethereum (ERC20)

SBER/QIWI (RUS): 8950008190б