FAT25 · 7th track: Narayan · Single
We've started our massive track-by-track story of The Fat Of The Land almost three months ago and posted plenty of rare facts about the LP, and yet we've only gotten to the 7th track from the album! Today we'll share the story of the spiritual Narayan, which was written and recorded together with Crispian Mills from the Kula Shaker. We'll touch on the release of the mythical single, and will host loads of rare details about the making of this magical masterpiece…
On the subject of Crispian Mills' guest appearance on 'Narayan' (which had originally been titled Western Sun until Chemical Brothers released a collaboration with Noel Gallagher of Oasis called 'Setting Sun'), Liam stated: 'It was brilliant working with Crispian Mills. We did the main vocal in an hour and then spent about four hours doing the chant at the end of the track'
Initially, it all started with Liam's desire to work with Perry Farrell, but by coincidence, their collaboration was not fated to take place. We covered this story in great detail in our article on 'Climbatize' — in fact, on early stage 'Narayan' and 'Climbatize' were parts of the one demo, which Kula Shaker later covered.
So now Howlett was kind of looking for a worthy alternative for Farrell's voice on a freshly composed demo tune. Right after hearing Kula Shaker's 'Tattva' Liam just got a similar type of vibe. 'It wasn't quite the same' — he recalled while being interviewed by Michael Goldberg back in 1997, 'But I got a similar feeling that if I used Crispian in the way he delivered the vocal [on 'Tattva'] on some beats and stuff, it could have a similar vibe [with Perry]'.
Crispian Mills for Melody Maker: Liam heard 'Tattva' on a radio while he was driving around, and wanted to meet up and do something with us. So he sent me a tape of this track with lots of variations that they had and asked me if I had any ideas, and I said that I did, but I didn't really. I was just making it up. And on the way there to the studio, me and Lonz got some ideas and basically we created a mantra symphony. I said, 'I think we should take the music to the logical conclusion,' and they said, 'What's that?', and I said 'The end of the world.' And they went, 'Yeah! Let's do it'. Keith [Flint] was very helpful. He sat at the back and skinned up all day. We talked about auras and golden age, and the track sounds f***ing brilliant. It has two working titles at the moment. It could be called 'Your Time Has Come', or 'Aum Namah Narayan' which is a mantra for the lord of the universe. It's a kind of spiritual air freshener for the planet.
Liam Howlett to Michael Goldberg: As always, things turned out different from the original idea. But I think that track did the right thing. It has a real cinematic, building feel to it and it's really big. It's in the right place on the album. It's kind of a listening track. It's kind of like a journey. Basically that's the way the whole track came about. I didn't know anything about Kula Shaker. We basically did the track and we were both happy with it!
'Narayan' itself represented Liam at his most commercial. An Eastern refrain unfolds into a hard groove with Mills' sugar-sweet vocal singing about the Western Sun over the top until it all builds towards a climactic ending with Mills providing one of his famed mantras. 'It's just like a mantra to me, just another sound I use' — Liam said to Michael Goldberg in the above-mentioned interview. While not being a fan of Kula Shaker, Howlett nevertheless enjoyed working with their vocalist.
Liam Howlett in Martin James' 'We Eat Rhythm': When we were recording that track it wasn't supposed to be like The Prodigy meets Kula Shaker type of thing. I wanted the sound of Crispian's voice on the track. When he said about a mantra I was like 'hold up, I don't know about that'. I just didn't want it to have that Indian Kular Shaker vibe, but when I put the mantra on to the track I just thought 'fucking hell, it really works'. I reckon a lot of people are going to go into that track thinking they're not going to like it and then come out the other side loving it. When I'd finished the track Crispian tried to do an edited Kula Shaker version to try and make it like his own track, which is cool, but it didn't really work. It's not a pop song, it needs to be a long track that builds
Continuing the subject of 'long track that builds' it is important to recall that basically, the full-length mix of 'Narayan' lasts exactly 7 minutes, not 9 as the album mix. The thing is, the beats between 'Narayan' and 'Firestarter' are actually a separate demo track that is actually called Firedrill. It is mistakenly considered as part of 'Narayan' by many people — read our full investigation on these two-minute beats.
This way or another, 'Narayan' has gained a lot of popularity in the music media and on radio stations. Its pop orientation gave rise to many rumors about the upcoming 'Narayan' single. These rumors were being speculated even after 'The Fat Of The Land' release. Now let's take a closer look at how it really went down.

Mythical single

The 'Narayan' single was first mentioned in the spring of '97, even before the album had come out. The track was seen as a candidate for the third single after the album's release. The rumors say that back then there were two options for the next single: 'Narayan' and 'Minefields' which was ready to go as the second single after 'Firestarter' in 1996 but was abandoned later on. As for 'Narayan', the band didn't fancy releasing a collaboration as a single. Anyway, a bit later the question has changed and the label had to meet a decision as to what track should be released as the third single between 'Smack My Bitch Up' and 'Narayan'. We've found a studio diskette that has three tracks recorded on it: Narayan (Edit), Smack My Bitch Up (Edit) and Minefields (Headrock Dub). We assume that it's the D-CART with the content for the third single. The label was offered to pick the main track (as an edited version for radio play) and a B-side, which was left from the junked 'Minefields' single. Considering that diskette didn't have the second B-side 'One/No Man Army' which was recorded in June 1997, we can estimate that the diskette was recorded a bit earlier, before the album's release – circa spring 1997. This assumption can be supported by an interview for VOX magazine which took place a day after the album's release. In said interview Liam announced 'Smack My Bitch Up' as the third single.
VOX's 'Fiery Start for Prodigy Album Stateside' (1st of July, 1997)




Moreover, the short version of 'Narayan' was mentioned in the same interview.
Liam Howlett: Crispian did try and edit it down to five minutes, but i was like "No fucking way, it's an eight-minute song!".
It means that there was no such thing as single edit of 'Narayan'. Still, there was a short version made by Crispian. On another studio D-CART-diskette both versions of 'Narayan' are given as SHORT and LONG.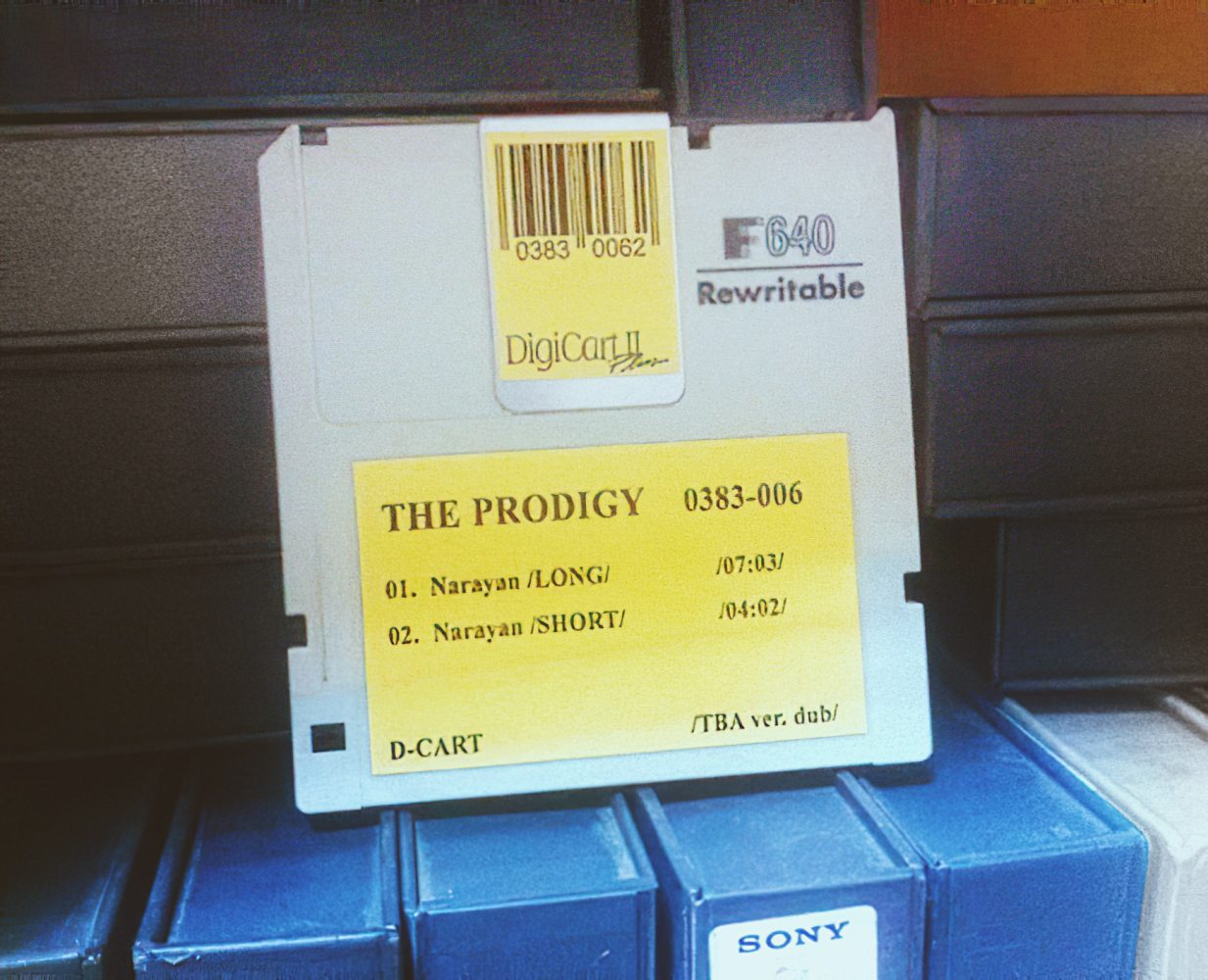 Anyway, it was XL Recordings who decided that not 'Narayan' but 'Smack My Bitch Up' had to be the third single. Liam himself addressed it.
Liam Howlett for Select: The obvious, safe record company choice for the next single would be the local controversy of that Crispian Mills collaboration 'Narayan', or the 'Keith is mad' cacophony of 'Serial Thrilla'. But no, they'll release 'Smack My Bitch Up'. Why? Because they can.
Nevertheless, in spite of the official announcement of 'Smack My Bitch Up' as the third single and its subsequent release, the rumors about the 'Narayan' single were far from quieting down. As we mentioned before, the track had quite a pop tint to its sound, so it was often played on the radio. Moreover, it started to emerge on various hit compilations or in European music charts, and single charts even. Let's say that the track has become an unofficial radio single. Or better yet, tracklists of some pirate compilations (circa fall 1997) feature Narayan (Single Edit)!
Of course, we weren't able to check all of those bootlegs and compilations, but the one we've obtained had 'Instruments Of Darkness (Prodigy Remix)' instead of 'Narayan (Single Edit)'.
Anyway, there are many fake edits of 'Narayan' on the web. One of them was being popularized by the members of an old fan community for quite a long time. We can't rule out that some of the fakes have been made on radio stations. The full version of the track they've enjoyed so much is 7 minutes long (or even 9 minutes long if we take the CD version with 'Firedrill' adhered to it) — such a length surely doesn't fit the format of day radio broadcast well.
All the facts given above were warming up the rumors about the nearest release of the single. Since the internet wasn't as developed as it is today, and there was little credible information, occasional reports of the alleged single started to pop up. The rumors continued to emerge till 1999 when it became known what was feeding them. It turned out that it was a fan's misinformation thrown in the BBC Ceefax's Backchat back in late '98.
---
A quick recap:
There were no solid plans of releasing 'Narayan' as a single. It was just one of the options along with 'Smack My Bitch Up'.
As much as we know, the band had no plans of releasing the fourth single off 'The Fat Of The Land'. All the remixes produced in 1998 (those of 'Funky Shit' and 'Diesel Power') were made for compilations. We'll tell you about these mixes in our next articles.
'Narayan (Edit)' indeed exists. It's better to call it a 'short' version made by Crispian Mills. It'll be temporarily available for listening in the hidden section of our site!
The original 'edit' has never been released on any promo CDs, so all the edited versions played on radio stations were made by themselves.
Had the 'Narayan' single been released, it would've been released instead of 'Smack My Bitch Up' and its tracklist would've looked roughly like this:

Narayan (Edit)
Minefields (Headrock Dub)
No Man Army
Narayan (Remix) or (Instrumental)
---
The next one on the list is 'Minefields', we'll share the full story of it's creation really soon… Stay tuned and keep following us on social media!
---
Headmasters: SIXSHOT, SPLIT
Additional thanks to: Canyon Hill, Martin James, Juge L @theprodigy.info, Peter Thomas @prodge.demon.co.uk, Ant Camp (magazine scans)
---
Donate
Donate Bitcoin to this address

Tag/Note:-

Network: Bitcoin

Donate Ethereum to this address

Tag/Note:-

Network: ETH Ethereum (ERC20)