#FAT25 · HNY: Rock'n' Roll '96 • Gizz Butt
Happy New Year everyone!🎄 Today we've got a special present for many fans! As we had promised in our previous articles, even though we've already had posts about every track off of The Fat of The Land album, we still have something to amaze you with. Very soon we will continue our series of posts dedicated to the 25th anniversary of the album and give you a detailed review of the post-TFOTL period and some live tracks that were revealed after the release of the LP. But today we're going to cover the story of the legendary Rock'n'Roll which is well known to every single fan from the 90s.
---
---
For starters, we'd like to mention that 'Rock'n'Roll' went through three different versions. The first one, we might say 'beta' version, appeared in 1994 and was played during the 'MFTJG' tour, little after the album's release. The track was nothing but a live filler/jam and was not intended for an album. A couple years ago we recreated the exact copy of that version and made it public for the joy of the fan community. For many people it turned out to be a huge occasion!
---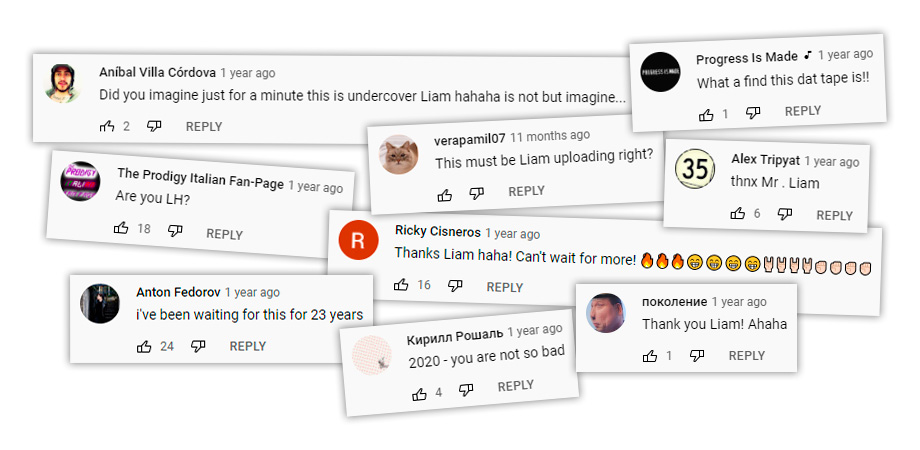 ---
We don't think it's surprising at all. Even though the track has never been officially released, it appeared on the official video release of
'Electronic Punks'
and became a favorite tune for many fans of the 90s. The track's vibe conveyed the atmosphere and energy of the band's gigs of that time well enough, and its live performance has always been cherry on top of every gig. Right at the beginning of the track Liam would step from his synth rack for
Leeroy
to take his place;
Liam
himself would sit behind the drum rack. The whole performance couldn't do without the live guitar. The guitar was played by
Jim Davies
, the first live guitarist for The Prodigy. 'Rock'n'Roll', 'Their Law' and 'Break & Enter' were the three tracks where Jim Davies played the key role at gigs.
---
In early 1996, after the release of Firestarter, the band took a turn towards punk, so Jim Davies didn't fit well into the new stage image of The Prodigy. At some point he was replaced with Gizz Butt, the leader of Janus Stark. As for Jim's departure, the media wrote the following:
Kerrang (05/07/97): Guitarist Jim Davis wasn't comfortable onstage with the band – he couldn't play what he wanted and jump about like a lunatic. The Prodigy wanted someone far more visual onstage. In came punk rocker Gizz Butt, brimming with attitude and aggression. He was the perfect choice.
Despite having the lead guitarist replaced, Liam decided to keep the live tunes (which had already become the band's trademark) and refresh the way they sounded. So a new version of 'Rock'n'Roll' was presented in 1996! Liam mentioned this track very often in his interview, thus this rendered a series of rumors about the release of it. Still, we think that the track was considered new for refreshed live shows, not for an album (we wrote more detailed about it in previous post). Anyway, 'Rock'n'Roll' got more aggressive with Butt's guitar enhancing the track's vibe. As expected, the track didn't make it to the album but became a trademark of every gig of the 'TFOTL' period. The studio version of the track has never been published anywhere, and no one knows whether it exists or not.
---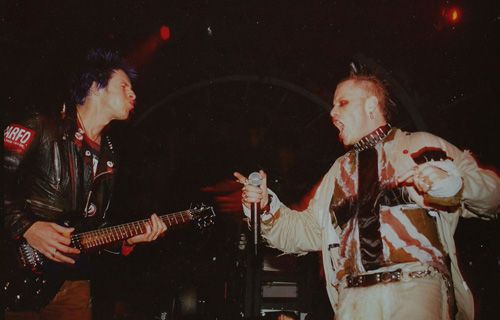 ---
One way or another, we had no opportunity to listen to it… until this day! A year ago our team have decided to fix this situation and make a complete reconstruction of the studio version of Rock'n'Roll '96! Still, something was missing… Gizz Butt and his authentic punk guitar it was! So we've decided to reach out to him directly. Without thinking twice, he agreed to help us and make a huge anniversary present for all the fans.
It's fascinating hearing those again! I'm going to do this! I will get down and record you some tracks! You've caught me in a good mood! I'll do what I can.
Find some rare live videos, exclusive guitar riffs recorded for Prodigy and other rare stuff at Gizz Butt's Patreon.
---
But our mixing engineer went to another country for a while, so we did not have time to make a a proper studio mix, it will be later this year. Even now it sounds freaking awesome! Anyway, today, on New Year's Eve, we're happy to share pre-final mix with you! Enjoy!
Track is available for download on our Patreon and Boosty! Your support will be greatly appreciated.
P.S. – You can also read the story of third version of Rock'n'Roll from 1998 and find there the recreation of this version!
---
Headmasters: ALL SOUVENIRS & GIZZ BUTT
Also here is a list of those who helped make this idea a reality: Thor_9181, Nobodie, Sergejs Žukovs, Armtone, Xun Namedx, Igor-X, Turok, Trim Silence, Vistar, Wuks, Canyon Hill, Faust, Break-D, Серж Распушитель, San3k, Edward ZentaurusMan, Igor & Stas Kombarov, Dmtrptpv, Psyelvoo, Anfecor, Marat, Александр, Sasha Shtern, AltiVex, Real K.
---
---
Donate
Donate Bitcoin to this address

Tag/Note:-

Network: Bitcoin

Donate Ethereum to this address

Tag/Note:-

Network: ETH Ethereum (ERC20)

SBER/QIWI (RUS): 8950008190б