1993 LH Remixes: Jesus Jones • Front242
Exactly 30 years ago, on April 22, the legendary The Prodigy remixes for Religion by Front 242 were released! In this article, we'll take a look back at 30-year-old Liam's remixes for other artists and share some interesting details.
---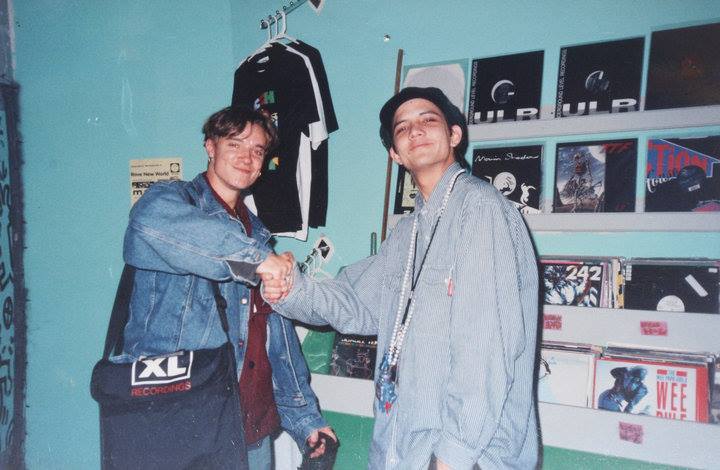 ---
Continuing our series of articles to commemorate the events and releases of '93, we thought we'd also take a look back at the remixes from 30 years ago! You can read our previous article from '93 series here: https://theprodi.gy/1993livebeats/ and https://theprodi.gy/winditup/
Front 242 – Religion
It's worth noting that exactly 30 years ago, on April 22, 1993, Front 242 released Religion, which featured two fantastic mixes by Alex Paterson (who remixed 'Crapage') and two glorious bangers by Liam Howlett (who remixed 'Religion'). Liam Howlett's fresh sound was radically different from all the "kiddie rave" (as the band's sound was called by critics) that The Prodigy had been making before. The Prodigy's mastermind definitely reached his new level, and 'Religion' was one of Liam's first works when he decided to leave the rave scene and try something new, darker, and heavier. Howlett at the time had been wanting to disassociate himself from the toytown techno.
Liam Howlett: We just felt it was time for a change. I think the first thing I wrote which was slightly different…I did a remix for Front 242. And this was the start of the second level. It was like changing the formula of how I always wrote music and not using so many samples, basically just bringing a real darker side to the music.
As previously mentioned, the single 'Religion' by Front 242 was released on April 22, 1993, on the Red Rhino Europe and Epic labels and contains two different mixes by The Prodigy: Bass Under Siege Mix and Trance U Down Mix. In 1997, Liam spoke with great warmth about the track, which gave his creativity a new lease of life.
ATN: What was the Front 242 song you did the remix on?

Howlett: It was called 'Burn You Down'. And I basically did two mixes, both really dark. One was like a real heavy sort of techno remix and the other one was like a dark break beat vibe. They were both sort of quite demonic in a way. And basically what happened after that is I started work on Music For The Jilted Generation, the second album. That was like, no rules. It was like, right, I'm gonna make an album I wanna make and hear now. Because when we first came out, we didn't get slagged off but we didn't get the respect we deserved from doing that type of music, the rave style of music. To be honest with you, it was good when we were doing it. But looking back on it now, it became really monotonous. I much prefer what we do now by a long shot. It didn't really have a lot of substance to it but it was important because it was the foundation of what we were doing. All Prodigy music has always been about the beats and the groove of the tune. That's the foundation of all the songs.
It's clear that Liam's love for his own tune didn't disappear over time, and 20 years later, a piece of 'Trance U Down Mix' was used as live filler during the band's live performances.
Jesus Jones – Zeroes & Ones
In addition to 'Religion', another remix was released in the same year, which also marked Liam's change of direction – a remix of Jesus Jones' Zeroes & Ones.
Mixmag (September 1993): Liam's latest thing is techno. He has done, without any question, the two finest hard dance remixes so far in 1993. The first, 'Religion' for Belgian new beat stompers Front 242, was immense, terror hard, techno genius with breakbeats welded in like titanium rivets. And the second, 'Zeroes And Ones' for sonic rockers Jesus Jones, was an epic boombastic mother of a tune.

"Jesus Jones was a hard decision to do," he says, sitting amid the chaos of his living room. "[Jones's singer] Mike Edwards phoned me up quite a few times and gave me quite a lot of respect and I like that. I think Jesus Jones are pop and they are commercial but they are similar to us because they're really sort of just a bunch of guys. And they're in the same position as I imagine we might be in a year's time because they are a rock band but they're using technology and they're not being accepted by their rock fans so much anymore and maybe in a couple of years' time we won't be accepted by the rave scene anymore." He is a thoughtful man Liam.

Liam Howlett is closing the boundaries between techno and rave. His remixes remain, even now, the only truly successful fusion of the genres. So this is where Liam is now. He got rich staying one step ahead
The Prodigy Versus Jesus Jones Mix of 'Zeroes & Ones' was released on Jesus Jones' eponymous CD single in the summer of 1993 via the labels Food and EMI. By the way, one of our All Souvenirs' team members 10 years ago made a video edit for this remix for his video-set, so for those who like the remix more than the original, we suggest watching it together with the official video. Check this out!
Magi & Emanation – Everybody Say Love
But Liam's Jesus Jones remix was not the last in that year. In addition to working on the new single One Love, Liam also remixed a one-hit project The Magi & Emanation with their then-widely-known rave anthem Everybody Say Love. As Emanation herself wrote on YouTube, she did not want to fit into the music industry: she just "gave it a try and then slipped off to better things". The remix was released on debut single in July 1993 on several British labels.
Incidentally, much to the dismay of our team, 'Rhythm Of Life' is represented with a misspelled title (as 'Rhythm Of Live') on all available streamings! It's quite frustrating that this mistake hasn't been corrected for several years.
Automation – Speedway (?)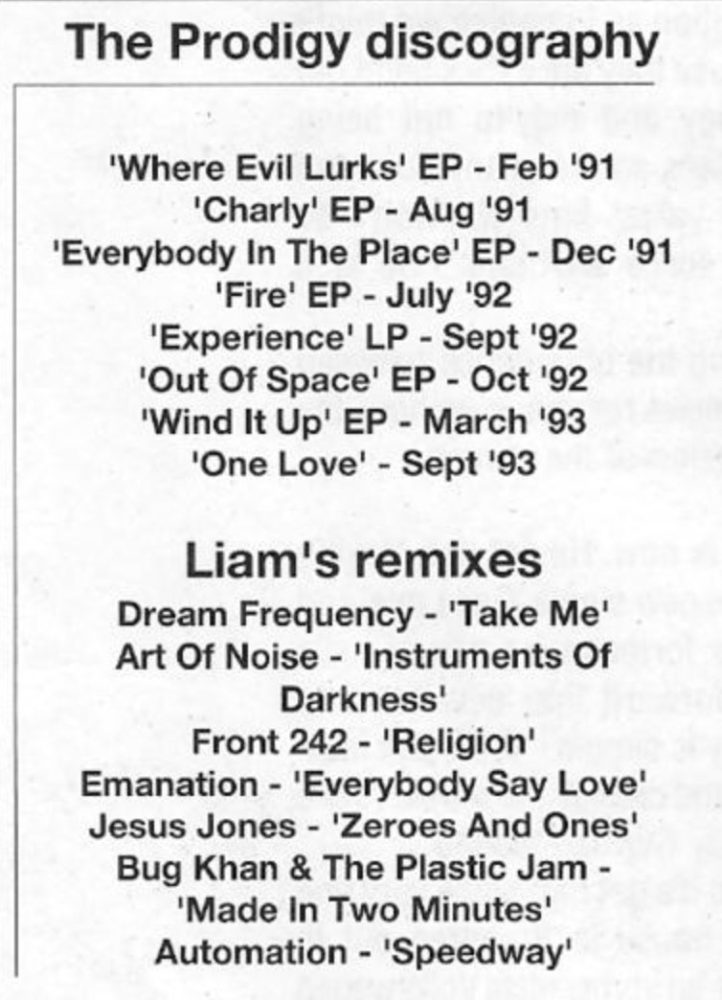 The above mentioned Mixmag article also mentions two other remixes: Made In 2 Minutes (originally by Bug Kann The Plastic Jam), which was released only in 1994 (we'll talk about it later) and the remix of the well-known Speedway by the Automation band.

Actually, there's still no information available: whether such a remix was actually made but not released, or if the Mixmag authors confused the remix with a new track of the same title from the upcoming album…
---
In addition to the new remix for Kasabian, this year also saw the release of Liam's long-awaited collab with the D.O.G. band, which we've published an article about before. Check out our write-up about DOGZ OR GODS, if you want to dive really deep into this collaborations…
---
Headmasters:
SIXSHOT, SPLIT
---
Donate
Donate Bitcoin to this address

Tag/Note:-

Network: Bitcoin

Donate Ethereum to this address

Tag/Note:-

Network: ETH Ethereum (ERC20)

SBER/QIWI (RUS): 8950008190б