theprodi.gy • All Souvenirs 2 years!
It's really weird to accept that we almost overlooked our own launch anniversary! The 'All Souvenirs' team website was initially launched in test mode on April 28, 2021, — that's when we shared our rough Rock'n'Roll '98 for the first time. It means we have just officially turned two years old! Now, we would like to share our humble story.
---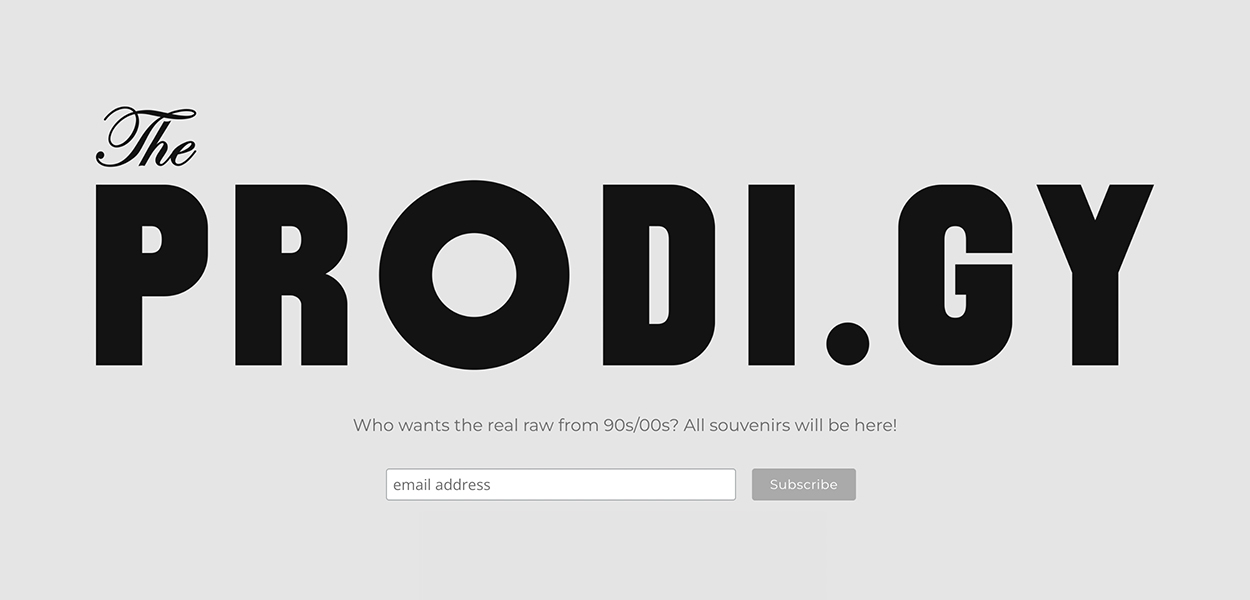 All Souvenirs' website screenshot from the spring 2021
---
In the past two years, while creating a unique encyclopedic project dedicated to The Prodigy, we have accomplished a lot. We invite you to check out the milestones we've reached since the launch of 'All Souvenirs'.
50+ unique voluminous investigations on our website, social media and crowdfunding platforms
30+ exclusive meticulous recreations of The Prodigy's unreleased tunes (we call it 're-chambers')
40.000+ listens on Soundcloud, 45.000+ views on YouTube
4000+ followers on our socials & mailing lists
700+ daily website visitors with 2000+ pageviews per day
20+ mentions across the global press, with NME and Mixmag among them
Countless unique artworks and collages for website headers, release covers and posts in socials
100.000+ hours of irrevocably elapsed time from our lives 😀
If you're still haven't joined our mailing list you may do it right now to get the freshest updates from our team.
We're also updating our website literally every day, trying to make navigation and usability more intuitive. By the way, we've noticed that after a whole 2 years, many people still do not get through all the sections of the site, so we decided to make a detailed guide. Watch it below!
---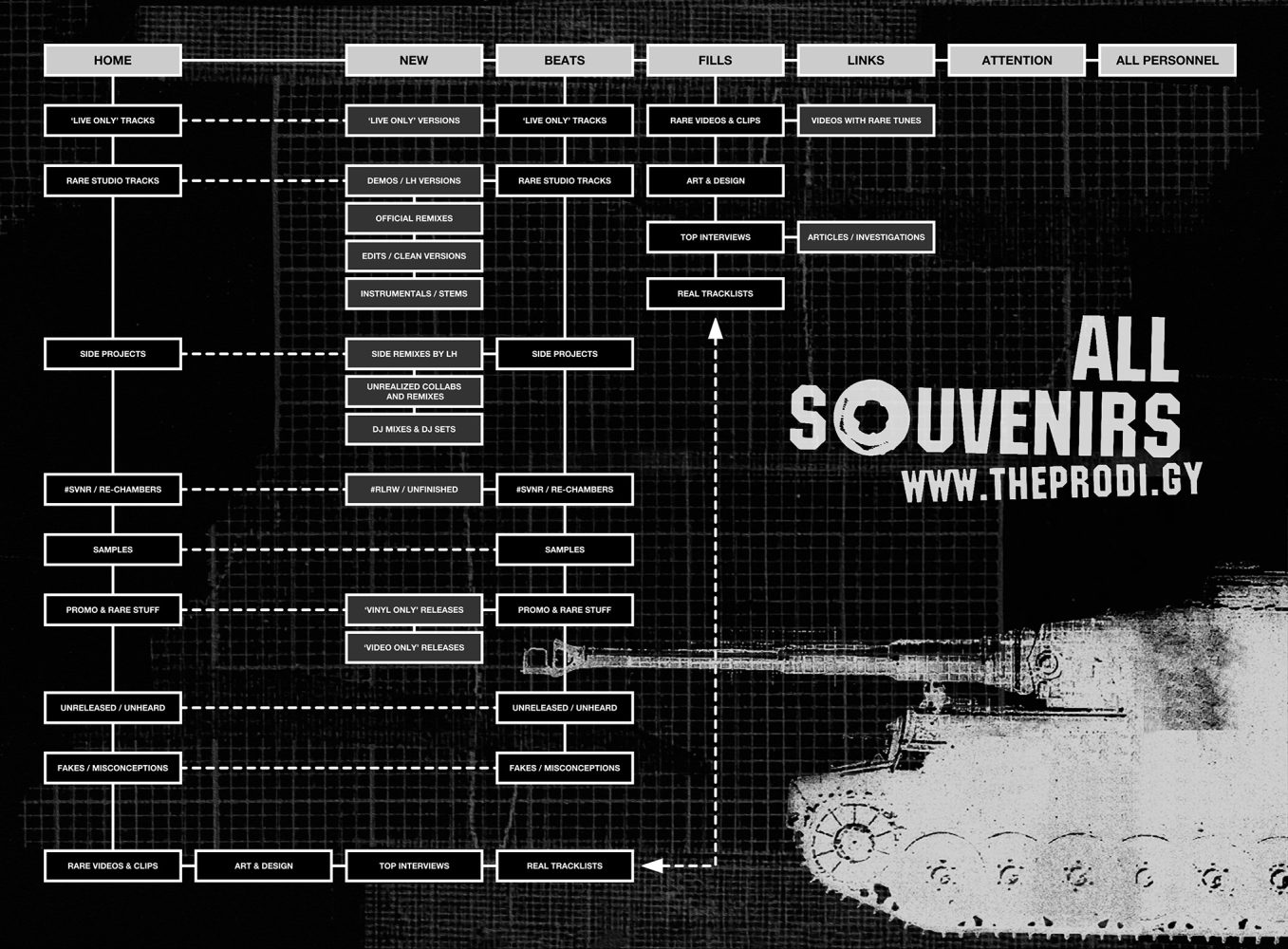 DETAILED DESCRIPTION OF EACH SECTION

All recent posts on the website in chronological order

---

BEATS:

⇢ 'LIVE ONLY' TRACKS — tracks performed live only and never released
⇣ 'LIVE ONLY' VERSIONS — track versions performed live only and never released

⇢ RARE STUDIO TRACKS — rare studio tracks released on third-party or promotional records, as well as unreleased tracks that were leaked
⇣ DEMOS / LH VERSIONS — rare studio versions and remixes by Liam, that released on third-party or promo-releases, as well as unreleased that were leaked
⇣ OFFICIAL REMIXES — all official remixes by third-party artists released on third-party releases or promo-releases, as well as unreleased that were leaked
⇣ EDITS / CLEAN VERSIONS — all edited and 'clean' versions released on third-party or promo-releases, as well as unreleased edits that were leaked
⇣ INSTRUMENTALS / STEMS — all instrumentals and stems that were released on third-party or promo-releases

⇢ SIDE PROJECTS — external projects in which Liam Howlett participated as a producer for other artists
⇣ SIDE REMIXES BY LH — Liam Howlett's remixes for other artists
⇣ UNREALIZED COLLABS / REMIXES — unreleased collaborations and remixes that were rumored to have been planned
⇣ DJ MIXES & DJ SETS — mixes and sets by Liam Howlett, where he performed as a DJ

⇢ #SVNR / RE-CHAMBERS — unreleased tunes recreated by All Souvenirs in a finished or nearly finished form
⇣ #RLRW / UNFINISHED — unreleased tunes recreated by All Souvenirs in a half-done form (work in progress)

⇢ SAMPLES — the most complete sample library used by LH in his production

⇢ PROMO & RARE STUFF — a list of third-party and promotional releases with rare tracks and versions
⇣ 'VINYL ONLY' RELEASES — vinyl releases with exclusive tracks or track versions that weren't released elsewhere
⇣ 'VIDEO ONLY' RELEASES — physical video releases that include rare tracks or unusual track versions

⇢ UNRELEASED / UNHEARD — a list of unreleased tracks that have ever been mentioned, but were never released or leaked

⇢ FAKES / MISCONCEPTIONS — fake tracks, albums, and other confusion and bullshit

---

FILLS:

⇢ RARE VIDEOS & CLIPS — rare official music videos, as well as alternative and rough versions of official music videos.
⇣ VIDEOS WITH RARE TUNES — official videos that feature rare or unreleased tracks and versions.

⇢ ART & DESIGN — the stories behind the band's visuals, incl. album and single covers, music videos, stage design, etc.

⇢ TOP INTERVIEWS — an archive of the best interviews with the band throughout their music journey (gradually updated)
⇣ ARTICLES / INVESTIGATIONS — an archive of our exclusive articles and investigations.

⇢ REAL TRACKLISTS — collection of real live and promo tracklists with genuine names of rare live tracks.

---

LINKS:
A list of links to useful band-related resources as well as All Souvenirs team members' pages

---

ATTENTION:
All Souvenirs' disclaimer for any copyright holders related to the band

---

ALL PERSONNEL:
Just about us and people who support and help us.

---

HIDDEN SECTION:
Few secret hidden sections for real "oldfags" and die-hard fans!
---
In the same period of launching our project, we began the process of recreating Heatwave Hurricane, using a piece of the soundcheck recording we obtained at the time. We quickly produced an early demo and incorporated it into our video teaser, but we knew that it still needed some refining. Of course, we did want to finish the track properly…
During these past two years, we attempted to finish the track completely. However, due to its complicated sound, we faced difficulty in completing the track. Additionally, it proved to be quite challenging to produce a proper mix for it. Consequently, we accumulated a dozen different mixes of the track. Today, in honor of our anniversary, we have chosen the best one to share with you! Full track in any format can be freely downloaded from our Bandcamp page: https://allsouvenirs.bandcamp.com/track/heatwave-2006-rough-mix
---
---
Along with the publication of our best mix, we decided to update the video as well. Check it out! It will be also shared on our YouTube later!
---
We'll definitely finish 'Heatwave' someday, but for now we're immersed in working on new tracks. Pretty soon we'll be posting the final mix of Rock'n'Roll '98, Dogbite and many others. Stay tuned!
---
Headmasters:
ALL SOUVENIRS
---
Donate
Donate Bitcoin to this address

Tag/Note:-

Network: Bitcoin

Donate Ethereum to this address

Tag/Note:-

Network: ETH Ethereum (ERC20)

SBER/QIWI (RUS): 8950008190б