FAT25 · 10th track: Fuel My Fire · Cover
Today we will talk about the last track in 'The Fat Of The Land' album, the legendary 'Fuel My Fire'. Lots of you guys are aware that this tune is a cover of the L7 song. Did you know that The Prodigy had several versions of it? The first demos were recorded back in '95, and loads of people have worked on it since then, including two honoured guitarists from The Prodigy: Gizz Butt and Jim Davies. We got in touch with Gizz to reveal some details behind the 'Fuel My Fire', and dozens of previously unreleased facts were reported in his story! This article came out really profound, so let's dive deep right away…
First of all, it turns out that 'Fuel My Fire' isn't even an original L7 composition. Originally they used the tune from a 1989 song called 'Lost Cause' by the Australian punk/yob rock band Cosmic Psychos and gave it new lyrics.
The L7's 'Fuel My Fire' appeared on their 1994 album 'Hungry For Stink', this song is a typically raucous, driving punk tune, built around two heavy guitar riffs. The thing that's hard to understand about the cover is how The Prodigy came to pick it up in the first place! According to Gizz Butt, the track went through many stages before becoming the final mix.
---
'Hungry For Stink' by L7 was released in July of 1994 at the same time as the 'Jilted Generation', so the very first demo was recorded in post-Jilted times, presumably in 1995 during the same period that the 'Ghost Town' cover was recorded. It was
Gizz also added that some parts of this version can be heard on the first live performances of the track.
Gizz Butt: Live version from Brixton 1996 has lots of live melodies from the Kris Needs version with a Sex Pistols guitar solo.
The fourth and the final version of 'Fuel My Fire' was released on 'The Fat Of The Land' LP, and Gizz still has something to add about it!
Gizz Butt:
You can find the some rare live videos, exclusive guitar riffs recorded for Prodigy and other rare stuff at Gizz Butt's Patreon.
---
It's also quite touching that The Prodigy literally financially saved L7 and gave them new opportunities. While talking to Kyle Meredith, L7's Donita Sparks remembered that 'it didn't make us rich, but it really got us out of the red'.
Donita Sparks: We didn't even know that they have covered it! We weren't friends, and our french promoter played it for us, he was like 'Have you heard The Prodigy cover?', and we were like 'What?' — and he played it for us, and we were just staying around the boombox like 'Oh my God, this is amazing'… We were so flattered, and it was such a different take on the song, and they sold a gazilion records. And them covering that song got us out of the red with our publishing deal. So we still would have been, you know, breaking rock in the hot sun! It's all really bizzare. I mean, no connection, you know, British guys, they were just fans, so that was really cool. It didn't make us rich, but it really got us out of the red.
Answering if Donita had any connections with Keith Flint, she fondly recalled playing together.
Donita Sparks: We played a couple of festivals with them in Germany with David Bowie headlining, which was amazing. We had gotten bouquets from our french promoter, and I gave one to Bowie, and I gave one to Keith from The Prodigy, so they were both very happy. And I was so happy to present them both bouquets of flowers because that's how I roll!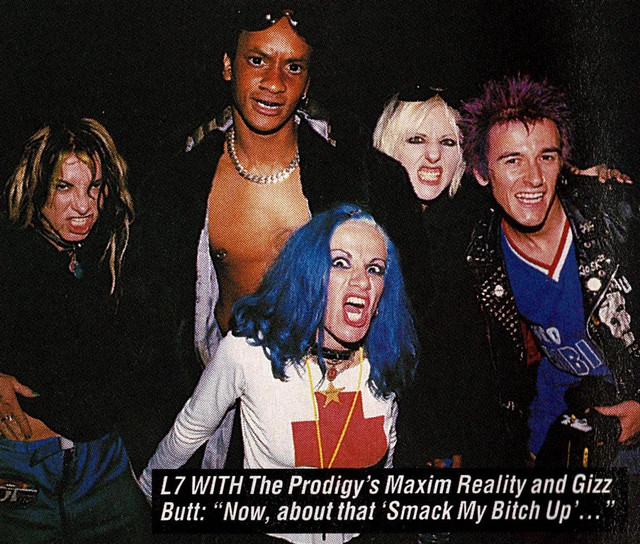 ---
A quick recap:
'Fuel My Fire' cover was started in '95 in the same period as 'Ghost Town'.
With Keef's initiative it was pulled from Liam's shelf in '96 and refined by Gizz and Kris Needs with Flint's vocals.
This version of Kris and Gizz was considered a b-side for an upcoming single.
The track was finalized by Liam with Keith on vocals and Saffron on the back, and some parts of the Gizz and Kris demo were also used in the final version.
On the Brixton '96 record, you can hear the very pre-final version of the track with no guitar feedback in the intro and some of the Gizz riffs from his demo.
---
Headmasters: SIXSHOT, SPLIT
Additional thanks to: Gizz Butt, NoiseCrumbs
---
Donate
Donate Bitcoin to this address

Tag/Note:-

Network: Bitcoin

Donate Ethereum to this address

Tag/Note:-

Network: ETH Ethereum (ERC20)