'Out Of Space' 30th Anniversary!
The Prodigy Experience celebrates its 30 in 2022 as you all may know. So does Out Of Space! The single came out on 9 November 1992, and there are some pretty curious stories behind this release. We'll try to cover everything we know about this tune, its birth, its production, its music video and the release design. We will also trace how the track had been largely altered through the years on the live gigs, and in addition, we will share some details behind the 2005 remix single. Here we go!
While discussing 'Experience' 30th anniversary, Liam Howlett in his talk with BBC Radio 6 stated that 'Out of Space' is a "tune is just a straight up anthem, simple as that". It became a true groundbreaker for thousands of young rave kids and opened many doors for The Prodigy themselves. 'Out Of Space' updated Max Romeo's catchy reggae tune Chase The Devil for the '90s hardcore-breakbeat scene with some speeded-up samples of breakbeats, '80s rap (Kool Keith on Critical Beatdown) and turntablism (Jam Master Jay on Peter Piper), rave synths and bleepery, and the inspired use of a 'boing' cartoon sound effect.
Just like the other 'Experience' tunes, Liam's increasing interest in ragga and dub was also reflected here as well. Quite funny that Max Romeo's 'Chase The Devil' was absolutely hundreds of times less known than Howlett's interpretation. The sample usage cost Liam quite a bit: Maria Forte, who was tasked with clearing the samples on the album, explained that in detail while talking with Martin James.
Maria Forte: With 'Out of Space' the original artists demanded co-songwriting credits and a very high percentage. Liam refused to take the samples off because it was a part of his creative vision. In fact, it actually cost him to make that track. He didn't make a penny from it!
Liam Howlett in Future Music magazine: With 'Out of Space' I kinda let myself down a bit 'cause there's such a big hook. I came across the Max Romeo track and I really liked it. I'd already written a version of Out of Space, but that sample fitted really well with it. I was getting to the end of the album and I felt I wanted a reggae-type track, so that was it.
"It was the last rave tune that I wrote which was any good," Liam recalled years after the release while talking with Martin James for Independent.
Another important chop that made the 'Out Of Space' so significant was taken from Liam Howlett's old favorites hip-hop classics Ultramagnetic MCs and their 'Critical Beatdown'. Later The Prodigy mastermind will assume that Ultramagnetic's Kool Keith agreed to feature on 'Diesel Power' also because of the royalties for 'Out Of Space' sampling. Their production relationship went so deep that Liam somehow even called him 'the fifth member of the Prodigy'.
Don't miss our previous article about Kool Keith's collaboration with Liam.
Liam to VOX magazine: I told Kool Keith what I wanted to do and he was bang into it. I think he probably respects the fact that i sampled 'Take your brain to another dimension' in 'Out Of Space' all those years ago. And he was well paid. He got 20 or 30 grand out of it…
Speaking of 'Out Of Space' production, Liam's use of a Roland U-220 synthesizer here is also a well-known fact. "I've had that years. That's one of my all-time favourites for strings; the strings on there are The Prodigy trademark! If anyone puts a bit of chorus on those strings, you get the sound from 'Out Of Space' straight away", Liam admitted in his talk with Sound On Sound back in 1996.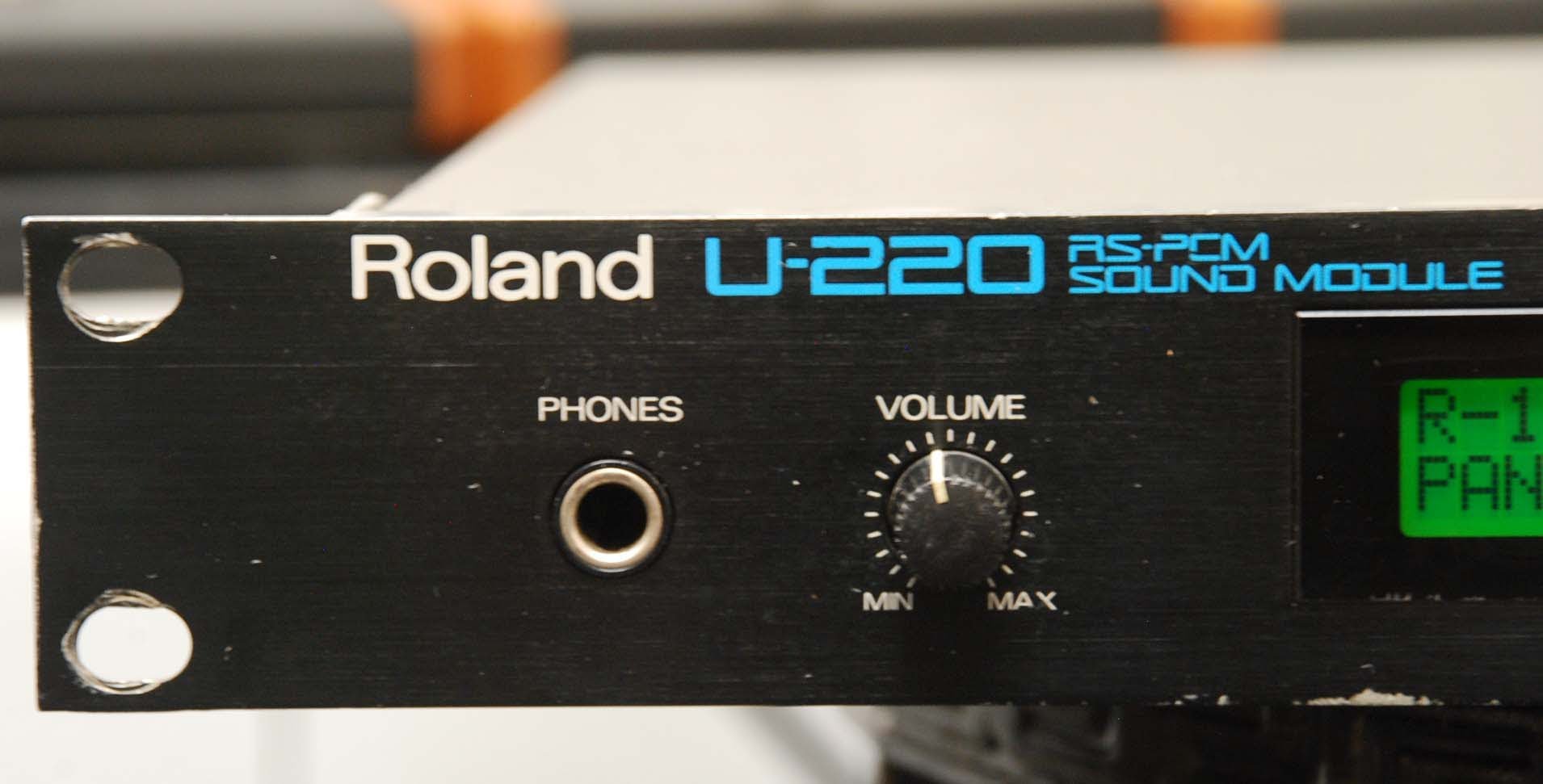 Complete 'Out Of Space' samples list

Sample source: Roland U-220 – Patches – 17 Strings

Sample source: Run-DMC – Peter Piper [Raising Hell, 1986]

Sample source: Roland U-220 – Timbres – 126 Spectrum 2

Sample: vocals ('I'll take your brain to another dimension, pay close attention') & instrumental

Sample source: Ultramagnetic MC's – Critical Beatdown [Critical Beatdown, 1988]

Note: The members of Ultramagnetic MC's were listed as co-writers in the booklet of the 'Out Of Space' single.

Sample source: Max Romeo & The Upsetters – I Chase The Devil [War Ina Babylon, 1976]

Sample: beat #1 & bass #1

Sample source: 2 Bad Mice – Bomb Scare [Hold It Down, 1992]

Original source: Kariya – Let Me Love You (Rebuilt) [Let Me Love You (Rebuilt) / You Used To Salsa, 1989]

Sample: beat #2 & bass #2

Sample source: Hackney Hardcore – Dance Hall Dangerous! (Version 2) [Dance Hall Dangerous!, 1991]

Original source: The Shamen – Hyperreal (Dirty Dubbing) [Hyperreal (Remix), 1991]

Sample: 'boing' spring fx

Sample source: William Hanna & Joseph Barbera – Boing [Drop-Ins Vol. 1, 1965]

Sample: vocals ('I'm gonna send him to outer space to find another race') & instrumental

Sample source: Max Romeo & The Upsetters – I Chase The Devil [War Ina Babylon, 1976]

Note: In 'I Chase The Devil', the main lyric is repeated several times with slightly different intonations. For 'Out Of Space' Liam used two fragments from different parts of the song: 'I'm gonna send him to outer space' can be heard at 1:12, while 'to find another race' can be heard at 2:14.

Sample: rave synth stab #1 (at 1:08 and throughout)

Sample source: M-D-Emm – Get Down (Hands In The Air Mix) [Get Down, 1991]

Sample: rave synth stab #2 (at 1:54 and throughout)

Sample source: Shades Of Rhythm – Homicide [Homicide / Exorcist, 1990]

Note: In 'Homicide', there are several notes that Liam could have used, but for some reason he used the third one.
---
Our man Canyon Hill reconstructed 'Out Of Space' from scratch in Ableton Live, so you might be exited to go even deeper into the production process!
Subscribe to Canyon Hill's channel for more stuff like this!
Stay tuned: youtube.com/c/CanyonHill
If you occasionally would like to make a remix and need any stems, feel free to contact him via email.
DESIGN

The idea for the release visuals actually came to Liam after a sleepless night at the rave, when he saw an ostrich while morning driving home after the wild party. This landmark case was described by Martin Roach quite well in his 'Electronic Punks' book.
Liam had just turned off the M11 and begun driving towards home along the deserted A-road, when in front of his car he saw an ostrich, head swaying up and down as the gargantuan bird jumped along the tarmac. He blinked and looked again, and it was still there. He and his mates were on their way back from a big outdoor party and it was nearly 6am in the morning, so Liam was obviously a little surprised to be confronted by an eight-foot bird apparently heading for the motorway junction. His mates had all been heavily indulging in acid, and as Liam looked in the rear view mirror, one particularly badly drugged friend woke up, looked out of the car window and saw an African ostrich stop by the vehicle and lower its head to look in. This was too much, and the shaken man started gibbering about having taken drugs one time too many, and that his hallucinations were getting more and more realistic with each trip. After a few seconds surveying the occupants of the car, the ostrich headed off towards the motorway, probably to get a sandwich from the nearby service station. Liam, still stunned, headed home and the next morning told his dad about his weird night out. His father, used to Liam coming home from all-night raves in various states, listened to his son's story of the big bird and simply nodded, "Yeah, sure Liam," then carried on eating his breakfast.
What had actually happened was that the ostrich had escaped from a local bird sanctuary and was eventually caught by dozens of police, heading for Cambridge in the fast lane of the M11. What it provided Liam with was an unusual addition to the 'Out Of Space' music video, the single design and even the recognizable ostrich print on the band's official merch.
The Prodigy's 'Out Of Space' single cover.
Designed by The Unknown Partnership in association with Liam Howlett.
---
The 1990-1992 period was noteworthy for its classical ravey flyer aesthetics. 'Experience' era was fully designed by The Unknown Partnership headed by Steve 'Jaffa' Gribbin in close cooperation with Liam Howlett (don't forget that young prodigy was a graphic designer before he devoted himself entirely to the band). In addition to 2D flat satellite dishes artwork on the single cover, there also were some promo posters with this design on the front.
The Prodigy's 'Out Of Space' promo posters
VIDEO

The 'Out Of Space' video was directed by Russel Curtis, who later worked with such industry giants as Honda, John Lewis, Coca-Cola, Audi, Samsung and loads of others. The shooting process was pretty cool described by Martin James in his legendary 'We Eat Rhythm' book.
Martin James: Filmed on a farm the video featured shots of the boys messing around while Keith dressed as the archetypal raver of the time. Which inevitably meant wearing a ski mask with Vicks Vapour Rub taped to it, white hooded chemical overalls and the Keith inspired addition of pink rubber gloves. With his hood pulled over his head Keith held an unfortunate similarity to the band Altern-8 who had also adopted this style to promote themselves, while trying to retain some form of anonymity. Surprisingly Keith was filmed dancing to a track by The Sandals, the UK band who would later be credited as the godfathers of the sound that became known as trip hop. The Prodigy track which would feature on the finished version was added later.
Keith Flint: We weren't really taking the piss out of Altern-8 we were laughing about the rave scene then. It was so far removed from what we were used to, it had become a kind of a joke. I was jumping around for a laugh but Altern-8 got paranoid
In turn, Altern-8 were seriously offended, taking Keith's fooling around too personally, and expressed their contempt for The Prodigy in the Brutal-8-E video. The supposedly comical 'Dodgy' T-shirts, a parody of the band members, and the smashing of the co-called Charlie porcelain cat actually looked weird and pathetic — see for yourself.
REMIXES

In addition to the title track, the 'Out Of Space' single also contained Howlett's remix of the main tune called Techno Underworld Remix, plus the Uplifting Vibes Mix of 'Ruff In The Jungle Bizness' and also the live version of 'Music Reach'.
However, the US version of the single was slightly different from the European one. Especially for the American edition, 2 remixes were made by Chicago house producers Mark Picchiotti and Teri Bristol. Essentially, both Millenium and Celestial Bodies mixes were slightly different arrangements of the same mix. According to rumors, Liam was not happy with them, but anyway these versions were the only official guest remixes of 'Out Of Space' for many years. Only 13 years later, 'Out Of Space' will be officially remixed by guest producers again.
---
---
In 2005 as a supported release for 'Their Law (The Singles 1990-2005)' XL Recordings also released a couple of remix singles of well-known The Prodigy classics. The first one was 'Voodoo People' remixed by Pendulum, and the second 'Out Of Space' was remixed by UK electronic band Audio Bullys. Whose idea it was to choose The Experience tune for remixing is unknown, but it turned out to be not so bad. If we sum up the releases on all possible media (CD, promo and vinyl), we end up with 4 different versions of this remix.
Audio Bullys Remix
Audio Bullys Remix Edit
Audio Bullys Dub
Audio Bullys Remix Club Edit
And here it is worth taking a closer look at all these versions. The thing is that in the Remix and Edit versions Liam himself is also listed as a co-remixer in addition to Audio Bullys, — the other two versions list only Audio Bullys. On top of that, there are also some promotional releases, where this remix is even called The Prodigy vs Audio Bullys Remix. The clue is that after Audio Bullys sent the final mix to Liam, Howlett slightly reworked it: basically, he rebuilt the beats in the mix. He recalled it himself while being interviewed by Neko back in the days.
---
---
Neko: Audio Bullys did a remix for Out of Space…
Liam Howlett: I love it. I know its not very popular. But I love it.
Neko: In the credits it says you did some additional production on it. Did you rework it a lot?
Liam Howlett: Not really, I edited it and reprogrammed it a bit. To be honest, what happened was, they gave me a mix, and to me it was a bit too club based. So I kind of chopped it down, did some edit on some of the beats, did some minimal work on it, just edited it down and chopped the beats around. […] Not many people like that, but I do really like it! I like it, because theyve taken an old track and just stamped their authority on it, stamped what they're about on the track. You cant beat the original, the original is a classic now. But I really like their track!
Neither in the Dub version nor in the Club Edit, Liam is not listed as a co-remixer, which clearly shows that he didn't rework those versions. We also compared these mixes in detail and found that the 'Club Edit' and 'Dub' versions don't contain breakbeat sections, which usually are Liam's trademark. Moreover, it turned out that the 'Club Edit' is nothing more than the first and original remix from Audio Bullys, which was subsequently reworked by Liam. As you might guess, the 'Dub' is a dub version of this mentioned original remix. Actually, Audio Bullys just made a classic house music single, with the house mix on one side and the dub version on the other.
But since Liam isn't really into house music, he updated the original and also made a shortened version for radio broadcasting. Finally, these two mixes by Liam were officially released as the main ones. However, Audio Bully's original house tunes came out as additional versions on some editions.
Just to make it a bit more clear, the scheme is as follows:
Audio Bullys Remix = The Prodigy vs Audio Bullys Remix
Audio Bullys Remix Edit = The Prodigy vs Audio Bullys Remix (Radio Edit)
Audio Bullys Remix Club Edit = Audio Bullys Remix (Original Mix)
Audio Bullys Dub = Audio Bullys Remix (Dub Mix) *dub mix of the original
LIVE VERSIONS

Also in the same year, the live version of the 'Out Of Space' was updated quite a bit. Especially for the 'Their Law' tour, Liam just made a simple re-edit of the track, which was finished over the course of several years. At first, it was a simple Edit with additional breaks and drum loops.
A few years later, the melody from 'Your Love' was added to the introduction.
And a few years more, the track intro was finally reworked to a more synthesized one.
Since then, 'Out Of Space' became an obligatory part of The Prodigy's live gigs. To be more precise, it became the very final part of the show: for more than 10 years the track was performed as the last one. And in the end, it turned out into a very short outro. Even a separate version of the track was made for it!
If we dive a bit deeper, we'll see that the original 'Out Of Space' used two beat loops 2 Bad Mice's 'Bomb Scare' and Hackney Hardcore's 'Dance Hall Dangerous! (Version 2)' (check out the full samples list above).
Sample: beat #1 & bass #1
Sample source: 2 Bad Mice – Bomb Scare [Hold It Down, 1992]
Sample: beat #2 & bass #2
Sample source: Hackney Hardcore – Dance Hall Dangerous! (Version 2) [Dance Hall Dangerous!, 1991]
In 2018 a very short outro edit was cut for the gigs, and it was obviously made in a hurry. A string intro and a loop with Max Romeo's vocals were taken from the album mix (after the intro this sample plays until the end of the track), but instead of the original beat loops, Liam applied The Shamen – Hyperreal Selector drumbeat, which is widely known and common among breakbeat hardcore producers, and may be found in loads of tracks to this day.
Sample: beat & bass (in new edit)
Sample source: The Shamen – Hyperreal Selector [En-Tact, 1991]
---
Stay tuned and keep following us on social media!
---
Headmasters: SPLIT, SIXSHOT
Additional thanks to: Canyon Hill, Martin James, Juge L
---
Donate
Donate Bitcoin to this address

Tag/Note:-

Network: Bitcoin

Donate Ethereum to this address

Tag/Note:-

Network: ETH Ethereum (ERC20)