FAT25 · 8th track: Firestarter · Story
We continue our track-by-track story of 'The Fat Of The Land' with a massive article about the inception of 'Firestarter'. We'll share a fascinating story about the making of the track, a detailed analysis of all its versions, rare details behind several live jams and of course an exclusive re-chamber from our team! But first things first…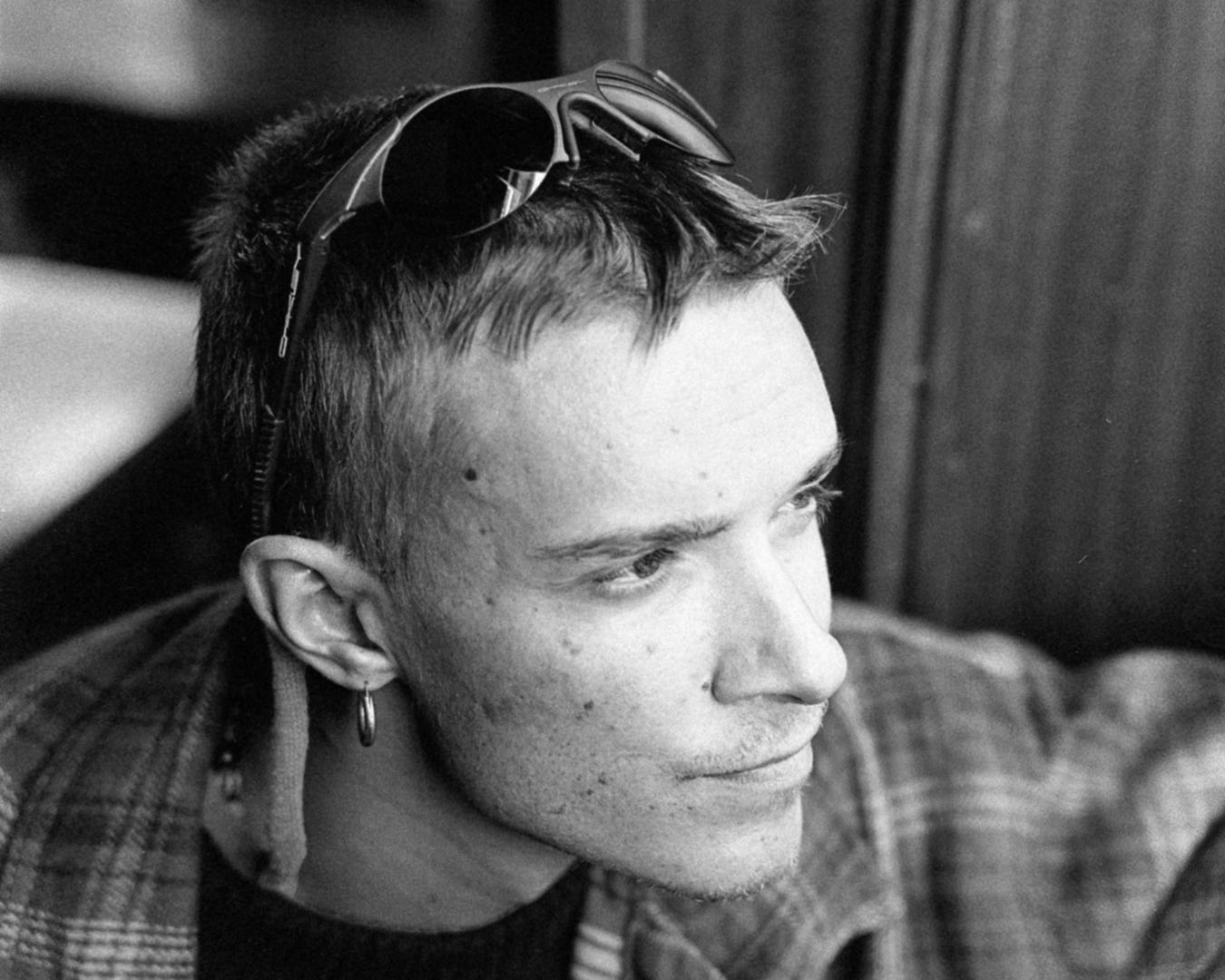 Liam Howlett, 1995.
Shot by Martyn Goodacre | martyngoodacre.com
---
In late 1993 and early 1994, Liam Howlett became more and more obsessed with guitar-based stuff like Rage Against The Machine, The Breeders and Nirvana, and this fact is directly reflected in his work. 'Jilted' became way heavier than all of the previous ravey tunes, and as it turned out later, that was only the beginning. The Prodigy started getting deeper and deeper into guitars, and at the same time they did not forget the trademark Howlett electronic stuff. 'Firestarter' was reportedly inspired by Foo Fighters' 'Weenie Beenie'.
The track featured a repeated 'Hey, hey, hey' refrain lifted from 'Close to the Edit' by Art of Noise, a track that Liam had to pay heavily for, even though it had been easily available as a studio sample since 1988. Another key element was a huge guitar sample lifted from The Breeders' track 'SOS'. Kim Deal from The Breeders reportedly hadn't been asked about 'Firestarter' and wasn't best pleased.
When guitars and vocal samples were added to the huge, looping breakbeat and sneering, siren-esque keyboard refrain, the collective sound was breathtaking. With the addition of Keith's cyberpunk growls however, 'Firestarter' turned into one of those instantly memorable tracks that haunts your subconscious from daybreak to sundown. 'Firestarter' was a natural step on from 'Voodoo People' and 'Poison' and changed the band's direction dramatically. Just a little over a year after the 'Jilted' was released, the 'Firestarter' instrumental was created in late '1995, and it was the first track that Liam finished for 'The Fat Of The Land'.
---
THE RECORDING PROCESS
---
Liam Howlett: There was no gap in writing those days, I just carried on writing, I was starting the new album and had a vision of what the intro of this album should be like. I asked myself, what do I want it to be? I was just messing around with sampling, loads of guitars at the time, and I didn't ever want to write a tune where you could hear it was a guitar, so I spent a lot of time recording guitars and then really smashing them up and kind of trying to make a new sound out of it.
Liam first wrote sort of main guitar riff on a keyboard, and then a guitarist of that time, Jim Davies, came round and just played what Liam had written — that took 10 minutes like all the best things are done quick.
Keith was messing around in Liam's home studio and proposed that he would like to try singing for a new demo. Liam was initially not thrilled about the idea, as he did not consider Keith to have a strong singing voice, especially after hearing him singing random stuff on the tour bus. Despite this, Liam respected Keith and was willing to give it a shot. Howlett must have had a good reason for suggesting Keef's singing in the first place.
Singing for the first time was a real catharsis for Keith. Suddenly Liam had given him a new way of expressing himself; Liam had given him a voice.
'I hadn't done any vocals at that time,' Flint admitted. Aside from 'taking the piss' in the style of Rage Against The Machine at gigs or backstage, he had yet to appear on a track. But both he and Liam knew there was potential. 'Liam said, 'I tell you what, if you can focus that [energy] and do that seriously. Let's do it on a track' Keef recalled.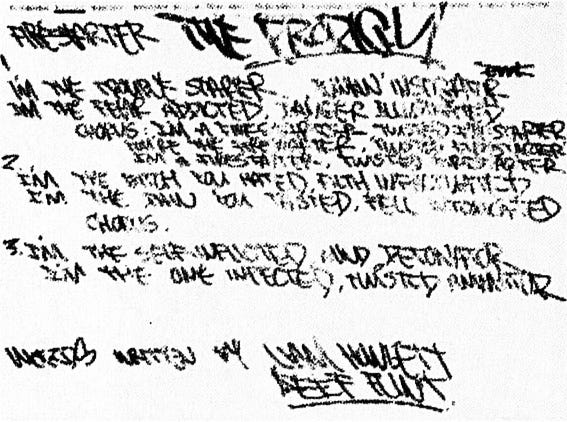 Turning up to Liam's and hearing the wailing, muscular backing track for 'Firestarter', Flint knew he'd found his debut tune. Feeding off a loop of the track, Keith grabbed a pen and paper and set to writing.
Rolling Stones' journalist asked Keef back in the days: 'Why, suddenly, did you decide to write lyrics?' to which Keith replied, 'That's unexplainable. Why does a river turn into an oxbow lake? I've spent six years expressing myself with my body, shouting with my body. It's like a conductor of the music. From the party scene, when a tune came on and it was your tune, I wanted everyone to know it was my tune. Yes! Fuckin' hell! Rockin'! Just yelling at each other, dancing away. This is just an extension of that. If I could get a mike and just go, 'Fuckin' hell! Fuckin' hell!' I would do it. That is the punk-attitude, DIY aspect of The Prodigy'.
Keith Flint: I said, 'if you was going to put me on anything, that would be what I'd be on'.
Satisfied with the monster they'd caged in their demo, Liam and Keith travelled from Essex to London for mixing and mastering in The Strongroom Studio, but surprisingly something didn't go as planned there!
Liam Howlett: I ended up taking my DAT into the Strongroom, where I work with a guy called Neil Mclellan — he's the only person I can work with as far as mixing goes, because he really understands what I'm on about, and he's got some wild ideas himself. We tried for eight hours on this super-expensive mixing desk trying to reproduce what I'd done in my studio but we just couldn't get the compression and the attack. We just couldn't' get it better. So we put the vocal down, and maybe only needed to EQ the DAT very slightly. We recorded the vocal there, and added the mad backward sound effects, and then we just EQ'd the track a bit more in the cutting room.
It was a similar story for Keith's vocal. Instead of trying to polish the rough original, they 'just plugged a cheap mic straight into the mixing desk and [Keith] performed it like he would do on stage. That take was the one'. Keith's weed-infused punk roaring and Liam's fast-paced breakbeat techno meshed together quite well!
On their 90min drive home to Essex, 'rolling down the M11' in a beaten-up car with a homemade tape system strapped to the boot, Liam and Keith listened back to 'Firestarter' 'over and over again' to gauge the monster they'd created. 'That moment in time it was just two mates who'd created something and it was no-one else's,' Liam said. 'It was just ours. It hadn't been played to anybody, just the people in studio. We were trying to give it a couple of minutes, then put it on again and pretend we had new ears listening to it.'
Keith Flint: It was like, are we enjoying the process and the thing that we've created? Or does this live outside of our own personal enjoyment? And obviously I hadn't been doing vocals on stage and we were thinking: do we now exist with me as a vocalist? Is that a good transition for us?
Liam says he flogged the track '10 more times when I got home. Woke up in the morning with fresh ears, played it again, and went 'yeah this is dangerous this tune'. It's always what you're looking for in the studio, create something that you just get that feeling.'
Liam Howlett: This track was all about an attack. Sonic attack is what excites me, trying to capture this controlled energy that's right out there on the edge, straining at the leash.
…Just a month before Keith's passing, Australian journalist Linda Marigliano had a chance to have a 20-minute talk with Liam Howlett and Keith Flint about the creation of 'Firestarter' for her 'Inspired' podcast. In our humble opinion, this is truly the most interesting first-hand interview with the band, recorded in 2019.
Inspired Podcast: Talk with Liam Howlett & Keith Flint about making of 'Firestarter', 5 Feb 2019
---
LIVE VERSIONS
---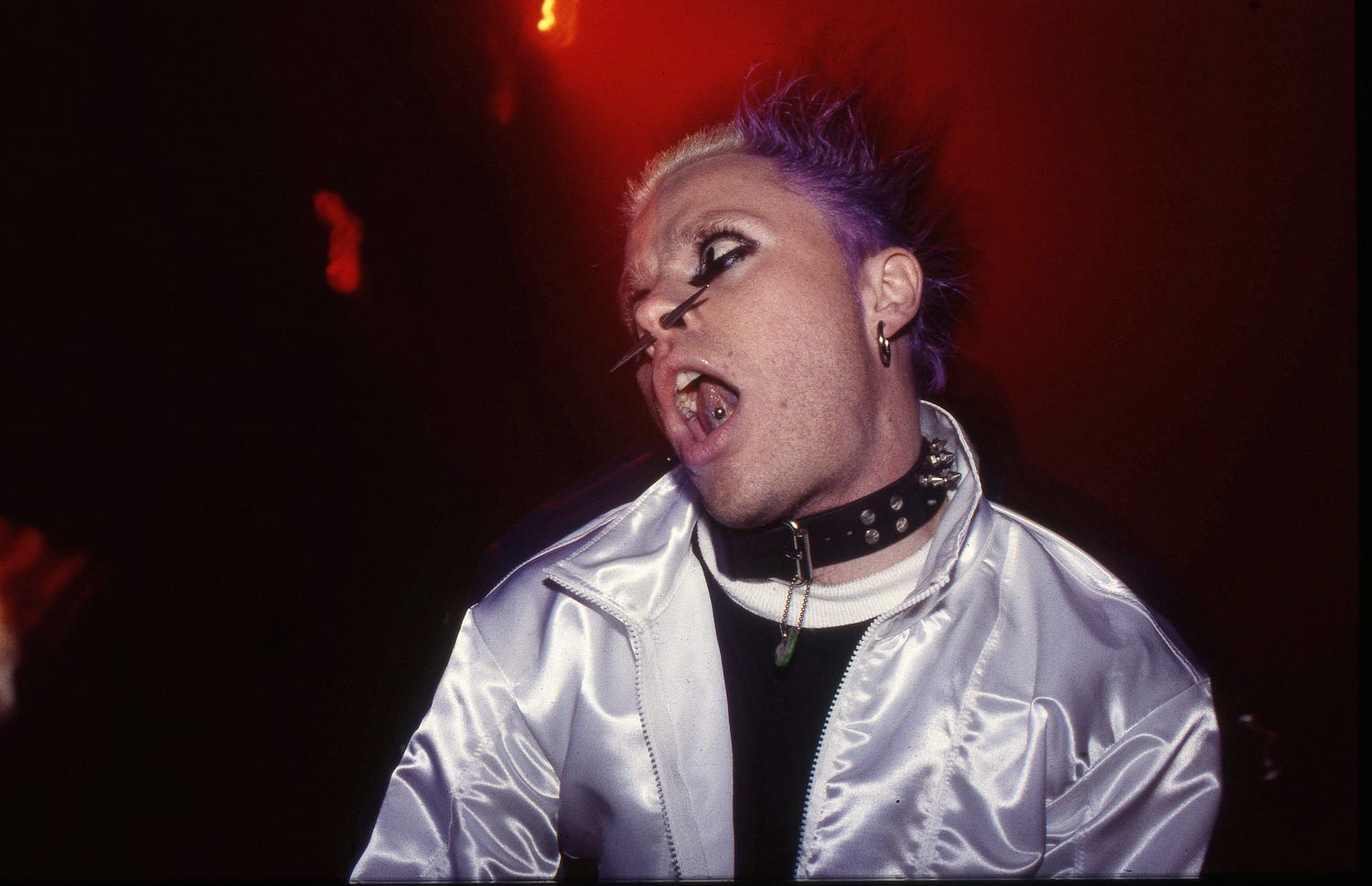 ---
It is generally accepted that 'Firestarter' premiered on October 28, 1995 at Ilford Island, London. It was a fully spiritual experience for Keef: feeling himself totally naked standing in front of the crowd and premiering the song he sang by himself. Little did the band know that it would soon send their lives into orbit. Not that Keith cared, he still had to get over his first ever job in charge of the microphone.
Keith Flint, the self-proclaimed adrenaline junkie, reportedly admitted that singing on stage for the first time was even more terrifying than a parachute jump he had done a couple of weeks prior. Keef was extremely afraid to ruin Liam's tune with his poor vocals. He even compared the experience to being in a school play and freezing when it was his turn to perform… Definitely, the entire performance was way worse than the parachute jump for him.
Liam Howlett: I'll never forget the reaction when we first dropped this live, people were like… mouths open. When it finished there was a moment of absolute silence, then the whole crowd just went off it. Keith was really nervous about doing it. Up until then all he'd had to worry about was dancing onstage, but now he had to remember the lyrics as well. Suddenly he had to use a different part of his brain!
---
The first ever pro-shot of 'Firestarter' was captured in the T Festival documentary (December 9th, 1995), held in Skopje, Macedonia.
Then, around March 1996, or perhaps a little earlier, right before the release of the 'Firestarter' single, the track got a full-fledged recognizable live intro, which later became the legendary one for a big amount of fans. It used the sample from the 1979 Hong-Kong movie called Jade Claw aka Crystal Fist directed by Shan Hua: Liam pitched down the phrase 'It's my own secret technique' and looped some punch hits from the fight scene. So simple and so catchy at the same time!
The album 'The Fat Of The Land' mix of 'Firestarter' also contains its own original introduction! Officially titled Firedrill this intro is a separate demo track that is mistakenly considered as part of 'Narayan' by many people. For more details, read our special investigation…
---
After that, if we move chronologically back to 2004, one may recall that the Firestarter version underwent major changes — for the first time since 1997 Liam gave it a new arrangement. Keith was just sick of performing the track in its original form and told Liam he won't do it anymore.
Neko: So what about the old material? Are you going to update it in any way? You said somewhere that you were never going to play 'Firestarter' in its original form again …
LH: This is not ready yet, I know you will probably go to a few gigs so you will probably hear the transition to a new 'Firestarter'. It will be something maybe bootleg style. Keith basically said he didn't want to do it in its original form any more, so definitely by the UK tour I will be chopping the older tunes around, you know. For the first few gigs we really just want the new stuff from the new album sounding right, so we felt like, we can still change the older sound after,– if it works 'Firestarter' will be done by the UK tour.
Aside from the new beats for the verse, Liam also used Rage Against The Machine's 'In My Eyes' idea for the chorus. This new version premiered in Birmingham on December 2, 2004.
Liam Howlett, 28/11/2004: 'Firestarter' remix will be played first time in Birmingham. It's 'Firestarter' but it's twisted up more and kicks harder!
Liam Howlett, 05/12/2004: We played 'Firestarter' remix in Birmingham but it wasn't right so I did some emergency reprogramming for Brixton and it rocked. It's a hard track to make any better in my mind so I changed some of the chord structures in the chorus. It really felt like the best we've been as a band on stage since 5 years ago.
This version was also perfomed at Radio 1 Maida Vale Session, which took place on 14 July 2005. For a long time, the recording was only available from FM broadcasting, but later the band posted the soundboard recording on their MySpace page.
Then in 2006 Liam finally transformed 'Firestarter' one more time. He changed the structure again, cause the gig audience was confused by the pre-chorus transition and didn't understand quite well where to join the chorus.
---
OFFICIAL REMIXES
---
In addition to the live versions, let's talk about the official remixes of the legendary tune. Up until 2012, there were only two official remixes of 'Firestarter': the first one by Empirion ended up on the '96 single, and the second one was created by Jim Thias. His version was actually a bootleg-edit of the Empirion mix released under the official license. The track has been heavily re-structured, and a straight 4/4 drumbeat has been added at the beginning and the very end to make it easier for DJs to mix it together in their sets. Also some synths and cuts were mixed over top.
In 2012 XL Recordings released 'Added Fat' to celebrate 'The Fat Of The Land' 15th anniversary, and Alvin Risk contributed his remix for this EP. Getting in on the act after the fact, is American experimental noise
You all also do remember Andy C's remix of 'Firestarter' which came out just a few months ago as a promo for 25th anniversary of 'The Fat Of The Land', and even this one got a some details to tell. Andy C first premiered this tune right after Keith's passing in March 2019 and actually started to play it in his DJ sets as a tribute 3 years before release. Keef's vocal for this remix was actually re-recorded, you may clearly hear that acapella majorly differs from the one that came out in 1996… It looks like the remix was made for some kind of special release like Breathe ft. RZA, but was shelved for 3 years after Keith's death.
We'll post the large story about the 'Firestarter' single, its design and the details behind the music video shoot a bit later, stay tuned!
---
Headmasters: SIXSHOT, SPLIT
Additional thanks to: Martin James, JHGFX (grenade artwork)
---
Donate
Donate Bitcoin to this address

Tag/Note:-

Network: Bitcoin

Donate Ethereum to this address

Tag/Note:-

Network: ETH Ethereum (ERC20)

SBER/QIWI (RUS): 8950008190б