#FAT25 • 1996 Antecedent: Take Me On • Cocaine Kitten • Bounce
It's the 25th anniversary of The Fat Of The Land coming this June, that's why we decided to recall some of the preceding events and to share the story about the demos and some unreleased stuff that was in development but didn't make sense for the album. Now we'll share the first part of this two-section article and recall all the unreleased tunes from '95 to '96 in detail…
---
---
Even though Funky Shit was already played live in the middle of 1995, the real transition to the new era was The Prodigy's show program during late '95, when such tracks as The Trick Intro, Firestarter, Molotov Bitch and Breathe ('95 Beta) appeared in the tracklist along with already mentioned 'Funky Shit'. In addition to the above-stated tracks, the legendary jam-track called Benny Blanco in its earliest version was also played for the first time on the tour in December '95…
Benny Blanco '95
As strange as it may seem, it looks like the very first version of 'Benny Blanco' debuted in Moscow, at that weird but at the same time legendary gig, which was attended by very few people.
---
---
Almost all recordings of the late '95 tour, before Moscow, are easily accessible on the web. The tracklist was updated in October, but it never had 'Benny Blanco' on it. Nevertheless, the '95 Moscow gig video, which was made public back in 2015, has a short snippet of 'Benny Blanco', which was played at the beginning of the show. We suppose that Liam decided to try a new jam out on a small crowd. Anyhow, apart from the Moscow gig, there are very few live recordings from 1995 which feature 'Benny Blanco'. To be precise, there is only one full recording, the '95 Brixton gig, where one can hear the full 'Benny Blanco' arrangement, though not very clearly.
It's very likely that 'Benny' was played several times during the Australian tour in early 1996, but we have no recordings whatsoever. After that tour, the setlist was changed, which featured 'Smack My Bitch Up' as first track, and Benny was put on the back burner for 7 years, until 2002.
It's interesting that the info about two mixes of 'Benny Blanco', considered as being prepared for then-forthcoming 'The Fat Of The Land' album, were floating around some old chats at the beginning of 1997. The polished version of the track was probably meant to become a B-side.
---
Our team recreated this original Benny Blanco '95 jam from scratch.
Track in high quality is available on our Patreon!
---
One more interesting thing: right after Benny's return in 2002, Liam, having played its updated mix only several times at various gigs, brought back the first '95 version. It's possible that Liam found a newer version not massive enough for big venues compared to an earlier version. Still, Liam slowed down the tempo a little bit of '95 version to fit 'Benny' into one row with the rest of the 2001-2002 tour slower tracks such as: 'Baby's Got a Temper', 'Trigger', 'Goblin', 'Poison' & etc.
Rock'n'Roll
Besides 'Benny Blanco', there were also rumors in the fan community in those years about the official release of Rock'n'Roll on an upcoming album. This fact was even mentioned in the famous Exit The Underground book by Lisa Verrico.
Lisa Verrico: Exit The Underground, page 83
But as theprodi.gy team was able to unearth, this was just another myth born of some inaccuracies. The essential point is that at the end of '95, a journalist from The Face magazine came to Liam's house and did a big interview with him. During the conversation, Liam played some tracks from the updated live program, among which there were Firestarter, Funky Shit, Come Correct (that's how the 'Molotov Bitch' was originally titled before it came out officially at the 'Firestarter' single) and Rock'n'Roll — probably it was shown in its '96 version, which was premiered live a little later. Anyway, all the tracks were presented by Liam only in the context of an updated late '95 / early '96 live program. But the author of the article ended up interpreting it all as new material for the upcoming album, and a little later Lisa Verrico just used The Face sources for her book.
The Face No 88, January 1996, page 58
That's how the story about the upcoming release of Rock'n'Roll on 'The Fat Of The Land' LP was born. In fact, it was just a live filler those days. But in spite of that 'Rock'n'Roll' with guitar played by Gizz Butt is an integral part of 'The Fat' era because it was regularly played live during the whole album promotion tour, and it's worth talking about separately – theprodi.gy/rocknroll96
1996 Intro · The Usual Suspects
Along with the appearance of the updated version of 'Rock'n'Roll' in the live setlists and the removal of 'Benny Blanco', the intro to the show was changed — 'The Trick' intro was replaced by epic orchestral thing. Some people called it 'Space Intro', but it has nothing to do with space. In fact, this majestic orchestra introduction was not written by Liam Howlett himself, he just chopped the short loop from John Ottman's 'Payback Time' from The Usual Suspects movie OST and spiced it up with some leads and samples on top.
---
We decided to recreate it as well, so you can immediately dive into the live pre-Fat atmosphere while reading this article….
Track in high quality is available on our Patreon!
Blow Ya Mind · Bounce
In general, only a few demos mentioned or played live in '96 made sense for the final release. During the year, just a couple of demos were played live: Blow Ya Mind, which later became Diesel Power, and Bounce (the title registered in the license databases) at the end of the year, which eventually became the basis for Serial Thrilla.
---

---
Also some other tunes were just mentioned in different interviews during 1996: 'Cocaine Kitten' and 'Take Me On', which are worth talking about separately.
Cocaine Kitten ft. Gizz Butt
---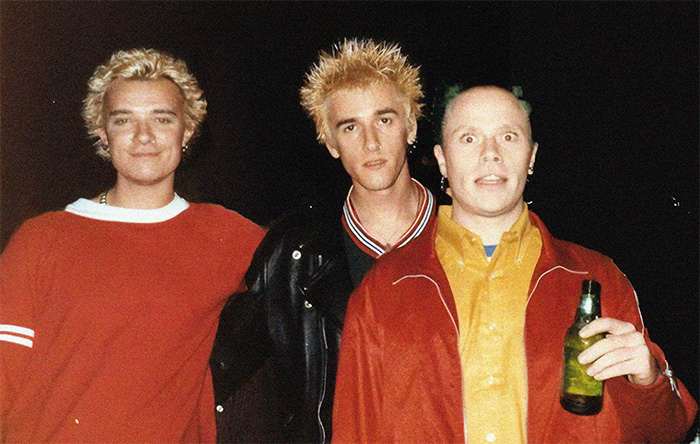 Find some rare live videos, exclusive guitar riffs recorded for Prodigy and other rare stuff at Gizz Butt's Patreon.
Take Me On ft. Skin
---
In the second part of this 'FAT25: Antecedent' article we will share the story about some live demos and some studio beats & cuts from early 1997! Subscribe and stay tuned for more!
---
Headmasters:
SIXSHOT
Additional thanks to:
Gizz Butt
,
Trim Silence
,
SPLIT
&
Canyon Hill
---
Donate
Donate Bitcoin to this address

Tag/Note:-

Network: Bitcoin

Donate Ethereum to this address

Tag/Note:-

Network: ETH Ethereum (ERC20)

SBER/QIWI (RUS): 8950008190б