FAT25 · 1st track: Smack My Bitch Up
In November 2022 one of the most controversial songs of the '90s celebrated its quarter-century anniversary. Сheeky The Fat Of The Land opener called Smack My Bitch Up became a true milestone for The Prodigy, and in this massive article, we will try to explain how it all came to this point. Here we go with the most complete track story where All Souvenirs will cover the tune's production, its samples, the remixes of the track, all of the existing live versions, the single release, the music video, and of course the controversy behind it all. Let's go!
Ultramagnetic MC's

Most likely, the track was first introduced to the public in May 1996 — since then this banger has been one of the most expected highlights of the band's live program ever. Liam started to write 'Smack My Bitch Up' along with 'Diesel Power' at the end of 1995 / at the beginning of 1996. Both tracks contained the catchy voice of Liam Howlett's favorite Kool Keith from Ultramagnetic MCs. And while on 'Diesel Power' Kool Keith recorded the vocals specifically for the track, then in 'Smack My Bitch Up' Liam used a sample from an already known old Ultramagnetics classic Give The Drummer Some, where Kool Keith's rhyming begins like this:
I'm ready, and now it's my turn to build
uplift, get swift, then drift
off and do my own thing.
Switch up, change my pitch up,
smack my bitch up like a pimp!
Kool Keith: It was just rhyming, kinda like randomly. It wasn't a conceptual type of record. Really because it ran by so fast, [the people] didn't have time to get that part. The [Prodigy] song was more focused. They could have used another word, they could have said, you know, 'Move to the top', but it might not sound good with that track. But it sounds good with 'Smack My Bitch Up', you know, the track goes with that mood.
Kool Keith already knew a couple of The Prodigy tunes like 'Poison', and he also already got a good royalty for his 'Critical Beatdown' chop sampled for 'Out Of Space'. That's one of the reasons why Keith was pleased to take part in the new album of the band.
Liam to VOX magazine: I told Kool Keith what i wanted to do and he was bang into it. I think he probably respects the fact that i sampled "Take your brain to another dimension" in 'Out Of Space' all those years ago. And he was well paid. He got 20 or 30 grand out of it…
Kool Keith to hiphopdx.com: I never had to run around to chase that money, and I was provided for well.
Answering the question of how big was his check from the "Smack My Bitch Up" sample, Kool Keith's 30-plus-year rhyme partner/co-producer Ced Gee spoke rather bluntly.
Ced Gee to hiphopdx.com: I was under a levy from the IRS at that time. The 'Smack My Bitch Up' sample paid off the levy which was about $100,000. After it was over and all corrected, I still had $18,000. That's how sweet that was. [Laughs] I got that, so imagine what [others] made.
Some internet research reveals Kool Keith even performed 'Smack My Bitch Up' live with the band back in 2005! While The Prodigy were touring in Melbourne, Liam accidentally saw that Kool Keith is there too and invited him to join the gig. They played 'Diesel Power' together, and Keith returned to the stage one more time to do 'Smack My Bitch Up'. The only known review of the 2005 show declares: 'Kool Keith looks like he doesn't want to stop. At the end of the 'Smack My Bitch Up' he just lies down on stage and repeats his line over and over again.'
Sheila Chandra

In the 90s, the press wrote a lot about the collaboration between Kool Keith and The Prodigy, including the upcoming release of 'Smack My Bitch Up'. In addition to Ultramagnetics founder, another vocalist of the track was also often mentioned in the media.
NME: Kool Keith's former band, The Ultramagnetic MCs, are also heavily sampled along with Sheila Chandra on another track, 'Smack My Bitch Up', which is considered as a possible single.
You may have a reasonable question: "Who is Sheila Chandra?", because the female vocals in the track are performed by Shahin Badar. The thing is that the early version of the track contained a sample of Sheila Chandra's song Nana (The Dreaming). An English pop singer of Indian descent, Chandra was originally sampled in the drop as the main feature of the track, but then something didn't go according to plan. Sheila wasn't actually thrilled by the demo, which she received from Liam, and denied the usage of her voice: she recalled the track as the 'very aggressive' one.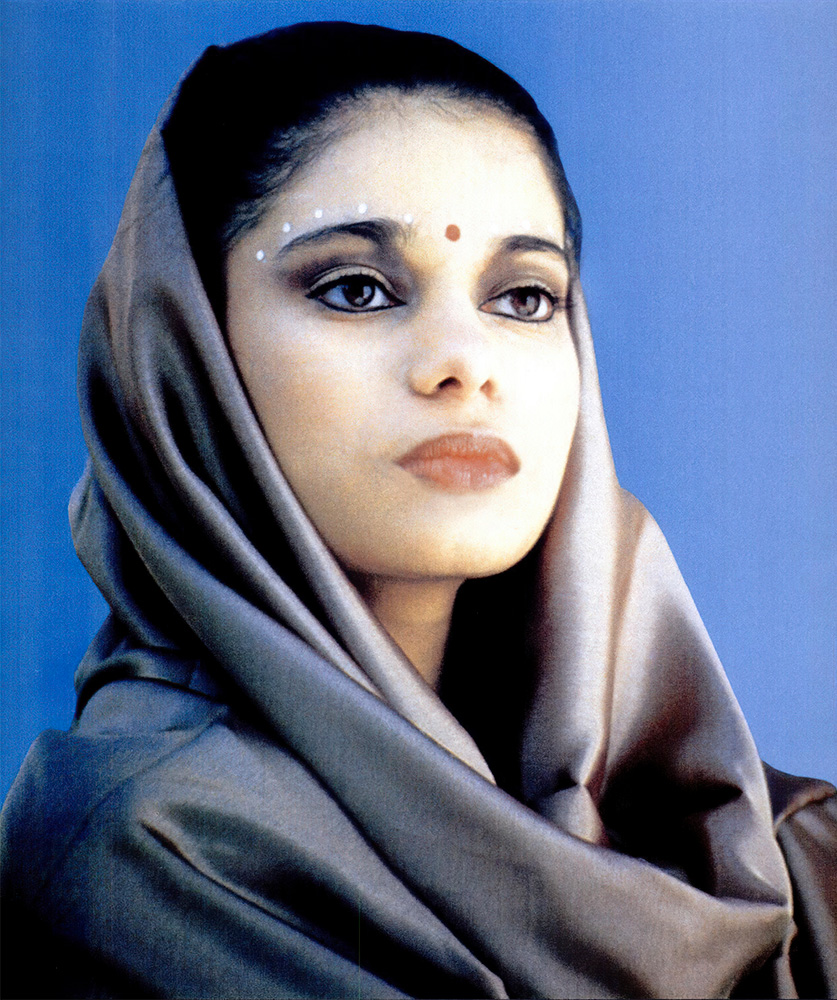 Sheila Chandra for CMJ New Music Monthly: The Prodigy sent around a cassette that had 'Change My Pitch' written on it, and someone was yelling 'Change my pitch' all over the track. I listened to it and thought, 'This is very aggressive,' so I said no. Then it turns out that the real name of the track… was 'Smack My Bitch Up.' And I was really glad that I didn't do it.
Her record label Real World Records was also very reticent about the track, calling the single 'infamous' and stating that Sheila's vocals were 'copied by session singer'. Incidentally, this early version with Chandra was even played live in the early '96 before the vocals were eventually re-recorded.
---
Our team have recreated an absolute copy of this early '96 version.
Shahin Badar

Meanwhile, Shahin Badar (English singer-songwriter) was the only one Liam trusted to "redo" the vocal part. She also was born in Essex, and probably that's why Liam got in touch with her. While being interviewed by Jamil Iqbal, Shahin herself spoke openly about her collaboration with The Prodigy and shared many details.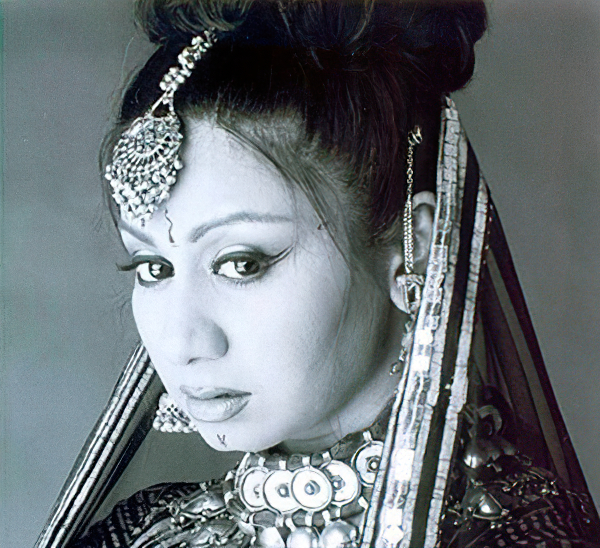 Shahin Badar for Jamil Iqbal: After I released my album the 'Destiny' album, I got a call from The Prodigy and that was it! They called me up and said "Shahin we have heard so much about you, can you send us your demo?" Then Aki Nawaz of the Fundamental, mentioned about me to The Prodigy and at that time I was doing a lot of shows, and I was doing a lot of melas. I was doing it as a hobby, I never took it seriously, because I just thought, music was great and I have got a voice and so what. I was never interested; I was more interested in my educational career. I was doing management, doing well there, as government officer was doing very well.

Then when the call came, I sent them a demo I worked on. And that demo, was just a demo, it wasn't a finished product, it wasn't a finished sound. But they loved the voice and straight after that I was invited to the studio, The Prodigy studio. I met Keith, I met Liam, Liam is the producer. Then we recorded the chant on the single. It was a very controversial track and I didn't know that the track was going to be called 'Smack My Bitch Up', but when the demo was given to me, it was given as 'Change my Pitch Up'. I recorded the chant and Alhamdulillah, with God's blessing it was just one of the chants ever if I can think about it in history. It was an amazing collaboration. Because, Liam was fantastic, when I went to the studio, he just said, "You know, Shahin you will listen to this". He had an idea, what he was looking for, but when I heard the sound, I said to him, "Liam look, I am going to do something, if you like it, you keep it, if you don't like it, you scrap it". He said, "OK, let's try it".

Because the demo of 'Smack My Bitch Up' was already sent to me at home, I listened to it, I had something that I had developed anyway. I worked on a certain kind of themes, when I went to the studio; that's what I recorded. I sang it to him and it was absolutely great and he loved it straight away. Keith, he was playing with his spiky hair, he said, it was awesome and everybody loved it and it was amazing and that was my cross into the mainstream. That was my first. The greatest thing was, as a young child, I was a very shy person; very naughty but very shy. Very reserved, and I was also quite religious. Everything in my life, it was Alhamdulillah, a gift from Allah.
It's also quite cool that Shahin Badar even performed her 'Smack My Bitch Up' vocal live together with the band on Zane Lowe's show 'Legends Week' at London's Maida Vale Studios on 14th September 2005. But in fact, her performance turned out to be part of a live 'Firestarter'.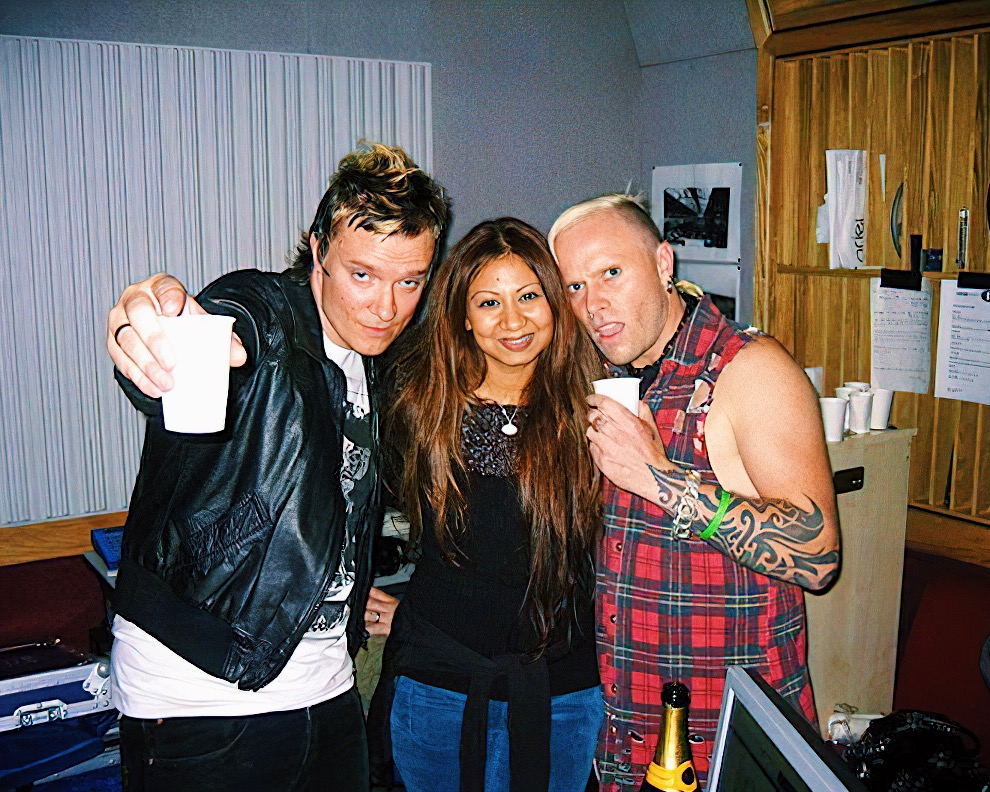 As a side note, there's one unobvious fact behind the demos for the above-mentioned vocalists. Both Sheila Chandra and Shahin Badar stated that they have not been notified of the original song title. In both cases, Liam was probably aware that he would be dealing with deeply religious artists, and that's why he specifically sent them the censored version of the track just to get the collaboration agreement! There were no 'B' word in the tune and the line 'Change My Pitch Up' was just repeated all over the track. Tricky dude! 🙂
Nice to remember that band even played similar version live once, while they were performing in China, the country which is known for its harsh censorship. In their 2017 Hong-Hong setlist the track was also mentioned as CMPU.
Live setlist from 2017 w/ 'CMPU'
Apart from the main vocal samples, the 'Smack' is also noticeable for another unobvious voice chop. Not so many people know that the track also contains Keith Flint's voice! In the album mix this sample is mixed quite deep in the tune and is barely audible, but it can still be discerned in the beta version, cause its more distinguishable there. Keith layers the word 'Bitch' over a piece from Ultramagnetics. Thus, Liam wanted to highlight this word more clearly in the UMC's sample.
Sample: vocals by Keith Flint ('bitch')
Sample: vocals ('change my pitch up, smack my bitch up') & instrumental
Sample source: Ultramagnetic MC's – Give The Drummer Some [Critical Beatdown, 1988]
Release in USA

Even though fans have known and loved this live banger since 1996, it wasn't released until the summer of 1997. The closer 'The Fat Of The Land' release date came, the louder the protests around the album's opener became. The 'Give The Drummer Some' chop made an incredibly lot of noise which the band could not have ever imagined. 'Smack My Bitch Up' got the band's American label up in arms before it had even hit the streets. Walmart, and K-Mart, America's largest retailers, had refused to stock the album if the offending tracks bore that title. A controversial B-boy-inspired track had immediately elicited attacks from self-appointed moral guardians everywhere. The Prodigy truly made their most controversial track ever.
Walmart and K-Mart also complained about 'Funky Shit' and, in the end the band was forced to compromise the titles for the US market to "Smack My B**** Up" and "Funky S***". Amazingly the country that boasts one of the highest crime rates in the world, where a gun is fired every second of the day, found it hard to accept the words 'Bitch' and 'Shit'.
Liam Howlett for Martin James: One of the reasons I signed to Maverick was because they promised us complete artistic control, and now this happens. I just don't know what to think. But if not changing the title means that the album's only going to be available in a few shops in the country then I can't really argue.
Single & Video

Time went by, the album showed up on June 30, 1997, and the time for the next single release came — the choice has obviously fallen on 'Smack My Bitch Up'. The release date was postponed a few times. The first news about the 'Smack My Bitch Up' as a single leaked in summer 1997. It was planned for release in September 1997, Kerrang magazine confirmed this detail in its 657 issue (July 19, 1997).
The original release artwork featured Aldo Torelli's photo of a Volkswagen Beetle wrapped around a lamppost, but in the early hours of 31 August 1997, a tragedy occurred in England: Diana, Princess of Wales, died from the injuries she sustained in a car crash. The country plunged into mourning, and the label decided to delay the release date.
Liam Howlett, who is well-known for his love of VW Beetles and camper vans, also told NME that "it was the right sleeve at the wrong time".
At first, the release date moved to October 27, but according to NME's article "Di death delays Prodigy single" (published in October 1997) the single still did not have a new release date those days. That's how The Prodigy spokesman reflected about the release date: "Basically Liam is involved in all our artwork decisions and he's only been back from holiday for four days. So nobody has had a chance to come to any decisions". So the band & their team needed to get the new single artwork. In a result they used a photo that was taken on Sunday, September 29, 1996, at UK Breakdance Championships. The single was finally released on 17th November 1997.
Check out our previous article with full behind-the-artwork story of 'Smack My Bitch Up' single!
---
The single release added even more fuel to the fire of controversy. The scandalous track has been vilified by literally everyone, from the House of Commons to Moby, Dead Kennedys and Beastie Boys. Then the band decided to show up even more controversial music video.
Maxim in MTV's The Essential (1998): The music tune was gonna get banned anyway, so why not give a video that's gonna get banned as well?
The stunning 'Smack My Bitch Up' video got its MTV premiere Sunday, December 7th 1997 at midnight during '120 Minutes'. It was done by Jonas Åkerlund, the now world-famous director, who worked with Madonna, U2 and dozens of other distinguished artists. Åkerlund's 'Smack' video literally opened the world for him.
Check out our compilation of the two massive interviews, where Jonas tells every detail of the shooting and the editing process for the 'Smack My Bitch Up' video.
"Propaganda" of violence

Despite years of attacks, Liam and the other band members have patiently explained over and over again what the point is. Liam gave dozens of interviews in which he explained the same thought dozens of times: The Prodigy are not singing about beating women. They never were and definitely never would be.
Keith Flint for VOX: I think people that come to our show know what it's all about, somehow. I mean, you don't write a track thinking: 'Smack my bitch up, that fucking ho done my 'ead in so I'm gonna write a track about smackin' 'er up, fuck her'. If you don't write it with that in mind and you don't perform it with that in mind, I don't think it comes across like that. It's the aggression of the tune, what it's suggesting, not what it's telling you to do. No, I would hate to think that it got too male-y. A lot of the females who are into the music seem to enjoy that. 'I'm not a girly-girly, I'm as aggressive as you, I'm gonna stage-dive, I'm gonna be down the front going fuckin'…' And I think that's cool. I think girls aren't girlies and more.
Liam Howlett for Addicted to Noise: That song is probably the most pointless song I've ever written. But live, it works. It works well. Sometimes things can be so fucking simple and you don't need an explanation of the lyrics. Why explain the lyrics? It either works or it doesn't. And for us, it works well live. It's a really exciting track and it's just a good hard track.

It's obvious that "Firestarter" is not about starting fires. It's about Keith's personality. I thought, "Well, if people are going to kick up a fuss about this, then they're really gonna kick up a fuss about 'Smack My Bitch Up.' " It was kind of a joke on the English press in a way, as well. There's lots of different angles. The main angle is it works and it's a simple track and it's got hard vibe. That's why I use that lyric. The other vibe is what I was saying about the press. To be honest, we're ready for whatever is thrown us. You can't not be ready and use a lyric like that. To be honest, people, if they think that song is about smacking girlfriends up, then they're pretty brainless.
Shahin Badar: I think people are trying to read a lot more into it than there is. How can they get a woman to do a chant on the track if they're talking about beating up women?
The above mentioned Beastie Boys went even deeper in their moral policing, moving from words to action. Right before the '98 Reading Festival, where both bands were set to perform, Beastie Boys called The Prodigy to talk about 'Smack My Bitch Up.' In a later email to NME, Beastie Boys' Adam Yauch explained, that 'rather than make a media event out of it' New York trio prefered to call the band directly and 'tell them privately how we felt, in the hope that they would strike it from their set'. As a smashing answer, The Prodigy just wanted to joke at the Beasties: while opening The Prodigy's set, Maxim stated that the band will "play whatever the fuck they want", and Keith Flint for the first and the last time in his career went onstage heavily made-up in a woman's dress, white-faced, dark-eyed and bald-haired.
Howlett later recalled that they actually didn't want to play at Reading in 1998, because the whole band was tired (of touring) by the time the gig was held: "Reading was the only show I didn't want to be at. That show was just a joke." – these words were reported as told by Liam himself.
Remixes

Back to talking about the single, release contained a 'Smack My Bitch Up' remix by DJ Hype, which, according to Martin James, had allegedly been executed purely for the money and no respect for the original. 'Mindfields' appeared in Liam's preferred Headrock Dub form while the only 'new' track came in the shape of Tom Morello collaboration No Man Army – which was a vocal free and finalized version of 'One Man Army' which featured on the 'Spawn' soundtrack.
It's also worth mentioning that apart from Dj Hype, Jonny L and Slacker were requested to produce remixes as well. Neither of the two remixes ended up on the single. Still, the remix by Jonny L was privileged to be officially released on a CD compilation '1997: The Tunes' in 1998. Said CD came with the Muzik Magazine and was a free attachment.
However, the remix produced by Slacker got no official release and existed only in the form of limited vinyl whitelabels and dubplates, going the rounds among DJs. The remix was not released due to Liam's dislike for house music, but it managed to gain recognition in the DJ community across the world. In particular, DJ Sasha would frequently play the remix in his sets at that time.
A few years later, when progressive nu breaks became popular, Slacker made another version of his remix, a VIP mix so to speak. This version went mostly unnoticed among DJs and was released on Slacker's bootleg vinyl as a limited edition in 2004.
---
---
A year later, in 2005, when the band was preparing their best hits compilation, 'Smack My Bitch Up' was chosen to be remixed once again. The first remix was produced by the drum 'n' bass artist Sub Focus. It was released as a b-side on various editions of the 'Voodoo People (Pendulum Remix)' single. And today it seems to be long forgotten. The second remix was produced by TC and got no official release. It's safe to say that TC's remix sounded quite unique even though it was also a drum 'n' bass track, just like the remix by Sub Focus.
Just like with 'Breathe', this was not the last remix of 'Smack My Bitch Up' to be produced. Seven years later, a couple remixes were released on the 15th Anniversary of 'The Fat of the Land' re-issue. The remix CD was called Added Fat and came as a bonus to the album itself. Along with the remixes of 'Breathe', 'Firestarter' and 'Minefields' there were remixes of 'Smack My Bitch Up' produced by Major Lazer and Noisia. The latter became quite popular: it got fair radio rotation and was played live by The Prodigy themselves at a couple gigs. It's obvious that Noisia have put quite a lot of effort into the remix and managed to make it as good as their own tracks.
Jim Pavloff, a known Ukrainian sound producer and app developer, participated in the production of Noisia's remix and was given credit in the booklet, even though his participation was only indirect. Around that time, Jim became widely popular as the first producer to have recreated 'Smack My Bitch Up' in Ableton Live from scratch. His video gained millions of views and remains the most viewed Ableton-related video to date. It's worth mentioning that one of our team members, Canyon Hill, got highly inspired by Jim's videos.
---
Apart from the studio remixes, we'd like to mention a couple of words about the live versions of the track. Somewhere in 2009 Liam began to use the vocals "cut the midrange, drop the bass" instead of 'smack my bitch up' in the short breakdown.
Sample: vocals ('cut the midrange, drop the bass') instead of 'smack my bitch up' in the short breakdown
Sample source: The House Crew – Keep The Fire Burning [Keep The Fire Burning / Get On Up, 1991]
Another live update happened more recently: in the summer 2022 tour Liam mixed the beats with the recognizable Apache break.
---
Soon we will post exclusive articles about post-fat period and the unreleased live bangers. It will be exclusively published on our Patreon! Stay tuned and keep following us on social media!
---
Headmasters: SPLIT, SIXSHOT
Additional thanks to: Canyon Hill, Martin James, Juge L
---
Donate
Donate Bitcoin to this address

Tag/Note:-

Network: Bitcoin

Donate Ethereum to this address

Tag/Note:-

Network: ETH Ethereum (ERC20)